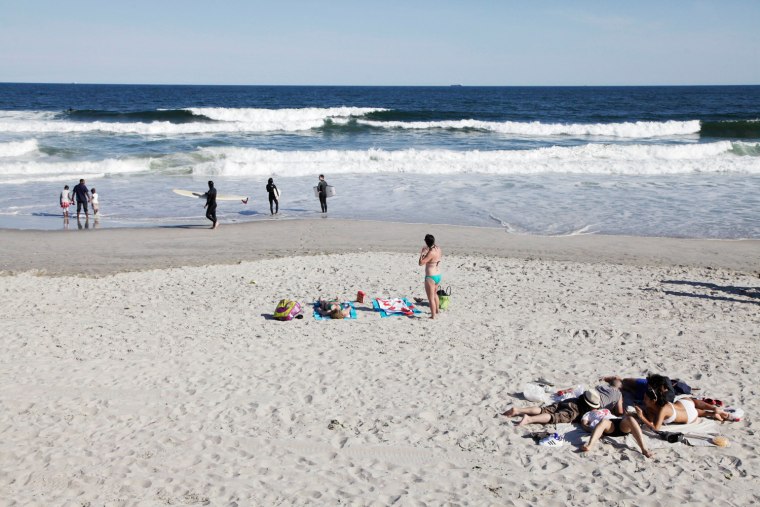 Four people walking or playing on New York City beaches have suffered puncture wounds from needles in the sand in the last three weeks, park officials said.
The most recent incident happened late Tuesday afternoon in Queens, when a lifeguard on duty at Rockaway Beach stepped on a needle at 139th Street, officials said.
The other three incidents happened within the last three weeks on Staten Island. On July 16, a 63-year-old woman stepped on a hypodermic needle on Cedar Grove Beach, cutting her foot. On July 14, a 37-year-old man was stuck in the hand by a needle while he was on the sand at South Beach, near Father Capodanno Boulevard and Sand Lane. And on July 4, a 40-year-old man was stuck by a needle at South Beach.
All three beachgoers were taken to Staten Island University Hospital North.
"You don't know where these needles come from," said Crystal Matis of Elm Park, who was at the beach Wednesday with her young daughter. "It's very scary."
The Parks Department promised last month to clean up a stretch of Rockaway Beach after NBCNewYork.com discovered medical waste, including syringes, littering the sand.
The department said Wednesday it conducts daily beach cleanings, but strict budgets only allow for so much sand maintenance.
Parks advocate Geoffrey Croft criticized that response.
"The administration needs to figure this out because that's a lot of stabbings within a couple weeks," said Croft.
Rockaway Beach is one of New York City's most popular summer destinations, and attracts families and young children each summer. 
Locals believe the beach's popularity during the summer contributes to the trash -- including needles -- found along the shore.
"There's trash on the beach all the time," Karina Salvo told NBCNewYork.com last month, after the initial discovery of medical waste. "Usually Monday morning when I come down here, 8 o'clock, 7 o'clock in the morning, there's trash from one end of the beach to the other. It's disgusting." 
More content from NBCNews.com:
Follow US News from NBCNews.com on Twitter,   Facebook and Tumblr