Authorities in Ohio confirmed that all four inmates who had escaped from a county jail were captured in North Carolina on Monday.
The four men were being held in the Gallia County Jail in Gallipolis, 100 miles south of Columbus near the West Virginia border, when they overpowered two female corrections officers to escape just after midnight Sunday. The men fashioned a shank and were able to force open a secured door, the Gallia County Sheriff's Office said in a statement.
Brynn Martin, 40, Christopher Clemente, 24, Troy McDaniel Jr., 30, and Lawrence Lee III, 29, worked together and stole the keys to one of the corrections officers' vehicles, county Sheriff Matt Champlin said at a news conference Sunday.
By Monday morning, McDaniel, Martin and Clemente were caught and detained, according to the Gallia County sheriff. NBC News' local affiliate WCMH reported that the men were found at a hotel in a shopping center in Cary, North Carolina.
Then by early Monday afternoon, Sheriff Champlin announced that Lee had been nabbed in Durham, North Carolina.
"I would like to thank the hard-working law enforcement professionals who have tirelessly dedicated themselves to providing an end to the search for these escapees," Champlin said. "Additionally, I want to thank everyone who has shown support for my office and our law enforcement across this great nation."
Martin had previously escaped from the jail earlier this month.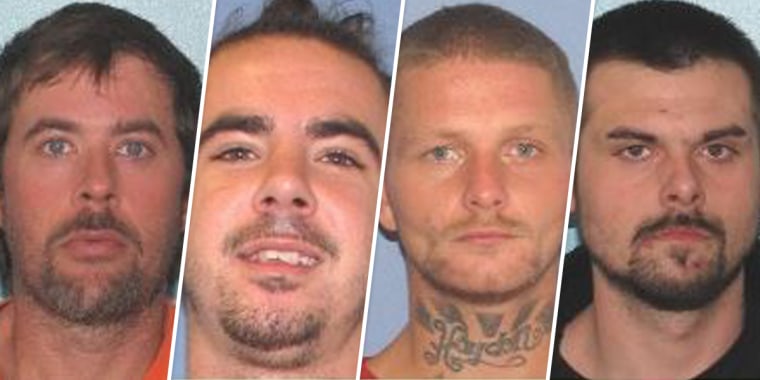 The men had help from at least one outsider who met up with the inmates after the four drove out of the jail in a stolen vehicle, Champlain said. The person assisting the inmates was waiting with a different vehicle, which the inmates ultimately used to flee.
Police in Pennsylvania located that vehicle, but did not find the inmates, Champlin said.
This is the third escape at the jail since August, according to NBC affiliate WSAZ of Huntington, West Virginia.