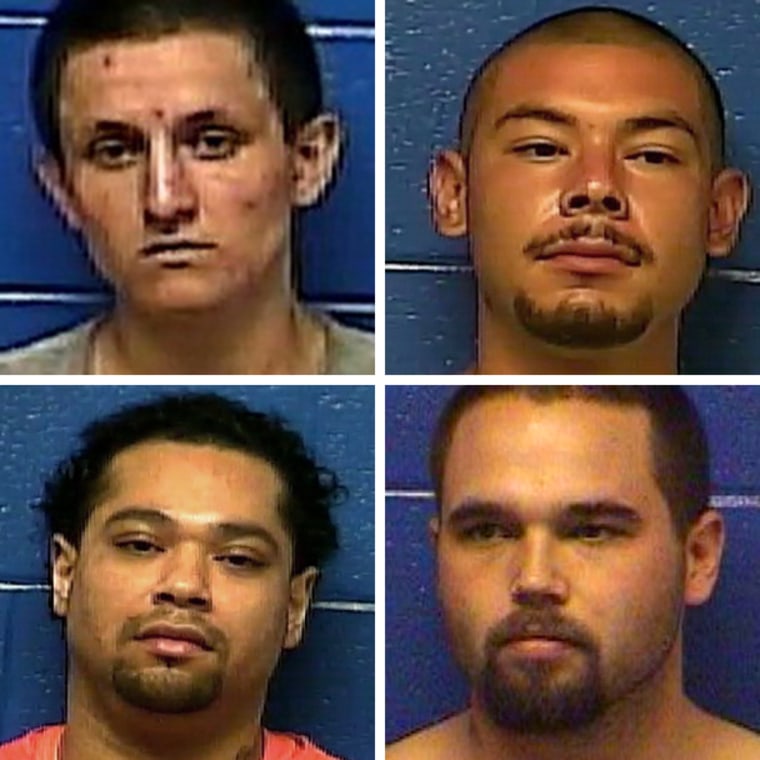 Four inmates escaped through the plumbing system at a detention center in Oklahoma on Sunday morning, police said.
"Caddo County Detention Center had four inmates escape from the Detention Center thru the trap door above the shower and then into the pipe chase and out the pipe chase door!" the Caddo County Sheriff's office said in a statement. 
Police are searching for Dylan Ray Three Irons, Prime Tounwin Brown, Anthony James Mendonca and Triston Cheadle, said Caddo County Deputy Sheriff Philip M. Smith. 
Caddo County Sheriff Gene Cain said he heard word of the escape around 2:40 a.m. Witnesses reported seeing men on the street in "oranges" — prison uniforms —  and when guards did a headcount, they found there were four inmates missing, he said.
Cain said three guards were on duty monitoring about 200 inmates Sunday morning.
All four had been sentenced for unrelated crimes, Smith said.
Mendonca, who also goes by aliases Thomas Jink and Thomas Wesley Johnson, was charged with carrying a concealed weapon and escaping arrest, Smith said.
According to The Lawton Constitution, a local Oklahoma paper, police found him hiding in a beer cooler at a convenience store and arrested him in December, 2012. 
Cheadle was charged with robbery with firearms, according to Oklahoma Department of Correction records. Cain said Cheadle was to remain in the county jail while he awaited sentencing on a separate charge of possession of methamphetamine. 
Three Irons was charged with a probation violation and Tounwin Brown with second degree burglary, Smith said. 
Cain said the men stripped their orange jumpsuits shortly after breaking out of the jail. Police did not have any leads as of Sunday afternoon, he said.
Related: