The Trump administration began cleaning house Thursday in the State Department by ousting four top officials.
Those exiting include Undersecretary for Management Patrick Kennedy, Assistant Secretary of Administration, Joyce Barr; Gentry Smith, who heads the department's Office of Foreign Missions, and the Director of the Bureau of Overseas Building Operations, Lydia Muniz, NBC News has confirmed. Assistant Secretary for Consular Affairs, Michele Bond, who was responsible for the agency's visa program, was also asked to leave.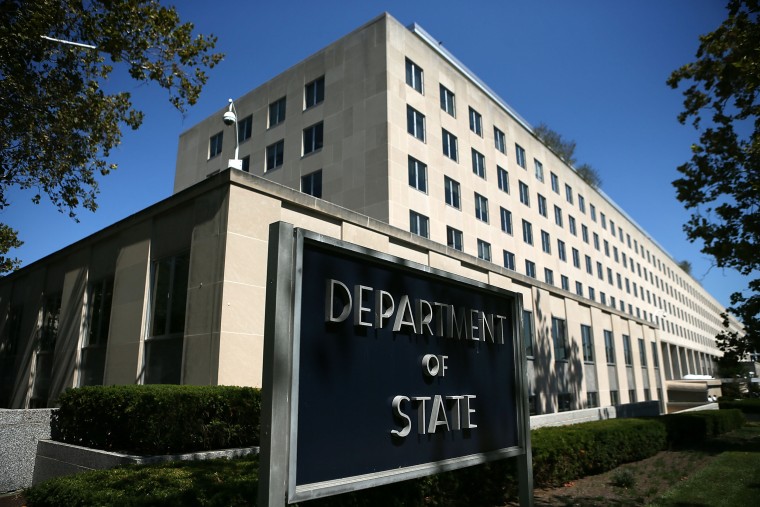 Two State Department officials confirmed to NBC News that Bond had intended to stay on into the next administration. Now her last day is Friday.
"I cannot adequately express how proud I am of our Bureau's profound, positive impact on U.S. diplomacy," she wrote in a letter to her staff.
Both the Trump Administration and the union representing the workers insisted that turnover at the top is typical when a new president takes over. But the officials' departure comes amid reports that other long-serving diplomats have chosen to quit rather than serve under President Trump.
They include Victoria Nuland, the assistant secretary for European and Eurasian Affairs, and Gregory Starr, the assistant secretary for diplomatic security who retired on Inauguration Day.
"While this appears to be a large turnover in a short period of time, a change of administration always brings personnel changes and there is nothing unusual about rotations or retirements in the Foreign Service," the American Foreign Service Association said in a statement.
Acting State Department spokesman Mark Toner said the departures of longtime staffers is just business as usual.
"As is standard with every transition, the outgoing administration, in coordination with the incoming one, requested all politically appointed officers submit letters of resignation," he said."These positions are political appointments, and require the President to nominate and the Senate to confirm them in these roles. They are not career appointments but of limited term."
Of the officers whose resignations were accepted, Toner said "some will continue in the Foreign Service in other positions, and others will retire by choice or because they have exceeded the time limits of their grade in service. "
Trump's pick for secretary of state, Rex Tillerson, is expected to be confirmed by the Senate next week.
But some former state department employees are worried those departing were given little notice and were not given the opportunity to work with their replacements.
Recently departed Assistant Secretary for International Organizations, Bathsheba Crocker, took to twitter today to voice her objections to the way her former colleagues were treated.
Countryman has served as the acting Under Secretary for Arms Control and International Security since October of 2016.
Career diplomat and former ambassador Laura Kennedy also expressed concern, saying in a tweet, "These are all professionals who would stay to help the new team settle in; instead these dedicated public servants have been sent packing."
Crocker and Laura Kennedy both continued to be actively critical of the Trump administration on twitter.
A career foreign service officer, Patrick Kennedy was tapped for his post in 2007 by President George W. Bush and continued to serve in that spot under President Obama. He was the department's chief bean counter, tasked with overseeing the budget, finances, security and consular services.
Kennedy, who started working for the agency in 1973, was dragged out of obscurity after four Americans were killed in Benghazi, Libya. Dragged before a Congressional committee, Kennedy defended then-Secretary of State Hillary Clinton's response to the crisis and swore under oath there was no order to the U.S. military to "stand down" during the attack.
Kennedy came under scrutiny for discussions he had with the FBI over the classification level of former Secretary of State Hillary Clinton.
Meanwhile, a changing of the guard was underway in other top federal agencies with high-level officials tendering their resignations and heading for the exits — taking years of experience with them.
NBC News has also learned that Border Patrol chief Mark Morgan has quit a post he has held just since October.
Kevin McAleenan, acting commissioner of U.S. Customs and Border Protection, broke the news to the ranks in a letter.
"On behalf of the men and women of U.S. Customs and Border Protection and the U.S. Border Patrol, I want to thank Mark Morgan for his unwavering dedication to our border security mission, and recognize his life-long career in service to the nation," he wrote.
Earlier, the Trump administration broke with precedent and ordered all politically-appointed U.S. ambassadors to clear out by Inauguration Day rather than give them a grace period.