Fox News anchor Harris Faulkner believes a small plastic hamster is ripping her off, and she wants $5 million for her trouble.
Faulkner sued Hasbro Inc. this week in U.S. District Court in New Jersey for "creating, manufacturing, and distributing for sale a plastic toy hamster named 'Harris Faulkner'" as part of its "Pet Pawsabilities" toy line.
Lawyers for Faulkner — a six-time Emmy Award-winner who anchors "Fox News Weekend" for the news channel — said Hasbro's inches-tall plastic hamster with a butterfly hat "willfully and wrongfully appropriated Faulkner's unique and valuable name and distinctive persona for its own financial gain."
Hasbro no longer sells the hamster toy, but a photograph submitted as evidence in the lawsuit allows for a side-by-side comparison: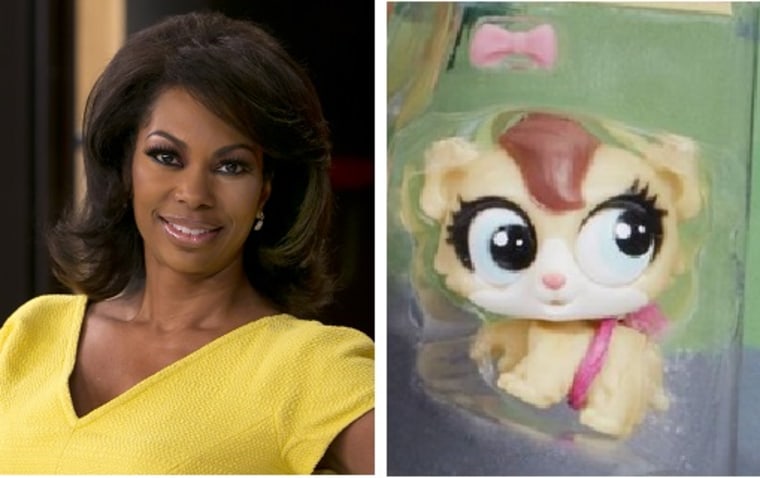 The suit describes Faulkner (the anchor) as a "uniquely named, acclaimed veteran journalist and author" who "has worked for decades to establish and maintain her personal brand and laudable professional reputation."
Related: Read Harris Faulkner's Lawsuit Against Hasbro (PDF)
It alleges that Hasbro's use of the trademark symbol on the toy's packaging implies that Hasbro has trademarked Faulkner's name. In fact, the suit says, Hasbro never sought permission to use Faulkner's name, likeness, identity or persona.
The suit seeks a jury trial, contending that "Hasbro's portrayal of Faulkner as a rodent is demeaning and insulting."
And it goes on to complain that packaging for the toy warns in capital letters that Harris Faulkner is a "CHOKING HAZARD."