Roger Ailes, the man who transformed television news and American politics in his role as founder of Fox News before being brought down by a sexual harassment scandal, died Thursday morning, the network announced. He had celebrated his 77th birthday three days earlier.
Ailes' wife, Elizabeth, said in a statement that the family is "profoundly sad and heartbroken" following his death.
"Roger was my best friend, the most wonderful loving husband and father to our son Zachary," Elizabeth Ailes said. "He was a loyal friend to so many. Roger was a patriot, grateful to live in a country that gave him so much opportunity to work hard, to rise — and to give back."
"During a career that stretched over more than five decades, his work in entertainment, in politics, and in news affected the lives of many millions," she added. The family did not provide the circumstances surrounding his death, which comes eight days after emergency personnel was called to his Palm Beach, Florida, home. A police report said Ailes had accidentally fallen in a bathroom and there was "serious" bleeding and injury to his head.
On Thursday, the ticker outside of Fox News' midtown Manhattan offices announced simply: "A giant passes."
Related: What Would Fox News Be Like Without Roger Ailes?
Rupert Murdoch, co-chairman of 21st Century Fox, responded to Ailes' death Thursday as the loss of a "brilliant broadcaster (who) played a huge role in shaping America's media over the last thirty years. He will be remembered by the many people on both sides of the camera that he discovered, nurtured and promoted."
Ailes kept a lower profile after resigning as chairman and CEO of Fox News last summer — when a sexual harassment lawsuit filed against him by a former anchor proved to be his downfall.
Ailes also had to resign from Fox Business Network and Fox Television Stations after spending two decades building the cable empire.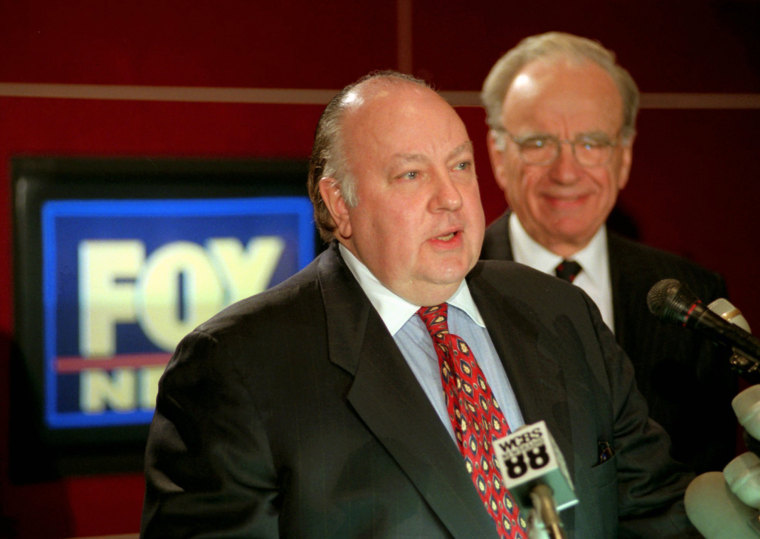 Ailes vowed to stay on as an adviser from outside of the network — taking a back seat after first helping to launch Fox News Channel in October 1996, eventually branding itself with the motto: "Fair and balanced."
He began his television career in Cleveland in his home state of Ohio, where he grew up the son of a factory foreman father. In the early 1970s, he worked for a conservative news network called Television News Incorporated, funded by conservative brewing magnate Joseph Coors. Although he failed to help turn it into a competitive media outlet before losing money, it would serve as a blueprint for Fox News.
In the meantime, he immersed himself in Washington politics and was a media consultant for the campaigns of Republican presidential candidates, including Richard Nixon, Ronald Reagan and George H.W. Bush.
Bush tweeted Thursday that Ailes "wasn't perfect," but credited him for helping his presidential campaign.
Following his support of Bush, Ailes transitioned from political campaigns back to the small screen.
In 1993, he served as president of CNBC and helped create the spinoff America's Talking channel that was later replaced by MSNBC. Ailes understood the importance of a having a niche.
When Murdoch tapped him to take on the new 24-hour Fox News Channel, he played up its right-leaning commentary — while grooming a stable of cable news hosts and pundits, including firebrand conservatives Glenn Beck, Bill O'Reilly and Sean Hannity.
He engineered Fox News into 21st Century Fox's most profitable channel, reaping hundreds of millions of dollars and surpassing its competition with an average of 2.2 million prime-time viewers.
Ailes famously told The New York Times in 2010 that he "built this channel from my life experience ... my first qualification is I didn't go to Columbia Journalism School."
But his career careened when anchor Gretchen Carlson claimed in a lawsuit filed in July that he "sabotaged her career" after she spurned his sexual advances. Her contract had been terminated with the network weeks earlier.
A source with direct knowledge of the situation told NBC News at the time that Murdoch's sons had wanted Ailes out as early as 2015. After a storm of bad press from the suit, he reportedly received $40 million in a separation agreement. He continued to deny any wrongdoing and said Carlson's "low ratings were dragging down the afternoon lineup."
Media reports speculated Ailes would return as a prominent power player in politics — as an adviser to then-GOP candidate Donald Trump's presidential campaign.
Trump at the time defended Ailes. He told "Meet the Press" that accusers were "saying these horrible things about him."
"It's very sad. Because he's a very good person," Trump said. "I've always found him to be just a very, very good person."
With news of Ailes' death, prominent Fox News hosts and guests shared their remembrances of a man who they say leaves a lasting legacy of altering the American media landscape and political discussions.
Democrats, too, gave Ailes his due for decades' worth of television achievements.
"For better or worse & the ignominious end 2 his reign at Fox News, the impact of Roger Ailes on American politics & media was indisputable," tweeted David Axelrod, who served as chief strategist for Barack Obama's presidential campaigns.
The Rev. Al Sharpton, who hosts a political show on MSNBC, tweeted of Ailes that "we didn't agree on much and I protested him many times. However his impact on US Culture is undeniable."
Ailes' death was sending shock waves Thursday throughout the media company, added Gabriel Sherman, who wrote the unauthorized 2014 biography, "The Loudest Voice in the Room: How the Brilliant, Bombastic Roger Ailes Built Fox News — and Divided a Country."
Sherman tweeted: "A longtime executive writes, 'Such a sudden end to a complicated man.'"