Fox News Channel is nearing a decision on CEO Roger Ailes' future at the network, sources familiar with the matter said Tuesday evening, amid allegations of sexual harassment by a former anchor at the network.
21st Century Fox, which owns the network, disputed reports Tuesday that a decision had been reached, saying in a statement: Roger is at work. The review is ongoing. The only agreement that is in place is his existing employment agreement."
But sources told CNBC that Fox is nearing a decision, and the decision is likely to result in his departure from the network.
Ailes, who has been with the network since its launch in 1996 and has been credited with building the it into a powerhouse, was accused of sexual harassment in a lawsuit filed earlier this month by former Fox News host Gretchen Carlson.
Carlson's lawsuit alleges that Ailes "sabotaged her career" because she rejected his sexual advances.
New York Magazine's Daily Intelligencer, citing anonymous sources, reported Monday that 21st Century Fox co-chairmen Rupert Murdoch and Lachlan Murdoch and CEO James Murdoch had decided to remove Ailes.
A year ago Murdoch put his sons Lachlan and James in charge of Fox News. A source with direct knowledge of the situation told NBC News that the brothers wanted Ailes out even back then.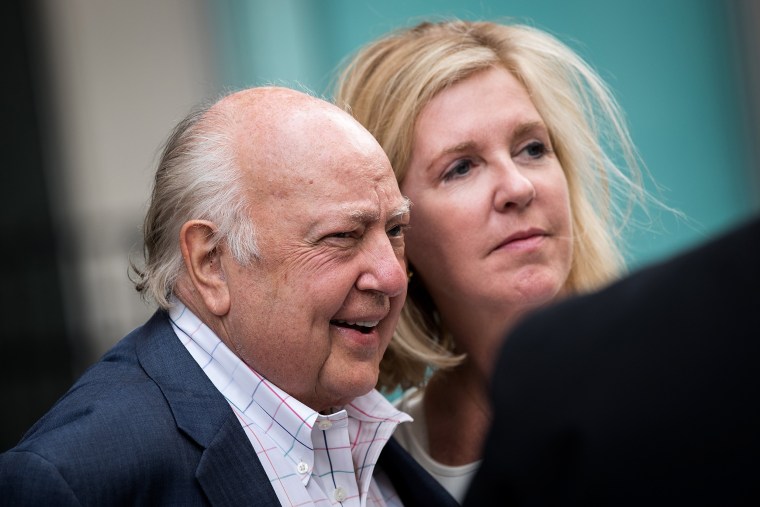 The website The Drudge Report tweeted Tuesday what was purported to be a more than $40 million separation agreement. But the tweet was almost immediately taken down.
Ailes' lead attorney, Susan Estrich, told The Hollywood Reporter Tuesday that negotiations are ongoing, but it's possible the CEO could stay on with the company in another role.
Asked about an exit agreement, Estrich said: "Exit agreements can take all kinds of different forms, including agreements that provide for continuing roles. So there's a lot of negotiations going on." She added, "There is no agreement, there is no deal, and the review is ongoing."
Carlson's suit quotes Ailes as telling Carlson "I think you and I should have had a sexual relationship a long time ago and then you'd be good and better and I'd be good and better," adding, "sometimes problems are easier to solve" that way.
Ailes has denied the claims and called the lawsuit "wholly without merit." 21st Century Fox said it was reviewing the allegations.
Related: Former Fox News Host Sues CEO Roger Ailes, Claims Sexual Harassment
Carlson claimed in the suit that Ailes took her off the network's popular morning show "Fox & Friends" in 2013 and reassigned her to an afternoon time slot at significantly reduced pay.
Carlson also claimed in the suit that her former "Fox and Friends" co-host Steve Doocy "created a hostile work environment by regularly treating her in a hostile and condescending way," and that when she complained about Doocy, Ailes dismissed her as a "man hater." Doocy is not named as a defendant in the lawsuit.
Carlson worked at Fox News for nearly a decade until last month. Carlson's lawyers said her contract was terminated on June 23. Fox said her contract was simply not renewed.
Carlson most recently hosted "The Real Story With Gretchen Carlson."
Ailes in a statement after the suit was filed called the lawsuit "a retaliatory suit for the network's decision not to renew her contract, which was due to the fact that her disappointingly low ratings were dragging down the afternoon lineup."
21st Century Fox, which owns Fox News, said at the time it had "full confidence" in Ailes. 21st Century Fox hired the New York law firm Paul, Weiss to investigate the case and interview others at Fox about Ailes.
The timing of the possible departure of Ailes comes at a particularly bad time, as the Republican National Convention is underway in Cleveland. Ailes is seen as playing a critical role at the network.
The Financial Times, citing "two people briefed in the dispute," reported Tuesday that major network stars Sean Hannity, Bill O'Reilly and Greta Van Susteren have clauses in their contracts that would allow them to depart if Mr. Ailes were to leave the network.
"Roger Ailes is the most important person in television news. He is the most important person in conservative movement in America," Hollywood Reporter columnist Michael Wolff — who has written about Ailes extensively and a book on Rupert Murdoch — told NBC News Tuesday.
"Fox is by far the most powerful and the most profitable news organization in the country," Wolff said. "And almost nobody can imagine what it becomes without Roger Ailes."
Since the lawsuit was filed on July 6, several other women have alleged sexual harassment by Ailes, detailed in an article in New York Magazine.
Kellie Boyle told the magazine days after Carlson filed suit that Ailes propositioned her in 1989, when she was 29 and Ailes was an influential Republican operative who had served as President George H.W. Bush's media strategist.
Boyle said she refused and later failed to get a job she was seeking at the National Republican Congressional Committee. She claimed she was later told by a friend in a high position at the RNC that "word went out you weren't to be hired."
Boyle confirmed the account to NBC News and said, "I've shared my experience to support Gretchen Carlson's courageous act and to hold Roger Ailes accountable for the disgusting and damaging way he's treated women for decades."
Ailes' personal attorney denied the claims by Boyle and others in the New York Magazine article.
"It has become obvious that Ms. Carlson and her lawyer are desperately attempting to litigate this in the press because they have no legal case to argue. The latest allegations, all 30 to 50 years old, are false," the attorney said.
Several female Fox anchors, including Maria Bartiromo, Jeanine Pirro and Greta Van Susteren, have stepped forward to defend Ailes.
Bartiromo was quoted in Variety as saying Ailes has been nothing but professional. Pirro and Van Susteren told The New York Times they never witnessed the behavior described in Carlson's suit.