The daughter of a 73-year-old dementia patient shot and killed by California police responding to a mistaken report of an armed man said Tuesday that his death was "unjustifiable."
"My dad was murdered, I believe, for no reason," Laura Serna, 47, told NBC News.
Bakersfield police confirmed Tuesday that Francisco Serna was not armed and that no gun was found. They said an officer responding to a mistaken report of a man with a gun fired seven shots at him when he refused to remove his hands from his jacket pockets as he walked toward police.
The officer who killed Serna, who had been on the force since July 2015, was placed on administrative leave while the shooting is under investigation.
Serna was a father of five, grandfather of 16 and great-grandfather of five. He was diagnosed with dementia in July, and his health had taken a recent turn for the worse, his daughter said.
"We had been taking him to the doctor almost two, three days a week this last month," Laura Serna said.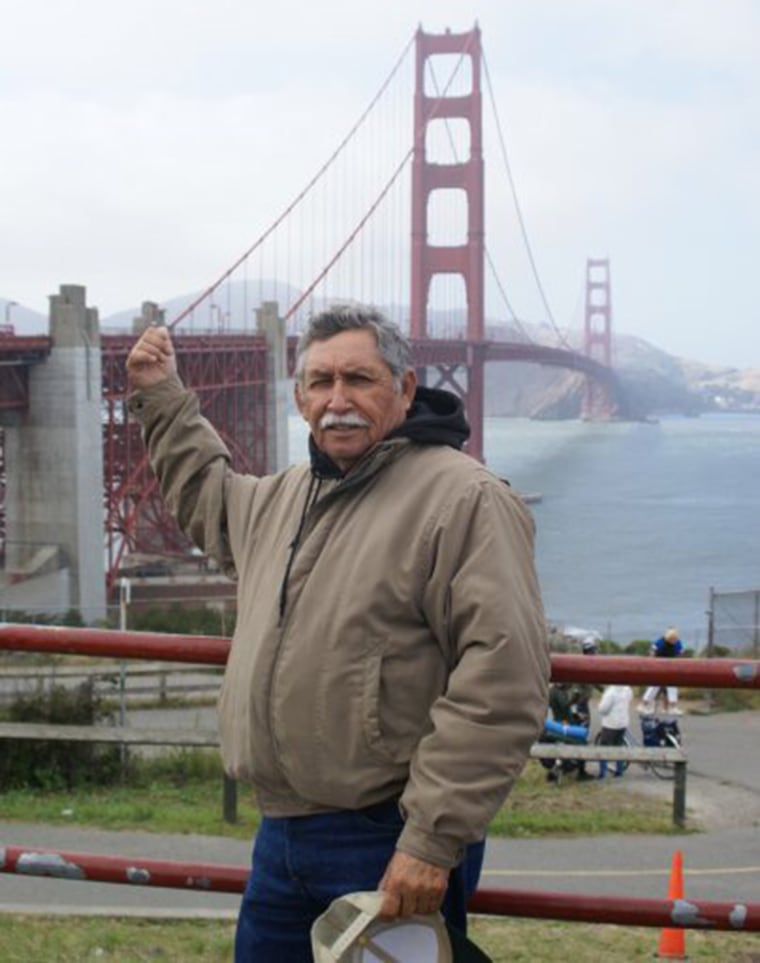 In the very early hours of Monday, Serna was up late watching television with his wife of 51 years, his family said. She went to gather some laundry, and when she came back, he was gone.
Before she could figure out where he went, she heard gunshots and ran outside to see police swarming and her husband on the ground, her daughter said.
"My father is laying in the driveway across the street with blood coming out of his leg area and abdomen area," said Laura Serna, who lives in her parents' home.
She said her father didn't own a gun. Dementia made him agitated and aggressive at times, but he had never tried to hit anyone, she said.
Police, however, said that the afternoon before the shooting, Serna banged on a neighbor's door and window and then accosted the resident when he came to the door, challenging him to a fight.
The neighbor, who did not report the encounter to police, claimed the elderly man kept his hand inside his jacket "acting as if he had a gun," said police, who added that no firearm was actually seen.
In the confrontation that preceded the shooting, Serna allegedly began hassling another resident, who believed she saw a gun inside his jacket. The woman then ran inside and told her husband to call police, authorities said.
"That's him!" the woman said, pointing at Serna, after officers arrived on the scene. Minutes later, Serna was dead.
The family suspects that Serna was having an episode of some sort related to the dementia and that police overreacted.
"I'm sure my dad was just scared to death, because he had a little paranoia with the dementia," the Laura Serna said.
Normally, she said, her father was a "very peaceful, fun-loving, joking kind of person."
"He was kind of the life of the party here," she said. "He was just a good, genuine person."