A national fraternity indefinitely suspended its chapter at the University of Mississippi after three members were suspected of hanging a noose around a statue of the school's first black student.
"It is embarrassing that these men had previously identified with our Fraternity," Sigma Phi Epsilon CEO Brian C. Warren Jr. said in a statement provided to NBC News on Saturday.
Members of Sigma Phi Epsilon's Alpha Chapter also voted to expel the suspected vandals who are thought to be involved and decided to turn their names over to university and investigative authorities, the statement said.
The James Meredith statue — which commemorates the desegregation of the school in 1962 — was draped with a noose and an old Georgia flag emblazoned with the Confederate emblem, campus police said Monday.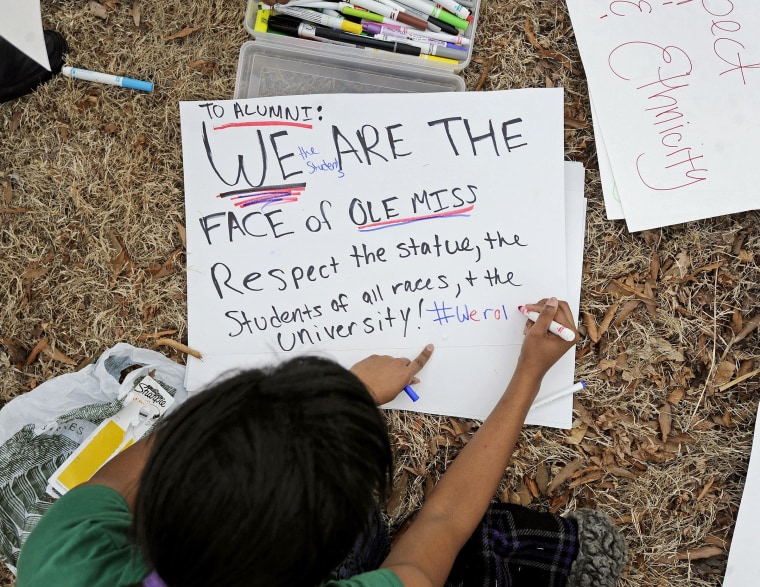 On Friday, three 19-year-old freshmen declined to speak with police who sought to question them after an investigation pointed to their involvement in the vandalism, said university Police Chief Calvin Sellers.
Sigma Phi Epsilon called for the University of Mississippi chapter to conduct an internal review to make sure that all members' values are consistent with that of the fraternity.
"We won't allow the actions of a few men to undermine the more than five decades of leadership this fraternity has demonstrated in the fight for racial equality and diversity on our college campuses," Warren said.
The FBI will continue investigations into the incident to determine possible violations of federal law, according to The Associated Press. Evidence the school has gathered has also been turned over to the District Attorney's office, University spokesman Danny Blanton told the AP.
Sellers said the school will work to bring charges against the three students, with or without their cooperation.
— Elisha Fieldstadt