Martin Shkreli, often described as "the most hated man in America," will spark many Americans' interest in securities and wire fraud for the first time Monday when he stands trial in a federal courthouse.
The former pharmaceutical chief executive will face charges of securities fraud in federal court in Brooklyn, New York, more than a year and a half after he was arrested in December 2015. Jury selection begins Monday morning.
Shkreli, 34, will confront an eight-count indictment for cheating the drug company Retrophin, which he founded, out of millions of dollars to pay investors in two hedge funds he ran. He is also accused of defrauding those investors in what prosecutors are calling a Ponzi scheme.
Retrophin is paying Shkreli's criminal defense fees, which are believed to be as high as $4.8 million.
During Shreli's pretrial hearing, U.S. District Judge Kiyo Matsumoto rejected his bid to have his bail reduced from $5 million to $2 million, citing a concern that releasing the money would deprive people who have liens against Shkreli from collecting the money they're owed.
According to his attorney, Benjamin Brafman, Shkreli — who once claimed to be worth as much as $70 million — is now penniless and "doesn't have any cash."
Earlier this month, Shkreli posted on his Facebook page that he had donated $40,000 to a Princeton University graduate for solving a geometry proof, offered to "put up $100,000" for information that would solve a conspiracy theory and boasted that he recently dined at the same restaurant as Eric Trump.
Shkreli has also boasted that he owns a Picasso painting and an original Enigma wartime code-breaking machine valued at nearly $300,000, had purchased the domain names of reporters he didn't like and had purchased secret albums by Wu-Tang Clan and Lil Wayne.
Brafman said those were "preposterous promises" that were made to maintain Shkreli's relevance on social media, and he added that the Wu-Tang album, which Shkreli infamously purchased for $2 million, was "probably worthless."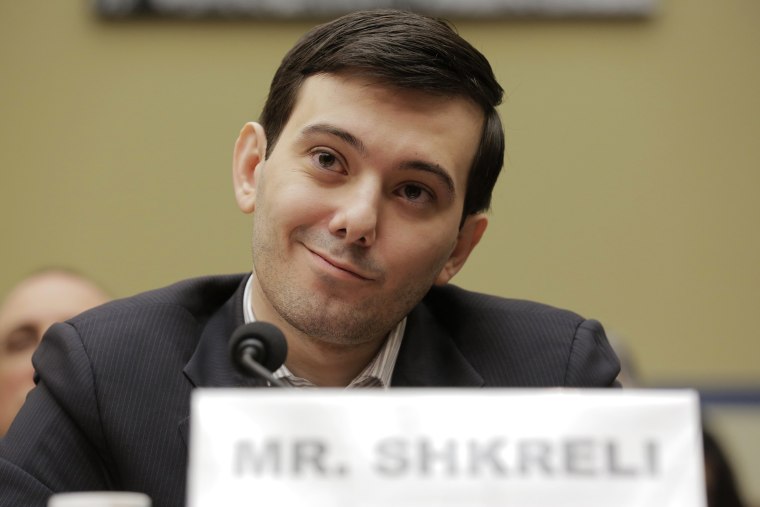 Shkreli also owns an ownership stake in another drug company he founded, Turing Pharmaceutical, that could be valued as high as $50 million.
Nevertheless, Shkreli has also sent out pleas for money on the internet, offering on Facebook to answer people's questions for $20 a pop and asking his followers to donate Bitcoin to his account.
Brafman also outlined the millions of dollars Shkreli owes to the IRS, a civil law firm and an accounting firm, as well as other outstanding debts.
Brafman said at the pretrial hearing that Shkreli is "traveling to the beat of his very unique drummer."
Judge Matsumoto remained unconvinced.
Prosecutors are expected to call as many as 57 witnesses, and lawyers on both sides said the trial could last five to six weeks.
Shkreli rose to prominence after he drastically increased the price of a drug called Daraprim while he was the chief executive of Turing. He pushed the price from $13.50 to $750 per pill, making it unaffordable for many of the pregnant women, babies and other people infected with HIV who primarily use the drug.
The self-described "pharma bro" defended the price jump, insisting that it was justified.
In February, Shkreli invoked the Fifth Amendment to avoid testifying to a congressional committee investigating the alleged price gouging. Shkreli's trial is unrelated to the congressional inquiry.
Since his arrest, America has watched as the "most hated man in America," whom President Donald Trump called a "spoiled brat," has tried to push his own pop culture relevance.
In his pursuit, he has harassed women on Twitter — which got him booted from the social media site — built a beef with Ghostface Killah, had an Off-Broadway musical written about him and produced long videos of him sitting in front of his computer.
Despite his continued busy schedule, Shkreli also recently claimed that he would release his first album later this year. But Shkreli, who is not known for his musical talents, said he would keep the world waiting for his melodious progeny if he was found guilty.