One French family's plans for an iconic American road trip took a detour — and has gained new meaning — due to the coronavirus pandemic.
A stranger they met in Florida at the beginning of their planned six-month journey across the United States in a camper gave Berenice, 37, and Christophe Trebuchon, 39, and their children, Eva, 10, and Matheo, 8, a lifeline when they became stranded in the Southwest.
The family had shipped their van, which they named "Sunshine," from France to the United States. Back in France, Berenice works as a preschool teacher and Christophe is an egg farmer, but they began planning their trip over two years ago to get work, school and money in order.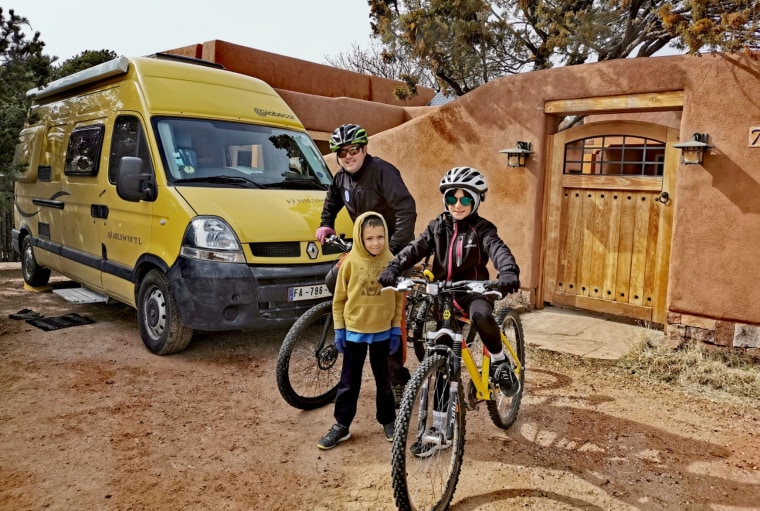 The family — from Mas-de-Londres, a little town near Montpellier in the south of France — befriended Tom Duval of New Hampshire while kayaking in Florida in late February.
They got to talking in a mix of English and French, and as Duval learned of the family's intended travel plans, he mentioned he used to live in New Mexico and told them to reach out if they needed anything while there, a regular gesture not usually met with immediate action. The Trebuchons stayed in Florida until March 7 and then continued their journey, arriving in New Mexico on March 18.
Days after his return home to the town of Bow, Duval, 60, got a text from the Trebuchons: they were stuck in New Mexico as everything, including the national parks, were shutting down.
"I told them sit tight, I'll find you a place," Duval recalled, telling NBC News he sent a message to friends who still lived in the "Land of Enchantment." Within minutes, he said, Amy and Greg Lewis of Seton Village, just outside Santa Fe, got back to him.
"These guys just stepped up," Duval said of the Lewises, who he befriended years earlier when they attended graduate school together at New Mexico Tech. "A crazy thing that really turned out to be a good thing in the craziness of it all."
The Trebuchons have been living in their camper parked at the front of the Lewises' home for nearly three weeks.
"We were just happy to be able to have Berenice and Christophe and Eva and Matheo join us," Greg, 63, said in a video interview. "It worked out well that we could offer them a place at least to park their RV for the interim."
"I think we both felt really compassionate because we've traveled a lot and people in other countries are so kind and generous to us," added Amy, 59. "And it's a treat actually to have them."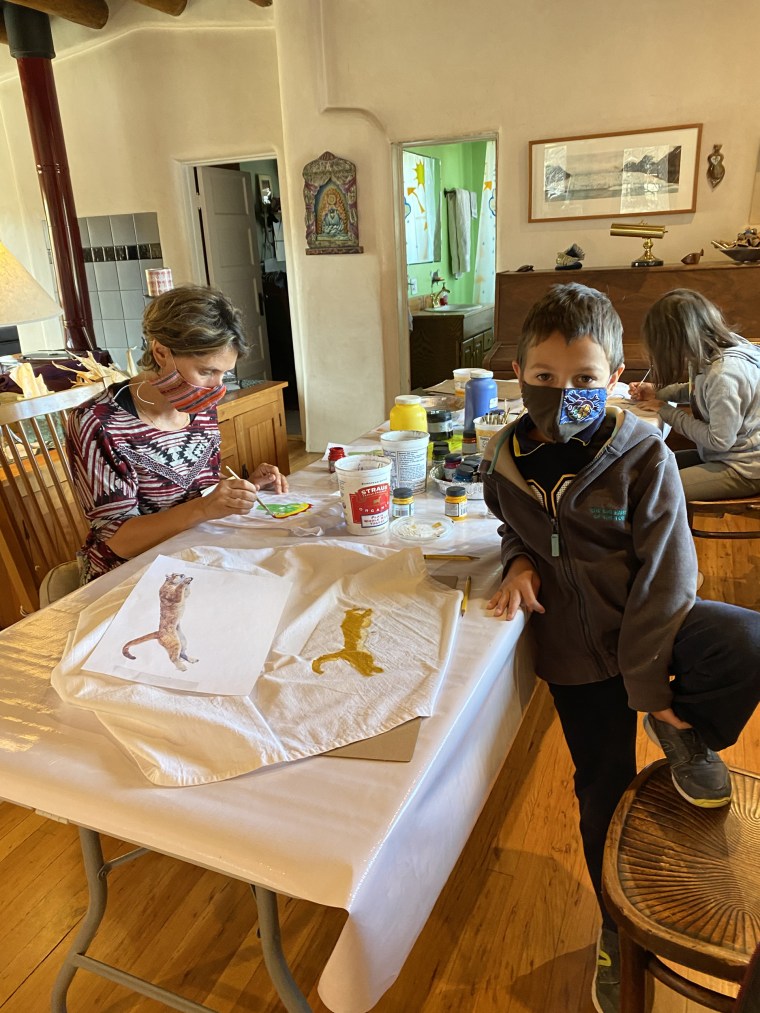 The two families are careful while spending time together, wearing masks and staying well-spaced apart, to make the most of their newfound situation.
"They opened their garden and their house and are very generous," Berenice told NBC News over video interview, "and it will be OK for us to wait. We can just wait for how the situation can be."
The Lewises, both hydrologists — Amy runs her own hydrologic consulting business, while Greg is retired from state government but continues to do consulting work — have tried to come up with fun activities for their new friends, including borrowing and fixing up a neighbor's bike so Matheo can ride it.
Neighbors have helped the family in other ways, too.
"We have beautiful masks," Berenice said as she and her family showed off their COVID-19 protection, including a floral pink one for Eva and a turtle one for Matheo. "The neighbors made the masks."
To overcome language barriers, the families have turned to technology for assistance.
"We've used Google Translate to type in a message and then translate it and then copy it into WhatsApp for more complicated things," Amy explained.
"With WhatsApp, it's funny because I write in English and Amy, she writes in French!" Berenice added.
Asked if there's a plan regarding the Trebuchons staying with them, Greg said they are welcome for as long as they want to stay.
"We're certainly happy to have them," Greg said over video chat. "That's what we've made clear — they're welcome to stay as long as they want or need ... They're very independent, they have their campervan that is self contained and we're providing almost nothing really, some water and laundry and very kind of basic things."
More than 10,000 people in France have died due to the coronavirus, compared to more than 14,000 in the United States. Like the U.S., France has also used social distancing and lockdowns to curb the virus' spread.
"We want to stay here until (the) end of April and then we will see of the situation, if it possible to travel or if we need to come back to France," Berenice said, adding that they have a travel visa until August. "We don't know because in France, it is also complicated ... we hope we can stay in United States because we would like to stay ... I hope in summer it will be OK."
Amid the chaos and the uncertainty, a beautiful new connection has formed.
"I don't have the words to say thank you," Berenice said.