The deputy police chief of Fresno, California, was arrested Thursday on charges of possession and intent to distribute heroin and other drugs, federal and local law enforcement officials said.
Keith Foster, 51, was named by the Justice Department as one of four people nabbed in a year-long investigation by the FBI and the federal Bureau of Alcohol, Tobacco, Firearms and Explosives.
Fresno Police Chief Jerry Dyer confirmed that Foster is the department's deputy chief, who has commanded patrol operations for the city of a half-million people for the past eight years.
Foster was charged with conspiracy to distribute and/or possess with the intent to distribute oxycodone, heroin and marijuana. Three other people — at least one of them described as a relative of Foster's — were also arrested, and two more were being sought, the Justice Department said.
Foster was placed on administrative leave with pay and stripped of his service weapon and law enforcement powers, Dyer said in a brief statement to reporters late Thursday afternoon.
Dyer said he had little information about the investigation, saying he wasn't told about it until Thursday afternoon, after Foster and the other suspects had already been arrested. He said a criminal complaint was expected to be released later Thursday or Friday.
"This is a very, very sad day for the Fresno Police Department, the citizens of Fresno and the law enforcement profession," Dyer said. "I really am at a loss for words, quite frankly, other than to say that as the police chief, I'm extremely shocked."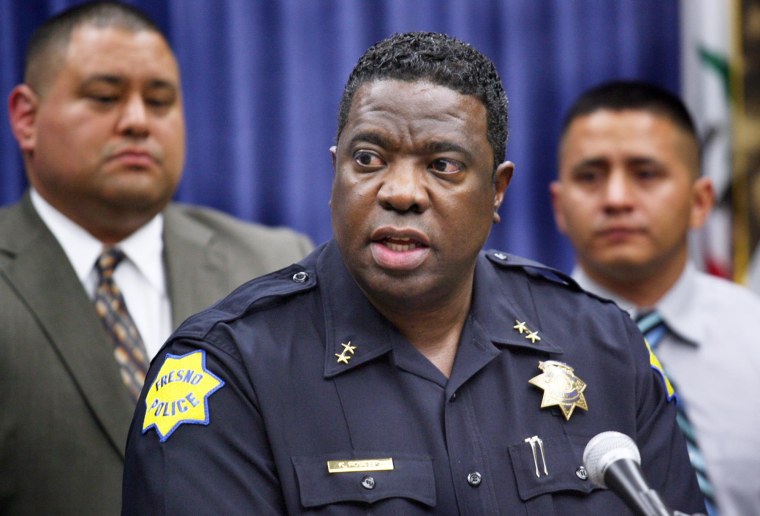 IN-DEPTH