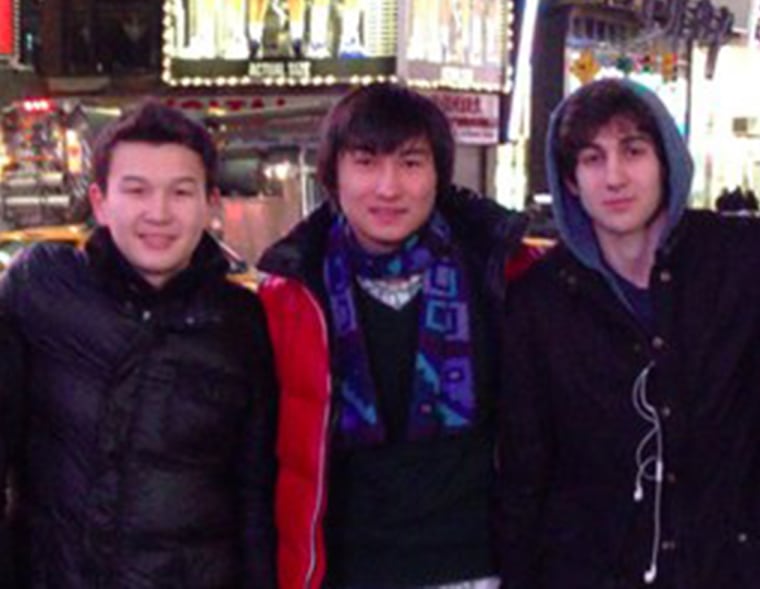 Two college friends of Boston bombing suspect Dzhokhar Tsarnaev pleaded not guilty on Tuesday to charges that they attempted to dispose of evidence in the days following the attack.
Dias Kadyrbayev and Azamat Tazhayakov, both 19, are charged with conspiracy to obstruct justice and obstructing justice with the intent to impede the Boston Marathon bombing investigation for taking a laptop, along with a backpack filled with fireworks, explosive powder and a jar of petroleum jelly from the alleged bombers dorm room at the University of Massachusetts-Dartmouth, according to an indictment filed last week.
They appeared in a federal court in Boston Tuesday afternoon handcuffed and wearing orange jumpsuits, with their families in attendance.
Tsarnaev has pleaded not guilty to charges he and his older brother set off bombs near the finish line of the Boston Marathon on April 15, killing three and wounding hundreds.
Tazhayakov and Kadyrbayev, who shared an apartment in New Bedford, Mass., bonded with Tsarnaev because of their shared Kazakhstan heritage, according to an attorney for Tazhayakov.
The lawyer insisted that although they were friends with the surviving bombing suspect, they did not help him cover his tracks.
"As Dias' family prays for the victims, they also pray for justice for their son, a law-abiding college student whose only crime was befriending a fellow student who spoke his more comfortable native language," attorney Robert Stahl said in a statement after the court appearance. 
Authorities said Kadyrbayev received a text after the bombing from Tsarnaev, saying he could go into the suspect's room and take what he wanted. The indictment also charged that the two suspected the petroleum jelly was to make bombs and they disposed of it and the fireworks in a trash bin outside their apartment. 
Once Tsarnaev, and his now-deceased brother Tamerlan, were publicly identified as the bombing suspects, the two said they witnessed a garbage truck take the potential evidence away, according to authorities. 
Stahl said his client did not knowingly take evidence and completely cooperated with authorities, turning over the laptop and helping investigators locate the backpack. The backpack was later recovered in nearby landfill.
The two defendants face up to 25 years in prison.
NBC's Pete Williams contributed to this report.
Related: