LOUISVILLE, Ky. — A fugitive Kentucky lawyer at the center of a nearly $600 million Social Security fraud case has fled the country using a fake passport and has gotten help from someone overseas with a job to help support himself.
The flamboyant disability lawyer Eric Conn, in an email exchange with The Lexington Herald-Leader over the weekend, told the paper he flew to a country that does not have an extradition agreement with the U.S.
The paper reported Sunday that it tried to verify Conn's identity by asking him questions that only he could answer, including his Social Security number, which it obtained from court documents, and details about one of his marriages. He answered correctly, the paper said.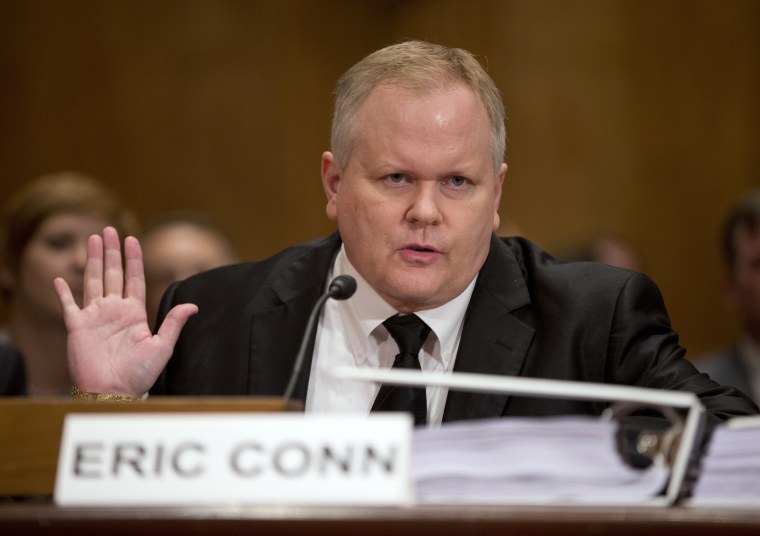 Scott White, Conn's attorney, said that he also received emails that originated from the same address and from a person he believed to be Conn.
Many believed that Conn, who fled home detention on June 2, had stashed money overseas to live on but the email said that was not the case.
"The money I sent overseas was money that has long since been spent," Conn wrote.
Related: Social Security Fraudster Offers Apparent Terms of Surrender
A person claiming to be Conn has sent the newspaper several emails since fleeing. Unlike the latest emails, it was not possible to reply to the initial emails, the paper reported.
The FBI did not respond to a request Sunday seeking comment on whether it believes the latest emails are from Conn.
Conn started his law practice in a trailer in 1993 and built it into one of the most lucrative disability law firms in the country.
He portrayed himself as "Mr. Social Security," a persona fueled by outlandish TV commercials and small-scale replicas of the Statue of Liberty and the Lincoln Memorial at his office in eastern Kentucky.
His empire crumbled when federal investigators uncovered he had been bribing a doctor and judge to approve disability claims based on fake medical evidence.
As part of his plea deal in March, he agreed to pay the federal government $5.7 million and to reimburse Social Security $46 million. A federal judge ordered Conn to pay $12 million in damages and $19 million in penalties to the government and two former Social Security employees who tried to expose the scheme. Conn also is facing a liability judgment from a class-action lawsuit brought by his former clients.
Conn speaks multiple languages, has crossed the border 140 times in the past decade and had told at least six people he would flee the country instead of going to jail.
He surrendered his passport in April 2016 after being indicted. An accomplice outside the country obtained a fake passport for him, an email said.
Conn said the day after cutting off the monitor he used the passport to fly out of the U.S.
He made a reference in one email to being on another continent but did not say which.
Conn said he boarded a commercial flight without any significant problems but did not say where he caught the flight.
He did say he worked to misdirect authorities. For example, Conn said he used his credit card to buy a ticket to fly out of John F. Kennedy International Airport in New York. He said however that he never intended to go there because of the likelihood the FBI was monitoring his transactions.
He used a different, pre-paid credit card to buy a second ticket and used that one to leave the country, he said.
Conn said his leaving required preparation. A key factor was to not ask anyone left behind for help so they would not get in trouble, he said.
"I had to ask for help from an individual or individuals who were effectively immune from the government's persecution," Conn said. "Fortunately, I had previously made alliances with such individual or individuals."
Conn did not provide any additional information about who helped him, except to say the person has also given him a job.
He said the job doesn't pay much but gives him a chance to support a cause he believes in. He also said the job involves writing but is not a traditional legal job.
Hundreds of Conn's clients in the impoverished coalfields of eastern Kentucky and West Virginia have been fighting to keep their disability checks. Ned Pillersdorf, who represents Conn's former clients, has said the anger toward Conn "is overwhelming."