"Potentially big changes" are coming to the Miss America pageant, according to its new chairwoman, Gretchen Carlson. The former Fox News anchor, who was crowned Miss America in 1989, has been a high-profile voice against workplace sexual harassment, and her appointment comes after leaked sexist emails led to a shakeup of the organization's leadership.
But will Carlson's promised changes be enough to secure the future of the Miss America pageant in the wake of the growing global movement known as #MeToo and declining ratings?
Carlson, who was chosen by the Miss America Organization's board of directors, said she wanted to make the organization "100 percent about empowering women" during an interview Friday with ABC's "Good Morning America."
"I'm looking at this as a call of duty," she said.
One change came on Saturday, when the organization announced that its board of directors "unanimously" raised the maximum age of contestants to 25, from 24. Contestants can be no older than 25 on Dec. 31 in the calendar year of their state competitions, according to a statement from the Miss America Organization.
The pageant drew 5.6 million television viewers in 2017, down from 6.2 million the previous year, the group had said previously, adding that last year's competition took place in the midst of power failures from Hurricane Irma.
The nearly 100-year-old contest is currently broadcast on ABC from Atlantic City, New Jersey, where it was founded as an end-of-summer tradition. The network previously dropped the pageant in 2004 after a steep ratings decline of about 500,000 fewer viewers. The total viewership of 9.8 million was a record low at the time.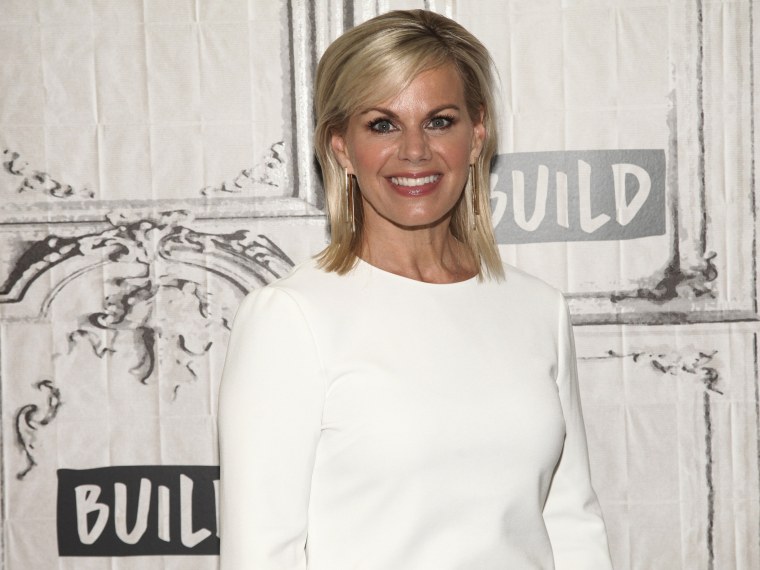 The show then alternated between cable channels CMT and TLC before returning to ABC in 2011. It also changed venues, from Atlantic City to Las Vegas, in 2006, before heading back to the New Jersey boardwalk in 2013 because of costs.
Sarah Banet-Weiser, author of "The Most Beautiful Girl in the World: Beauty Pageants and National Identity," said Miss America would now have to reconcile its "public face of female empowerment" with the fact that it was a competition still, in part, about competitors' physical attractiveness. She pointed to its swimsuit segment as an example.
The organization features a $50,000 scholarship for its winner and has always sought to distinguish itself from "beauty pageants" that do not feature talent segments in their competitions, such as Miss USA, Banet-Weiser said.
Miss USA, the beauty pageant that selects the American woman who will go on to compete in Miss Universe, was owned by President Donald Trump from 1996 to 2015 and was formerly broadcast on NBC. Fox Broadcasting Company owns the current rights to the pageant.
Related: Gretchen Carlson settles lawsuit with Fox News
Miss America describes itself on its website as "one of the nation's leading achievement programs" and the "largest provider of scholarship assistance" for young women in the United States.
"I think the public face of Miss America as this sort of defensive relentless rhetoric of it being a women's empowerment organization has served as this sort of alibi for many years," said Banet-Weiser, who is the vice president and director of the Annenberg School for Communication and Journalism at the University of Southern California.
The Haskell email scandal has suddenly threatened to shatter that image, she said.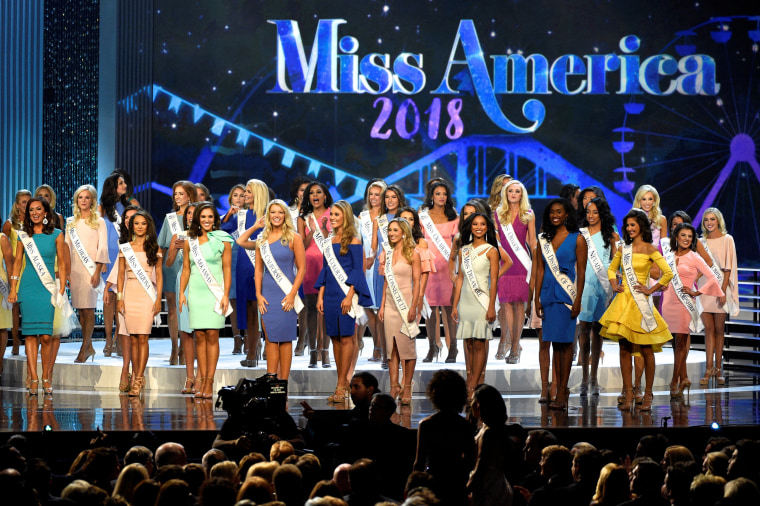 Asked whether the swimsuit part of Miss America was "outdated," Carlson said vaguely that change was on the horizon.
"I have so many great ideas for this organization, and I will be talking about all of those with all the other board members and the eventual CEO and staff of Miss America," she told "Good Morning America." "So what I would love to say about that is please stay tuned, because I plan to make this organization 100 percent about empowering women."
Carlson added that it was a "form of justice" in the #MeToo era that former Miss Americas such as herself — some of whom were named in Haskell's emails — were now at the helm of the organization.
In a statement Dec. 22, Haskell described the report of the emails as "vicious" and said it involved "a series of conveniently edited emails." The next day, he resigned without comment.
Related: Gretchen Carlson elected as Miss America chairwoman after sexist email scandal
HuffPost first reported in December about the emails, which were purportedly written in 2014 and 2015 and shared between Haskell and other organization leaders. They reportedly referred to former Miss America contestants as an offensive slang term for a female body part and joked about another winner's death. NBC News has not verified the emails.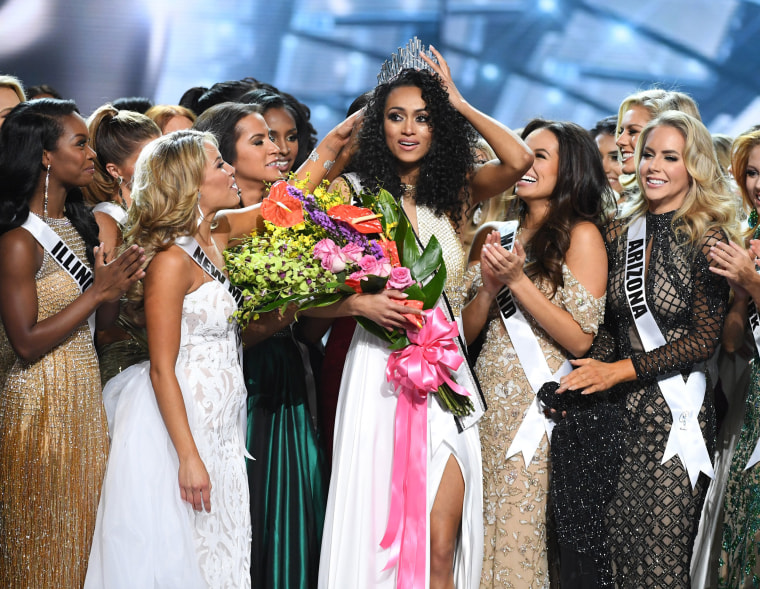 Mallory Hagan, a former Miss America winner whose looks and sex life were referred to, said she was "thrilled" at Carlson's new role and believed she could "turn the pageant around."
Hagan and Carlson had called for the resignations of those involved in the emails or who knew of their existence.
"It's definitely a positive step forward in the brand that we have always claimed to be but I don't think we have actually been," she said.
But some remain unconvinced. Marian Orr, the mayor of Cheyenne, Wyoming, wrote on Twitter after Haskell's resignation that perhaps it was time for "all young women to simply not participate in pageants."
Orr, who grew up watching pageants as a child in Wyoming, said that Carlson was "brilliant" but that she did not think rebranding was the issue.
"I just really have a problem with young girls being taught at a young age that their physical beauty is what's important," she said. "There's so much more to the human spirit."
Hagan said that former winners had been pushing for more focus on competitors' intellect and talents but that previous leadership "wasn't hearing it." She said she was hopeful that Carlson would "showcase the education of the women that we claim to support."
Banet-Weiser agreed that there was potential for Carlson to enact change. "The problem still is that it's a beauty pageant, so it would be great if she took away the swimsuit completion, if she actually shook it up a little bit," she said.
Banet-Weiser noted that the Miss Peru 2017 pageant featured contestants refraining from listing their physical measurements for the audience — which is typically done — with more than 20 of them reciting jarring statistics about trafficking, victimization and harassment involving women.
"That was a really interesting kind of disruption," she said.