TUCSON, Ariz. — In the past five years, Gabby Giffords has hiked the Grand Canyon, gone skydiving, raced in a 40-mile bike ride and founded an advocacy group that helped persuade President Barack Obama to take executive action on gun control.
That's while recovering from a gunshot wound that nearly killed her, learning to speak again and rehabilitating.
Friday marks the anniversary of the 2011 shooting at a Tucson constituent event that left six dead and 13 injured, including the former U.S. congresswoman, the target of the attack.
Giffords was shot in the head. She has a language disorder known as aphasia and speaks in short phrases or words. The right side of her body is largely paralyzed.
The shooter, Jared Loughner, pleaded guilty to 19 federal charges and was sentenced to life without parole.
"It's been a long, hard haul, but I'm getting better," Giffords said in an email this week. "I wake up every day grateful that I have a second chance at life and a second chance at service."
Giffords and husband Mark Kelly, a retired astronaut, founded Americans for Responsible Solutions, a political action committee that calls for stricter gun regulations.
Related: Obama Takes on Gun Reform in Cable News Town Hall
The couple had their hearts set on 2013 legislation that would have required background checks on all gun sales. But the bill failed, and Kelly and Giffords searched for an alternative, deciding presidential executive action was the next best option.
Kelly said he encouraged Obama to act, and the staff at Americans for Responsible Solutions worked with the White House on the plans for a year.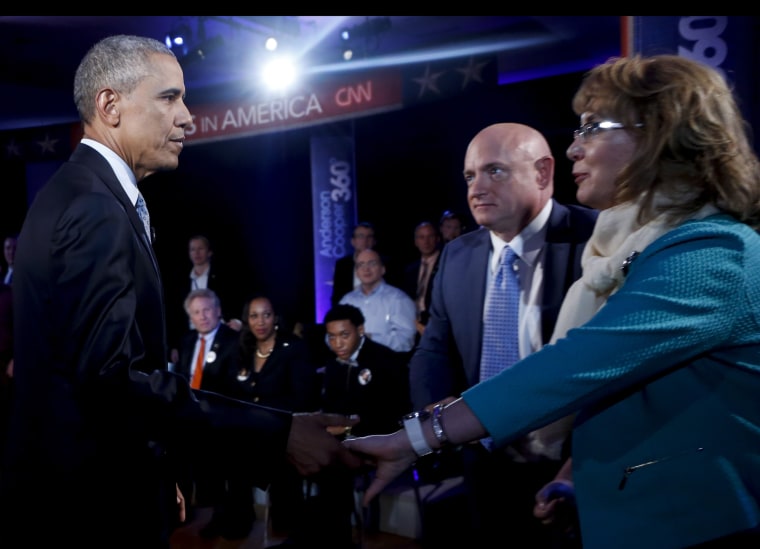 The president's action was aimed at narrowing the loophole that exempts gun sales from background checks if the seller isn't a federally registered dealer. It implements guidance specifying that even those who sell just a few weapons at gun shows, flea markets or online can be deemed dealers and required to conduct checks on prospective buyers.
Related: Giffords Attends New York Gun Show
Critics say the plan won't make a significant dent in unregulated sales and that Obama should have let Congress handle the issue instead of taking action himself.
Kelly said Americans for Responsible Solutions will take up the cause during the upcoming election season by advocating for candidates who support tougher gun regulations.
At their Tucson home, Giffords is merry, smiling as she plays with her service dog, Nelson, who likes to eat napkins but can also fetch a tissue box at the sound of a sneeze.
Giffords and Kelly were home for the holidays, but they spend a large part of their time traveling for their political action committee. In between, Giffords goes on bike rides — she spent the first half of last year strenuously training for a race — and continues speech therapy about three times a week.
She likes to watch TV and most recently binge-watched the Netflix hit documentary series "Making a Murderer."
Giffords has full cognitive ability, but communicating is an ongoing challenge.
"When I met her, she could say some words but certainly struggled," said therapist Fabi Hirsch. "So she has just made tremendous progress, and I attribute at lot of that to the fact that she works constantly on improving her communication skills."