Former Democratic Congresswoman Gabrielle Giffords was shot in the head on a Saturday morning in January 2011. The following Monday, her offices were open for business, she said.
Giffords reminded lawmakers of this in a string of tweets sent out on Thursday after Representative Louie Gohmert, R-Texas, cited her shooting as a reason he would not be holding an in-person town hall meeting.
"To the politicians who have abandoned their civic obligations, I say this: Have some courage. Face your constituents," Giffords wrote. "Hold town halls."
After invoking Giffords' shooting, Gohmert said in a statement that he would instead be holding a telephone town hall after raucous and angry crowds showed up at town halls across the country.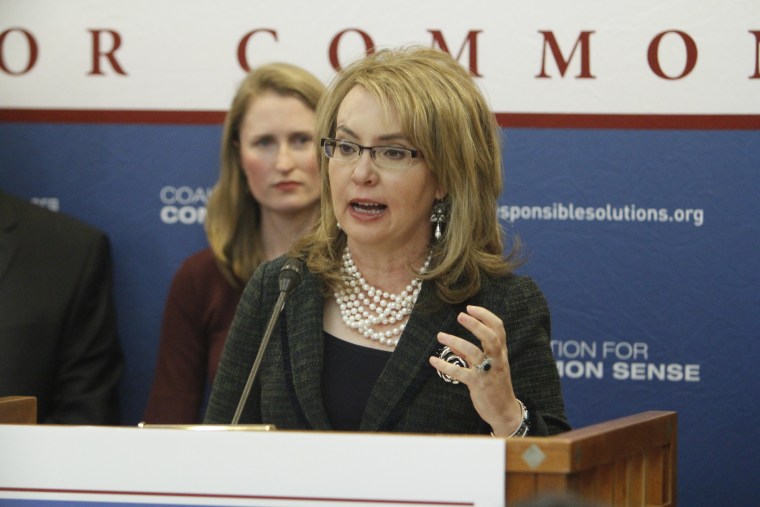 "At this time there are groups from the more violent strains of the leftist ideology, some even being paid, who are preying on public town halls to wreak havoc and threaten public safety," Gohmert said.
"Threats are nothing new to me and I have gotten my share as a felony judge. However, the House Sergeant at Arms advised us after former Congresswoman Gabby Giffords was shot at a public appearance, that civilian attendees at Congressional public events stand the most chance of being harmed or killed — just as happened there."
Related: Town Hall Protests Revive Art of Bird-Dogging Politicians
Giffords was shot during a January 2011 event in Tucson, Arizona. Six people were killed, including a 9-year-old girl and a U.S. district court judge.
"Ron Barber — at my side that Saturday, who was shot multiple times, then elected to Congress in my stead — held town halls. It's what the people deserve in a representative," Giffords said in the statement.
She added that town halls and constituent meetings were a hallmark of her tenure, and she has held more than 50 public events for gun safety in the past year.
"Many of the members of Congress who are refusing to hold town halls and listen to their constituents concerns are the very same politicians that have opposed commonsense gun violence prevention policies and have allowed the Washington gun lobby to threaten the safety of law enforcement and everyday citizens in our schools, businesses, places of worship, airports, and movie theaters," she said.
The National Republican Congressional Committee has warned that town halls have the potential to turn violent, according to the Washington Post, but so far these events have been peaceful — if loud. The most common occurrences are crowds shouting, booing and chanting "Do your job," at their representatives.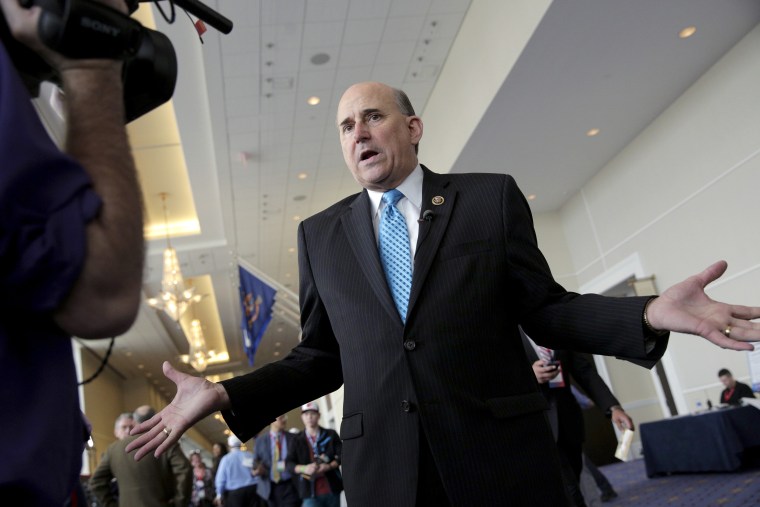 Gohmert's statement noted that a manual was circulating among some groups about how "agitators" could disrupt town halls, throwing them off track and cited that as another reason a phone meeting was preferable.
"Some public town halls from this particular group recently boasted having agitators even come in from other states to cause havoc," he said. "I understand you personally do not want violence, but just want to be heard. I hear you."
Related: Lawmakers Pressed on Trump's Policies at Town Halls
On Thursday evening, Gohmert responded to Giffords' statement saying the former Arizona congresswoman was — and still is — a friend of his who would "never have minimized the death of people that day at that horrible event that changed her life forever."
"I've done town halls all 12 years I've been in Congress, and I'm going to back to those when this mob rule mentality goes away," Gohmert said.