Actress Gabrielle Union, whose abrupt exit as a judge on the NBC reality show "America's Got Talent" sparked controversy, said Wednesday she had a "productive" meeting with the network executives and was able to present her "unfiltered truth" regarding her rocky short-lived tenure on the show.
Union was let go as a judge after one season after she raised allegations of sexist and racially inappropriate incidences on set, Variety magazine first reported last month.
Union met with NBC executives and show producers Tuesday to address her concerns.
"We had a lengthy 5-hour, and what I thought to be, productive meeting yesterday. I was able to, again, express my unfiltered truth. I led with transparency and my desire and hope for real change," Union tweeted on Wednesday.
NBC said in a statement Wednesday that the "conversation was candid and productive." The network went on to say that there will be a "further investigation to get a deeper understanding of the facts, we are working with Gabrielle to come to a positive resolution."
Among the alleged incidents reported on set was an issue involving a racist joke by comedian and guest judge Jay Leno that Union felt was offensive and wanted reported to the company's human resources department, according to the magazine. However, "it was never escalated to that department," Variety reported.
Leno declined to comment on Union's allegations. But Monday he spoke outside of a comedy club in southern California and said: "I love Gabrielle Union. She's a great girl. I really enjoyed working with her," according to Lion Share News.
Separately, Union was allegedly told several times that her hairstyles were "too black" for the audience, Variety reported.
Union allegedly also expressed concern over "a white male performer crossing a line in portraying people of color," producers allowed the performance to proceed but it was later cut from the episode, the magazine said.
The network and Screen Actors Guild have launched investigations into Union's claims of what has been reported as a "toxic work environment" and "racially insensitive situations."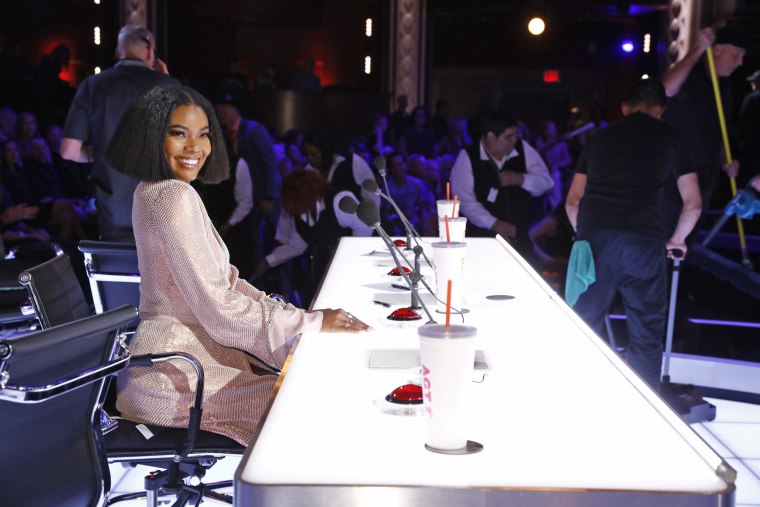 "We remain committed to ensuring a respectful workplace for all employees and take very seriously any questions about workplace culture," said NBC in a statement Sunday.
Fellow judge Julianne Hough's contract was also not renewed, although the actress said in a statement she had "a wonderful time" during her one season and was "happy to continue my working relationship with NBC".
Several celebrities rallied behind Union in the aftermath of the controversy including Ellen Pompeo, Arianna Grande, Lin-Manuel Miranda, and Jameela Jamil.
"Workplace cultures will continue to be toxic until there is unity and solidarity among all women. If you go for self in these moments you undermine the work we are out here trying to do. Obviously this network feels like they can operate like this and it's okay," Pompeo tweeted last month.