The leader of the white nationalist group whose Sunday rally in California drew violent counter-protests is a rising figure in the modern American hate movement — who stokes animosity through theatrical provocation — and is trying to gain a tiny toehold in local politics.
As a student at Towson University three years ago, Matthew Heimbach led his "White Student Union" on crime patrols that targeted black people.
In March, he showed up at a Donald Trump rally in Louisville, where he shoved a black protester.
On Twitter last week, he celebrated Britain's vote to leave the European Union as "the greatest European nationalist victory since 1933," when the Nazis rose to power.
And on Sunday, Heimbach's nascent Traditionalist Worker Party, which is recruiting local candidates to fight "anti-Christian degeneracy," held a rally in Sacramento that drew clashes with the local chapter of the Anti-Fascist Network. Ten people were injured, at least half of whom suffered stab wounds, police said.
But he is not a stereotypical hate monger.
"He's charming and garrulous and a polite, nice guy, but holds some very dark ideas," said Ryan Lenz, who has spent years tracking and interviewing Heimbach for the Southern Law Poverty Center's Hatewatch blog.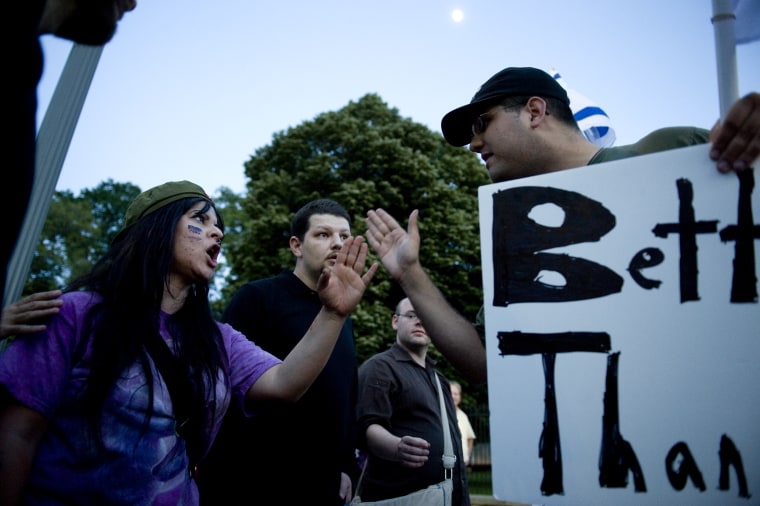 Heimbach, 25, who is married with an infant son and lives in Indiana, has claimed that he is not racist, but is merely calling for America to pay more attention to poor and working class whites.
Lenz recalled Heimbach telling him, "I don't hate anyone. I just love white people more."
But his party's own pro-white, anti-immigrant, anti-Semitic platform, outlined on its website, explains further. One of its pillars is "ethnic consciousness" that focuses on white pride. The premise allows for other races to celebrate themselves, but in a way that keeps everyone separate.
He comes off as smart and witty, Lenz said, but also as "someone who has read all the wrong books."
Heimbach did not immediately respond to a request for comment left with the Traditionalist Worker Party.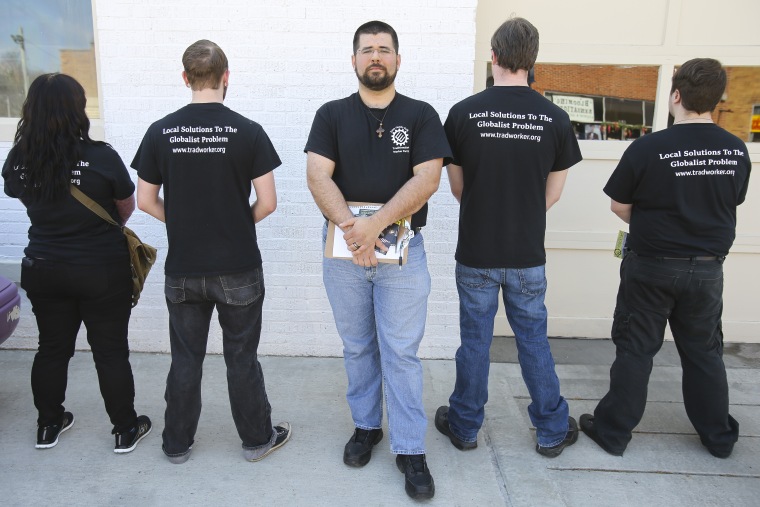 He told the Washington Post that his ideas began to take shape while he was in high school in Poolesville, Maryland, when he read Samuel P. Huntington's "Who Are We? The Challenges to America's National Identity," which argues about the corrosive impact of Hispanic immigration and multiculturalism, and Patrick Buchanan's anti-immigrant "The Death of the West."
According to Lenz and others who track him — as well as recent media coverage — Heimbach seems intent on building a grassroots movement that focuses on young disaffected Americans. He's got a long way to go — the TWP only has about four chapters, while its sister organization, Traditionalist Youth Network, as about 10, according to the SLPC. But Heimbach has been compared to a young David Duke.
"He actually believes he's right, actually believes in everything he says and welcomes the opportunity to debate the issues," Lenz said.
That, and making a lot of people angry.