A 9-foot-long alligator was captured Tuesday night in the same Florida lake where one was found holding remains of a human body in its mouth, officials said.
Lakeland police said the gator's stomach will be examined to determine whether it swallowed any parts of the adult male body, which was found after 1:40 p.m. ET Tuesday.
If not, the lake will be searched again Wednesday for other gators.
Authorities first received a 911 call from a nearby senior living community where someone had seen the startling sight: an alligator — estimated at between 8 to 10 feet long — clutching the body in its jaws.
"I've got a dead body over here in the lake," the caller said. "Uh, it looks like an alligator is trying to pull it down under."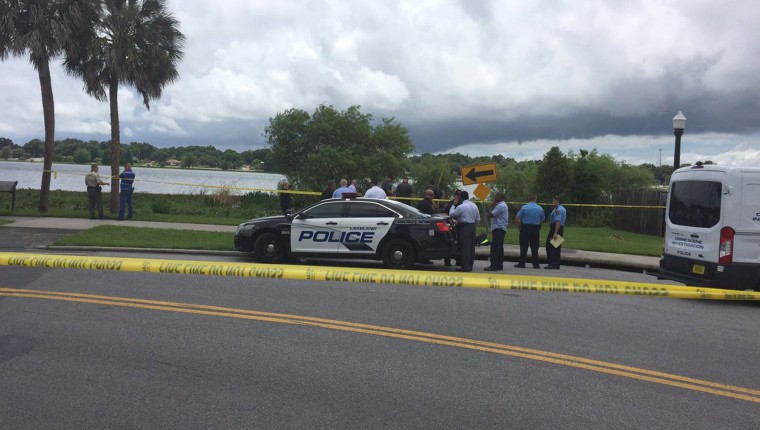 A spokesman for the Florida Presbyterian Homes along Lake Hunter said the body appeared to be missing an arm and a leg. All of the community's residents were accounted for, he added.
The reptile eventually released the body, and investigators were able to get to retrieve him. An autopsy was scheduled for Wednesday to determine a cause of death.
The body did not appear to be freshly killed, said Lakeland police Sgt. Gary Gross. It had likely been decomposing in the lake for more than a day, he said on Twitter.
Gross told NBC News that there were no reports of missing people in the area, although there was a report Saturday of clothes and a backpack left behind at the lake's boat launch — an area with a known aggressive alligator.
On Sunday, police also received a call about "something large" floating in Lake Hunter with an alligator "circling it." Officers went to the scene but found nothing.
It was not immediately clear if these incidents are connected.
The Florida Fish and Wildlife Conservation Commission arrived at the scene to help comb the pear-shaped lake for the animal. "We will attempt to trap this alligator," FWC spokesman Gary Morse told NBC affiliate WFLA.