Randy Prescott and his husband Joseph Keller spent three years looking for a gay-friendly adoption agency that would work with them. When they finally found one, it was in Atlanta – 250 miles from their home in Alabama.
The couple has longed dreamed of fatherhood, but when the time comes for them to welcome a child into their home, they'll face a difficult reality: Only one of them can adopt under Alabama law, leaving the second parent without a legal relationship to the child.
"We're doing what we can do," said Prescott. "This will be my own family."
As the country moves toward giving more same-sex couples the right to marry, parenting rights are lagging behind in many states. Some states permit both parents' names to be on the child's birth certificate, while others, like Alabama, only allow gay singles to adopt, leaving families in legal limbo. A recent New York case pushed the divide even further: a judge denied a lesbian parent an adoption, saying that since her name was on the birth certificate she didn't need that additional legal safeguard often sought by gay couples.
A trial that could have implications for these different standards of treatment began on Tuesday in Michigan, where two lesbian moms have been fighting to secure legal rights to their kids through adoption.
"The state of the law is definitely fraught with peril and uncertainty for same-sex couples that are looking to raise families," said Ineke Mushovic, executive director of Movement Advancement Project, an independent think tank researching the lesbian, gay, bisexual, and transgendercommunity. "How these laws are changing is a little bit unpredictable."
Gay couples can face a legal minefield when trying to ensure parental rights - and, just like the marriage battle, it all depends on where they live. That's because the states determine who qualifies as a mom or a dad not the federal government.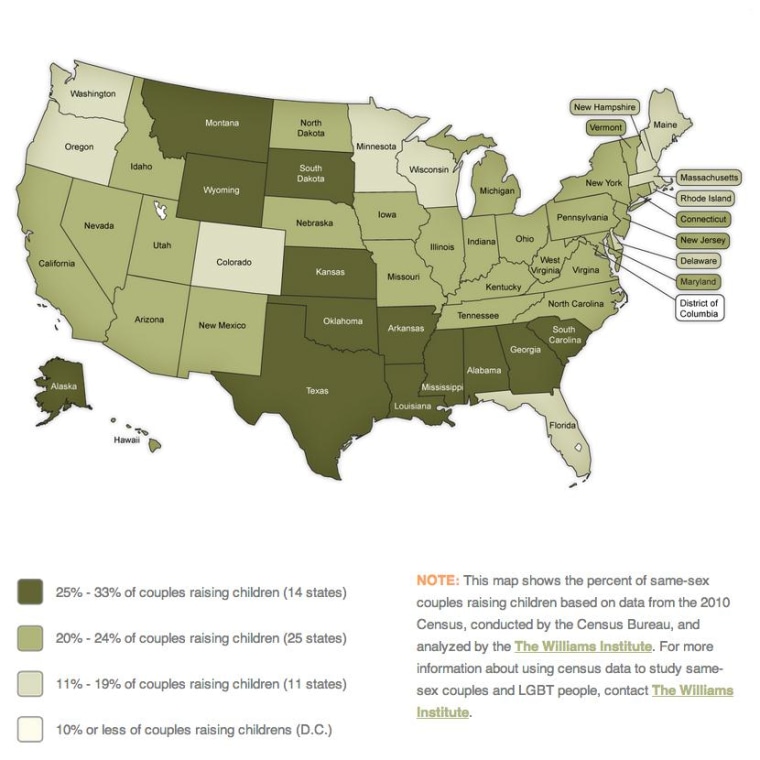 The non-standard approach has left LGBT couples who long to be parents with varying options: in 22 states, plus the District of Columbia generally where same-sex marriage, civil unions or domestic partnerships are legal – they can jointly adopt children, or secure second-parent or step-parent adoptions. Even though gay partners both can be named on the birth certificate in 19 states and D.C., many couples opt for adoption anyway as an extra precaution to protect their rights as parents in states where same-sex marriage is not allowed.
In the 28 other states that ban gay marriage, there is typically no provision in the law for same-sex couples to form legal ties with their adopted children – meaning that judges will often decide on a case-by-case basis. Some states go even further and impose specific restrictions on LGBT couples who want to adopt.
"This patchwork system of each state deciding for themselves what constitutes a legal family and what doesn't – it has no place in today's modern world where people don't stay in the same place," said Dana Nessel, an attorney representing the Michigan couple whose case goes to trial on Tuesday. "The dichotomy between the states is so palpable."
"The state of the law is definitely fraught with peril and uncertainty for same-sex couples that are looking to raise families."
Such concerns pushed Nessel's clients, April DeBoer and Jayne Rowse, to file a lawsuit in federal court in January 2012 seeking to adopt their three young, special-needs kids.
The state doesn't consider DeBoer and Rowse to be the parents of each other's kids even though they want to be (DeBoer adopted a girl on her own; Rowse adopted two boys). The pair drew up legal documents to protect their rights, but their lawyer told them it was just a "piece of paper. You still don't have a legal relationship with your kids," said DeBoer of Hazel Park. "That was scary for us and that's how we came to this fight."
The judge in their case said they should expand their argument to challenge the state's marriage ban since that would resolve the parental issue by allowing them to wed – a prerequisite for joint adoption in Michigan. The couple did that, but part of the trial will focus on arguments for and against gay parenting – with each side bringing in experts.
Nessel hopes the case will help put an end nationwide to claims long pushed by anti-gay marriage groups that children need a mother and a father, and she noted how Supreme Court Justice Anthony Kennedy last year cited in the historic DOMA ruling the harm done to gay couples and their children by denying them the right to wed. But the state of Michigan said in legal filings that it will defend its marriage ban, which fosters the state's "legitimate interest in promoting responsible natural procreation."
It's not clear how long the trial will last, but DeBoer said the wait for a legal resolution has been hard, with the couple fearing that illness or death could lead to their children being taken away from the surviving partner. "The longer we wait, the longer our children are unprotected, the longer something could happen," she said.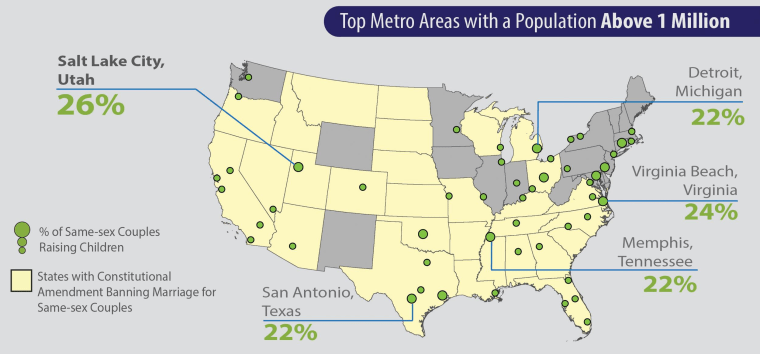 Other gay couples are experiencing a very different reality just a few states away. Diana Schneider, of Davenport, Iowa, last week finalized what she described as an easy adoption of her wife's daughter from a previous marriage. She fretted beforehand about any complications that could arise with the adoption, but the couple's attorney put them at ease with a few words.
"We said very specifically, "Is it going to matter that we are a gay couple?" recalled Diana's wife Rose Schneider. "And he said, 'No, under Iowa law now, you are exactly the same as everyone else. It does not matter if you are gay or straight.'"
"I can't even tell you how nice it is to sit in a lawyer's office and hear them say, 'no, you're just like everybody else," Rose said.
But that came with a caveat: The law applies to them equally in Iowa and other states that grant the same rights. Because of that, the Schneiders have no intention of leaving the state. For Rose, the limitation has meant turning down a good job in Kansas, where the recognition of same-sex parents isn't guaranteed.
"Am I making career decisions based on the legal realities of my family? Absolutely," she said. "This is where we're going to stay, and a lot of it has to do with this is where we are protected as a family."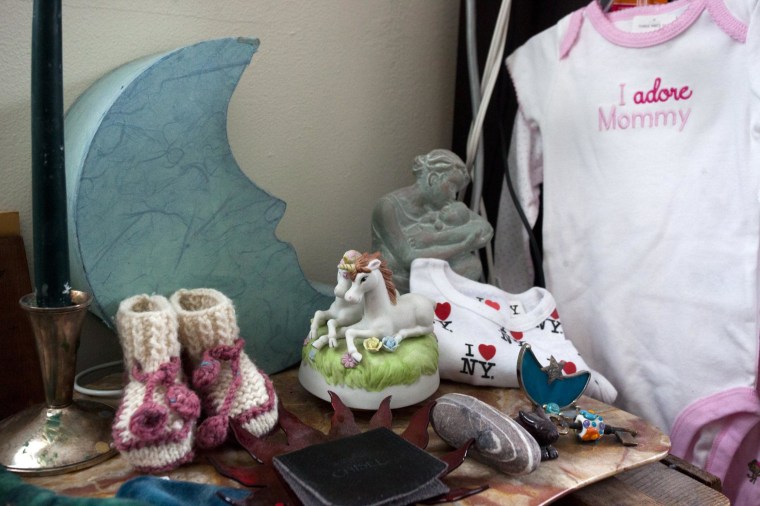 Those concerns hit home for some gay couples after a New York judge in January denied a lesbian mom's application to adopt the son she had with her wife.
In what is believed to be the first ruling of its kind, Surrogate Judge Margarita Lopez Torres wrote that she understood the couple had acted "out of an abundance of caution" perhaps to ensure that the non-biological mother's "existing parental relationship with the infant is less susceptible to challenge" in a jurisdiction not as friendly to gay rights.
"I can't even tell you how nice it is to sit in a lawyer's office and hear them say, 'no, you're just like everybody else.'"
"Indeed, the court is mindful of the uncertainty occasioned by the tectonic shifts occurring in the geography of our culture's definition of 'family,' particularly with respect to the increasing recognition of the right to marriage equality and adoption by same-sex families," she wrote.
But she denied the application, saying adoption wasn't meant to reaffirm an already existing parent-child relationship. If the court did entertain the adoption petition, the judge continued, it would imply that "true equality remains yet to be attained" and that marriage wasn't enough to establish a parent's legal connection to their child.
The decision worried LGBT advocates who felt the judge was envisioning an era that didn't yet exist: when gay parents would be treated the same as heterosexual ones nationwide. Until then, they encourage the adoptions even when birth certificates list both gay parents.
"The jurisdictions that refuse to recognize marriages of same-sex spouses may decline to respect (the birth certificate) and treat the non-biologically related spouse as a legal stranger to the child," said Susan Sommer of Lambda Legal, who became the New York couple's attorney after the decision.
Many gay parents are living in such "legal stranger" circumstances: Census data from 2010 show that the 12 states with the highest proportion of LGBT parents raising kids had marriage bans and no laws allowing couples to do joint adoptions, according to the Williams Institute.
Nonetheless, the times are improving from the days when gays weren't allowed to adopt, said Sommer.
"Tremendous momentum" in the battle over same-sex marriage "can only bode well for parental rights," she said. "But the fight is not over."
The Alabama couple, Keller and Prescott, said they recall those days when adoption seemed impossible and they didn't know any gays who had managed to make it happen.
Keller won't be the adopting parent – and that worries him – but the couple won't leave Alabama to make their dream of parenthood a reality despite the difficult legal situation and some anti-gay bias. They've bought some toys, clothes and a baby blanket, the kind "you bring a child home in," Prescott said.
"If everybody just up and left the state if something was uncomfortable it wouldn't really solve anything," Keller said. "We've been here forever. It is home."