Westboro Baptist — the Kansas church known for its virulently anti-gay agenda — has waded into the controversy over the Kentucky court clerk who refuses to issue same-sex marriage licenses in defiance of court orders.
But it is taking aim at Kim Davis, who has gone to jail for refusing to allow gay people to marry on the basis that it would violate her Christian beliefs.
Westboro, or WBC, is notorious and widely scorned for picketing funerals for service members of victims and mass shootings to draw attention to its "God Hates Fags" argument that God is punishing America for accommodating homosexuality.
Related: Jailed Kentucky Clerk Kim Davis Asks Court to Block Governor's Order
Referring to Jeremiah 3:20 — the King James version of which reads, "Surely as a wife treacherously departeth from her husband, so have ye dealt treacherously with me, O house of Israel, saith the LORD" — WBC undertook a P.R. campaign over the weekend, attacking the thrice-divorced (and legally remarried) Kim Davis in a string of Tweets and YouTube videos as an "oath breaker" and a "lawbreaker" — meaning, of course, God's law.
"Get this straight: you can NOT repent of a sin you actively live. Kim must leave that man who's not her husband," the organization said on Twitter.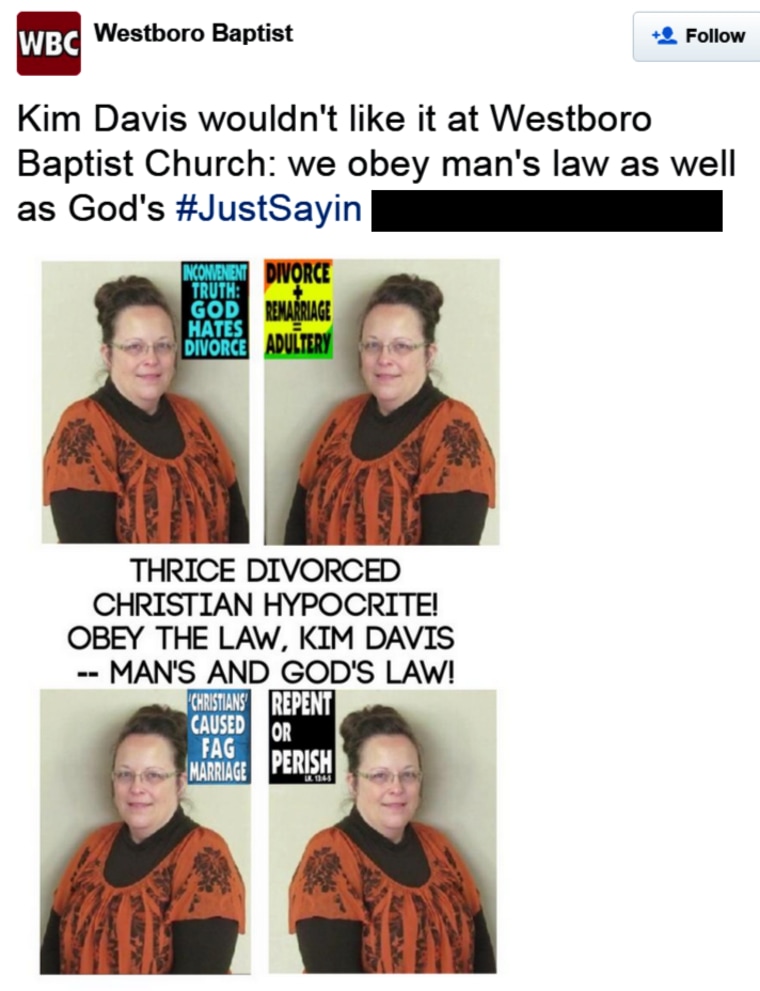 Attorneys for Davis, who was jailed Thursday, on Sunday filed filed an appeal, The Associated Press reported.
As if to clarify how it could so viciously attack someone who's fighting for its own principles, the group said, "Proud adulterers who divorce/remarry and refuse to call it a sin are no more a WBC member than a proud fag."