Dick Leitsch, a titan of the early gay rights movement who led "sip-in" protests in the 1960s, died in New York City on Friday, Ken Lustbader, the co-director of NYC LGBT Historic Sites Project confirmed to NBC News. He was 83.
Leitsch became an icon of the LGBTQ movement after leading protests that pre-dated the Stonewall Inn uprising, increasing the momentum of the gay rights movement.
"Without Dick and people like him who are brave, courageous and risked so much when being out was so dangerous, we wouldn't be here today," Lustbader said.
Born on May 11, 1935, Leitsch moved to New York City in 1959 from his home state of Kentucky.
He went on to lead the the New York City chapter of the Mattachine Society, one of the oldest gay rights organizations in the country. It was during his time at the Mattachine Society that he came up with the idea for "sip-ins."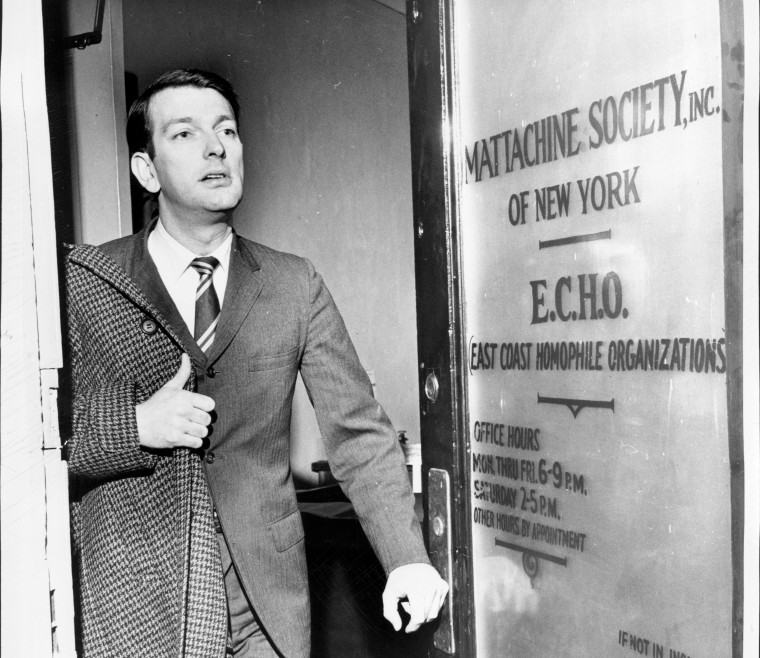 At the time, it was common practice for bars to serve members of the gay community under a no-questions-asked policy, according to The New York Times. The policy was unwritten by the State Liquor Authority, which regarded homosexuals as "disorderly." During this period, the New York State Liquor Authority could revoke a bars' liquor license if it knowingly served gay people.
Inspired by the African-American civil rights lunch counter protests in the South, in 1966, Leitsch, along with at least two other gay men, went from bar to bar announcing that they were gay and asking to be served. When they arrived at Julius' Bar in the Greenwich Village, Leitsch told the bartender, "We are homosexuals. We are orderly, we intend to remain orderly, and we are asking for service."
The bartender reflexively slapped his hand over Leitsch's glass. The moment was immortalized by Village Voice photographer Fred W. McDarrah.
"The Mattachine Society tried desperately to get people to accept homosexuality," Leitsch told NBC News in 2017. "We wanted people to see who we are, what we are."
The Mattachine Society threatened to sue over the refusal of service at Julius', which caused then-liquor authority chairman Donald S. Hostetter to deny the policy of not serving gays existed and said the authority never threatened liquor licenses, according to the Times.
The following year, New York State courts ruled against the New York State Liquor Authority's theory that homosexuals were inherently disorderly, which ended the practice of revoking liquor licenses for serving openly gay members of the community.
"Today, we take for granted being out of the closet, but if it wasn't for people like Dick we would be at a loss for a gay pride movement," Lustbader said, adding that Leistch was able to make his mark across generations of LGBTQ people. "The gay pride movement lost a great hero yesterday."
Julius' went on to be considered the oldest gay bar in New York City. On April 21, Leitsch attended a celebration of the 52nd anniversary of the "sip-in" at the bar.
During the Stonewall riots in 1969,then New York City Mayor John Lindsay is reported to have called Leitsch, begging him to do something to end the violence.
"Even if I could, I wouldn't," Leitsch reportedly replied. "I've been trying for years to get something like this to happen."
Leitsch learned in February of 2018 that he had terminal liver cancer. Following his diagnosis, he received an onslaught of letters from admires, including former President Barack Obama, who thanked Leitsch for "decades of work to help drive our nation forward on the path toward L.G.B.T. equality."
On Sunday, just two days after Leitsch died, New York City's Pride Parade will see thousands of people marching down Fifth Avenue in Manhattan.
"I would say the Pride Parade marching tomorrow — everyone is marching and standing on the shoulders of Dick Leitsch," Lustbader said.
Leitsch is survived by his brother John Leitsch and his sister Joanne Williams, according to the Times. He was preceded in death by his partner Timothy Scoffield, who died in 1989 from complications due to AIDS.