The Cleveland park gazebo where 12-year-old Tamir Rice was fatally shot by cops two years ago was being dismantled Wednesday morning, and will eventually be displayed at a museum.
The gazebo — seen in choppy surveillance video capturing Tamir's death in November 2014 — had become a "symbol of pain" for the Rice family and the community, family attorney Subodh Chandra told NBC affiliate WKYC earlier this year.
Local officials helped to coordinate the removal of the gazebo and work out a deal with the Stony Island Arts Bank in Chicago to loan them the structure, the station reported.
The museum could not immediately confirm details about the preservation plan.
Tamir's mother, Samira Rice, initially wanted the gazebo demolished, but Chandra said she changed her mind after the site became a makeshift memorial to her son and she recognized its significance.
Related: City of Cleveland Settles Tamir Rice Lawsuit for $6 Million
Tamir was holding a pellet gun when a Cleveland officer — responding to a report of a man with a gun — shot him within two seconds of arriving at the scene.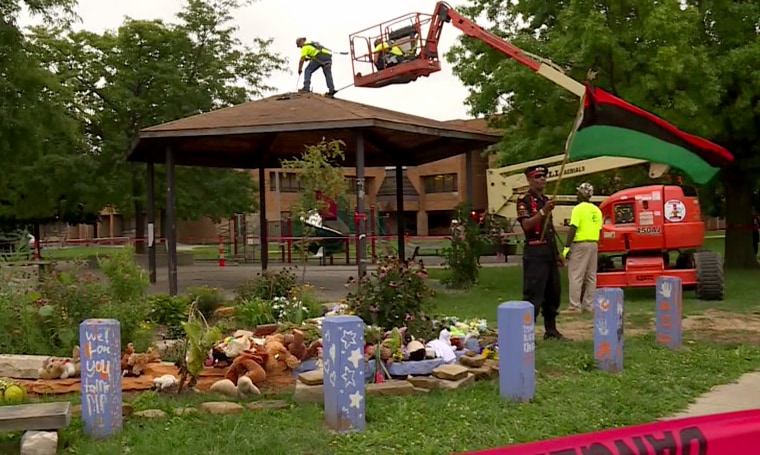 The death of Tamir, a black sixth-grade student, sparked protests over policing and racial bias. A grand jury last December chose not to indict the two officers involved.
In April, the city of Cleveland agreed to pay $6 million to settle a civil rights lawsuit brought by the Rice family.
The forthcoming exhibition is not the first to highlight a prominent civil rights-related case involving a person of color.
The lynching of Emmett Till, a black 14-year-old from Chicago, became a rallying cry in the civil rights movement when he was killed for allegedly flirting with a white woman in 1955. In 2009, his casket was donated to the Smithsonian's National Museum of African American History and Culture.
The museum, as part of an ongoing collection on activism and race relations, features a Justice 4 Trayvon placard about Florida teen Trayvon Martin and a Black Lives Matter T-shirt. Curators have also compiled material about Freddie Gray, a black man killed in police custody last year, The Washington Post reported.