George Floyd's family members gathered for a song-and prayer-filled private memorial service in North Carolina on Saturday, after an earlier public viewing of his body drew long lines of mourners from around the country.
Family members and public officials spoke at the service in Raeford, North Carolina, honoring Floyd, whose death last week in Minneapolis police custody has sparked protests around the world against police brutality and racism.
"Some death ain't about dying. Some death is about waking all of us up," said Jeremy Collins, a spokesman for North Carolina Gov. Roy Cooper. Floyd's death "woke all of us up."
Another speaker, Hoke County Sheriff Hubert Peterkin, urged law enforcement across the country to acknowledge that "we are part of the problem."
"We as law enforcement officers don't have the authority to bully, push people around and kill them because we have on a badge and a gun," he said. "It's got to change. We keep talking, we keep talking, we keep talking until it happens again. ... Enough of talking. Don't let the life of George Floyd be in vain."
Rev. Dr. Christopher Stackhouse with the Lewis Chapel Missionary Baptist Church gave the eulogy, referring repeatedly to the day Floyd died, May 25, as somehow "different."
"Although it took 8 minutes and 46 seconds for him to die, it took 401 years to put the system in place," Stackhouse said.
But, the minister said, "Something was different about that day."
"A movement is happening in America, and I'm glad that all of us can say that it was George Floyd that sparked a fuse," he said, adding that his death and the ensuing protests have sparked conversations between black parents and their children about racism.
A choir sang songs and Bible scripture was read at the service. Isaac Floyd, George Floyd's uncle, sang at the service.
Another family member, Ruby Floyd, said to the crowd, "We're bringing love back into the universe."
Collins from the governor's office presented the family with a flag that had flown over the state Capitol. Floyd's family also received official resolutions from the governor's office and the Lumbee Tribe.
Most of the mourners wore black, except members of Floyd's family who were dressed in white. Floyd's body rested in a closed gold coffin at the front of the room.
Before the private ceremony began Saturday afternoon, thousands of people from around the country had arrived by car, motorcycle or public transportation to attend a public viewing, NBC affiliate WRAL in Raleigh reported. As a hearse carrying Floyd's coffin arrived, mourners chanted "black power" and "no justice, no peace."
Floyd's body was escorted by the Hoke County Sheriff's Office ahead of the viewing that was held from 11 a.m. to 1 p.m.
Floyd, who was black, died on May 25 after officer Derek Chauvin held his knee on his neck for more than eight minutes. In a video, Floyd begs as he is pinned on the ground: "Please, please, please. I can't breathe."
Roger Floyd, George Floyd's uncle, said what broke his heart the most about his nephew's death was when he called out to his mother who died years ago from cancer. "That's when I said he was probably dying at that point," he told WRAL.
Chauvin, who is white, was fired by the Minneapolis Police Department and arrested on charges of third-degree murder and manslaughter. The murder charge was upgraded to second-degree Wednesday.
Three other officers involved also lost their jobs and were taken into custody on charges of aiding and abetting murder, according to criminal complaints filed by the state of Minnesota.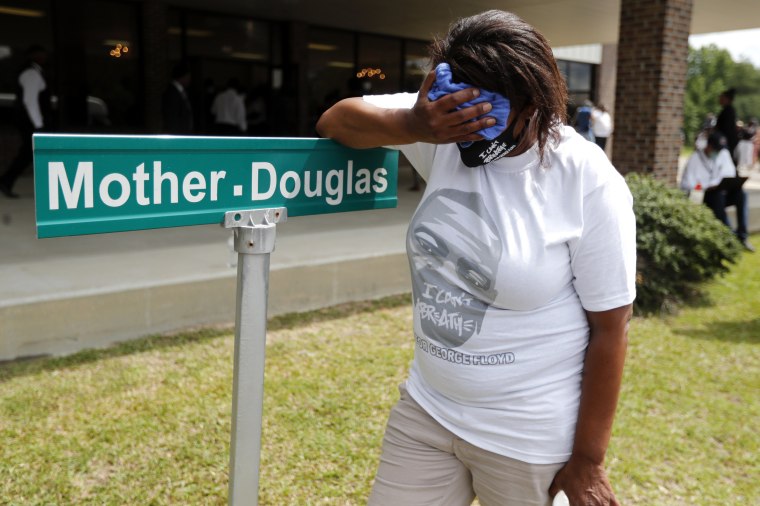 Floyd's sister, Bridgett Floyd, is a resident of Hoke County, where Raeford is, according to WRAL. She told the outlet that he was born in Fayetteville and eventually moved to Texas.
A memorial service is planned for Houston on Monday, followed by a private service the following day.
Hoke County Sheriff Hubert Peterkin issued a statement on Facebook asking for people attending the public viewing Saturday to "be respectful to the sensitivity of the family's time of grief."
"The memorial is about the life that Mr. George Floyd lived and this is a time to embrace the family with expressions of love and kindness," he said.
Gregg Packer said he took an overnight train from Long Island, New York, to North Carolina to attend the viewing.
"I felt like I needed to come down here to support the protests and the family of George Floyd," he told The News & Observer. "I hope that we can all get along with each other, that we can start treating each other the way we all should."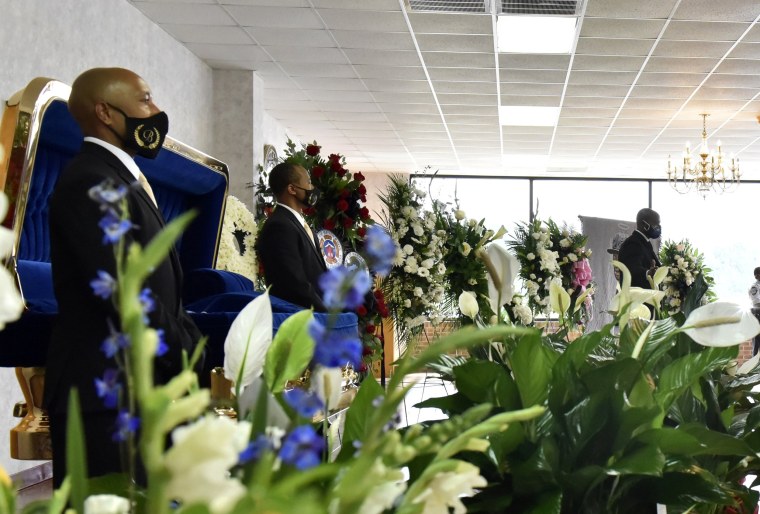 Barbara Clark, who was also at the viewing, said she was reminded of when she attended the 1992 Los Angeles riots, which erupted after four police officers accused of beating Rodney King were acquitted.
"It reminded me of when I was in California for the riots in '92. Always flashing back to the same thing. Black men getting murdered,"' she told the outlet.
Erik Carlos of Fayetteville said Floyd's death hit close to home. "It could have been me. It could have been my brother, my father, any of my friends who are black," he said. "It was a heavy hit, especially knowing that George Floyd was born near my hometown."
The first memorial service for Floyd was held Thursday in Minneapolis. Among the attendees were Floyd's younger brother, Philonise Floyd; family attorney Benjamin Crump; Rev. Al Sharpton; actress Tiffany Haddish; comedian Kevin Hart; rappers T.I. and Ludacris; the Rev. Jesse Jackson; Sen. Amy Klobuchar, D-Minn.; Minneapolis Mayor Jacob Frey; and Minnesota Gov. Tim Walz.
Gwen Carr, the mother of Eric Garner, was also at the service. Her son died in 2014 during an arrest on Staten Island in New York City, as he, too, pleaded "I can't breathe."