George Floyd's younger brother cried on the witness stand Monday as he remembered his brother as a sports-loving "mama's boy" who always wanted to be the best during the trial of a former Minneapolis police officer accused of killing Floyd in May.
Floyd's brother Philonise Floyd was among three witnesses to take the stand Monday, the 11th day of the trial of Derek Chauvin, who is charged with second- and third-degree murder and second-degree manslaughter. The prosecution is expected to rest its case this week.
Philonise Floyd, 39, who is married and has two children, recalled growing up in Houston with his older brother George, who was born in Fayetteville, North Carolina, and their other siblings. George Floyd was 46 when he died.
He became emotional after prosecutor Steve Schleicher showed a childhood photo of their mother smiling while holding George. Philonise Floyd said he missed them both.
He said May, when he was married, is "a bittersweet month" because his brother "was killed May 25" and their mother died May 30, 2018.
"I'm supposed to be happy when that month comes," he said as he wiped away tears.
He described his brother as a "leader in the household" who always made sure his siblings went to school on time. He said that his brother loved to work out and play sports and that as a child, he measured his height against the wall of their home.
"He wanted to be taller all the time, because he loved sports. He always wanted to be the best," Philonise Floyd said.
He said they often went "hooping," referring to playing basketball.
Philonise Floyd said that his brother, whom they called Perry, had a "one-of-a-kind" relationship with their mother and that Floyd was a mama's boy. She died in hospice before Floyd was able to see her, he said.
"That hurt him a lot," he said.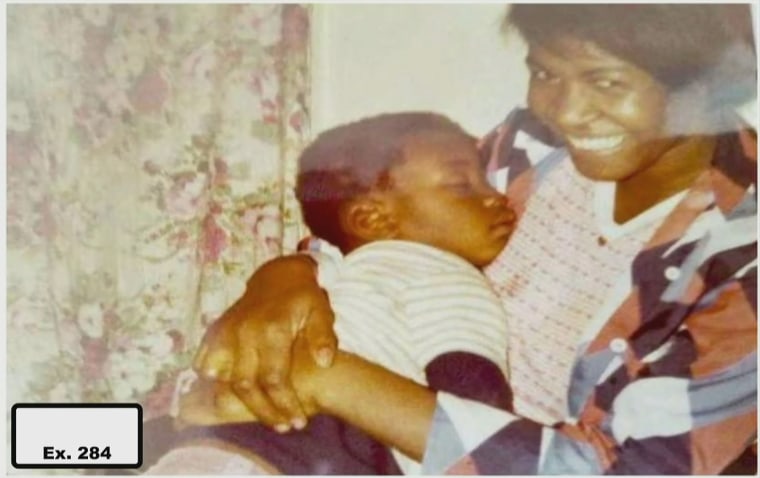 He said that at her funeral in 2018, George Floyd stayed by her casket, repeatedly saying "mama" and giving her kisses.
Chauvin's attorney, Eric Nelson, opted not to cross-examine Philonise Floyd.
Philonise Floyd was the second "spark of life" witness to testify. Jurors also heard from Floyd's girlfriend, Courteney Ross, who had testified earlier in the trial that like so many other Americans, they had had a shared struggle with opioid addiction.
"Both Floyd and I, our story, it's a classic story of how many people get addicted to opioids," Ross said. "We both struggled from chronic pain. Mine was in my neck, and his was in his back."
The "spark of life" testimony is intended to humanize Floyd and to give jurors a fuller view of who he was. In calling Ross to the stand, prosecutors sought to control the narrative around his struggle with drugs. Minnesota is unusual in that it allows suchtestimony during the trial stages of homicide cases.
The judge refused a defense request to sequester the jury earlier Monday, the morning after a 20-year-old Black man was killed during a traffic stop sparked unrest in Brooklyn Center, a suburb of Minneapolis. Nelson had asked the judge to instruct jurors to avoid all media and spend the rest of the trial sequestered.
"Ultimately, your honor, the question becomes: Will the jury be confident to make a decision regardless of the potential outcome of their decision?" Nelson said.
Judge Peter Cahill, who had previously told jurors to avoid the news during the trial, said he would not sequester the jury until next Monday, when he expects closing arguments to begin. He also denied a defense motion to question jurors about what they might have seen about unrest after the police shooting Sunday of Daunte Wright in Brooklyn Center. The Brooklyn Center police chief said Monday that he believes the officer who shot Wright meant to draw a Taser, not a handgun.
Schleicher opposed sequestering the jury, saying, "I don't think that would be an effective remedy."
He also said questioning the jurors was unnecessary.
"We can't have every single world event that might affect somebody's attitude or emotional state or anything be the grounds to come back and re-voir dire all the jurors," he said.
The defense is likely to begin presenting its case Tuesday. Before he adjourned for the day Monday, Cahill told jurors that the defense could rest its case as early as Thursday and that they might have Friday off.
"My preference is not to make the attorneys close Friday, because when they close, this case will be submitted to you for deliberation," which would mean jurors would be sequestered over the weekend, he said. "I'm not going to do that."
He told jurors to expect to begin sequestration Monday. "So pack a bag," he said.
The final witness Monday was nationally recognized use-of-force expert, Seth Stoughton, an associate professor of law at the University of South Carolina. He testified that the type of force Chauvin used against Floyd was deadly and "had the foreseeable effect of causing death or severe bodily harm."
"Both the knee across Mr. Floyd's neck and the prone restraint were unreasonable, excessive and contrary to generally accepted practices," Stoughton said.
Stoughton, who testified that he reviewed bystander and other videos, provided a play-by-play analysis of the officers' actions. Nelson had objected to Stoughton's being allowed to take the witness stand, arguing that it was "cumulative" and unnecessary given that the police chief and other experts had testified about use of force and related topics. But Cahill said he could testify.
Stoughton, like other prosecution witnesses, said pressing a knee to someone's neck could cause serious injury or death. Prosecutors have said Chauvin knelt on Floyd's neck for 9 minutes, 29 seconds, during the arrest in May.
A widely viewed bystander video of Floyd, a Black man, saying he couldn't breathe as onlookers yelled at Chauvin, who is white, to get off him sparked international protests against racism and police brutality.
Dr. Andrew Baker, the Hennepin County medical examiner who performed an autopsy on Floyd and declared his death a homicide, said Floyd died of "cardiopulmonary arrest, complicating law enforcement subdual, restraint, and neck compression."
He testified last week that fentanyl and heart disease had contributed to Floyd's death but that the police officers' actions were the main cause.
"In my opinion, the law enforcement subdual, restraint and the neck compression was just more than Mr. Floyd could take by virtue of those heart conditions," Baker testified.
To convict Chauvin of murder, the jury needs to find that his restraint of Floyd was a "substantial causal factor" in his death.
Dr. Jonathan Rich, a cardiology expert from Northwestern Memorial Hospital in Chicago who testified Monday, echoed earlier witnesses in saying Floyd died of low oxygen levels from being "restrained in a life-threatening manner."
The testimony of Rich, as well as that of other medical experts, including a world-renowned pulmonologist, has bolstered the prosecution's argument that Floyd died from being held down by Chauvin.
Rich said that he had reviewed Floyd's autopsy report and some of his other medical records and that "every indicator is that Mr. Floyd had actually an exceptionally strong heart."
Rich told jurors that one officer had noted that Floyd was passing out, according to body camera video, and that police probably could have saved his life if they hadn't held him down in the prone position for so long.
On cross-examination, Nelson asked Rich whether Floyd would have survived had he "simply gotten in the back seat of the squad car."
Rich quickly repeated his opinion that the death was caused by the officers' actions.
"Had he not been restrained in the way in which he was, I think he would have survived that day," Rich said. "I think he would have gone home or wherever he was going to go had he not been subjected to the prone and positional restraint that he was."