George W. Bush on Monday broke with President Trump and called the media "indispensable to democracy."
In his first in-depth interview since Trump's inauguration, the former president took aim at the current White House occupant's oft repeated claim that the mainstream media is the "enemy of the people" — but took care not to mention Trump by name.
"I consider the media to be indispensable to democracy," Bush told Matt Lauer on the TODAY show. "That we need the media to hold people like me to account. I mean, power can be very addictive and it can be corrosive and it's important for the media to call to account people who abuse their power, whether it be here or elsewhere."
Pointedly, Bush told Lauer that he had tried to get Russian President Vladimir Putin "to accept the notion of an independent press."
"It's kind of hard to, you know, tell others to have an independent free press when we're not willing to have one ourselves," he said.
Bush's defense of the media came just days after White House spokesman Sean Spicer caused an uproar by barring several news organizations, including CNN, The New York Daily News, Politico and The New York Times, from a briefing.
Trump and members of his cabinet have also been accused of cozying-up to Putin and the FBI is investigating whether Trump campaign staffers had improper contacts with Moscow during the campaign.
Asked by Lauer whether he would like a special prosecutor to investigate, Bush said, "I think we all need answers."
"Whether or not the special prosecutor's the right way to go or not, you're talking to the wrong guy," he said. "I have great faith in (Senator) Richard Burr for example, he's the head of the Senate Intelligence Committee, really good guy, and an independent thinker. And if he were to recommend a special prosecutor then it would have a lot more credibility with me."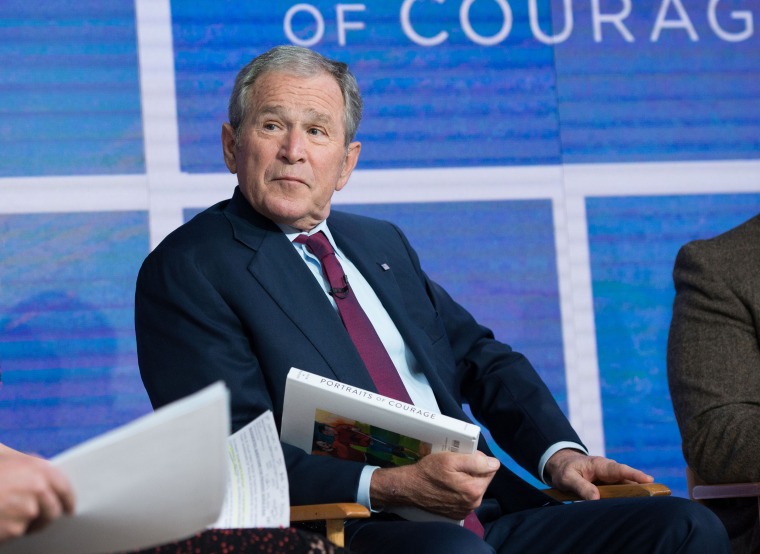 Bush, who was president at the time of the Sept. 11, 2001 attacks, also pushed back at the Trump administration's controversial attempt to halt migrants from seven mostly-Muslim countries from coming to the U.S.
"I think it's very important, for all of us, to recognize one our great strengths is for people to worship the way they want to or not worship at all," he said. "I mean the bedrock of our freedom-a bedrock of our freedom is the right to worship freely."
Asked point blank if he favored a Muslim ban, Bush said "I am for an immigration policy that's welcoming and upholds the law."
Bush won worldwide praise in the aftermath of the 9/11 attacks for stressing that the teachings of Islam are "good and peaceful."
"This was an ideological conflict and people who murder the innocent are not religious people," he said. "They want to advance an ideology and we have faced those kind of ideologies in the past."
But Bush also said Trump should be given a chance to make good on his promise to unify the country.
"Well, first of all, there's only been one month in office," he said. "Secondly, I think you have to take the man for his word that he wants to unify the country, and we'll see whether he's able to do so."
Trump is trying to govern at a time when the media is fractured and at a time when "all kinds of information (is) being bombarded out, and people can say things anonymously," Bush added.
"It's just a different world," he said.
Later, Bush revisited some other White House moments with Today's Kathie Lee Gifford and his daughter, Jenna Bush Hager, saying that the most difficult moments were meeting with the families of fallen soldiers. He said the country was divided during the 1960s "much worse than today."
Bush also revisited some embarrassing moments like the time he passed out after choking on a pretzel. "I just hit the deck," he said.