George Zimmerman wants to sell the gun he used to kill Florida teenager Trayvon Martin to the highest bidder in an online auction.
The firearm was initially placed on a listing on GunBroker.com, and included a description written by Zimmerman, a former neighborhood watch captain acquitted by a jury in the teen's 2012 shooting death. The killing sparked a national conversation about race and "stand your ground" laws.
But around 11 a.m. ET — just as the auction was set to open — the page displayed a notification saying the "item you have requested is no longer in the system."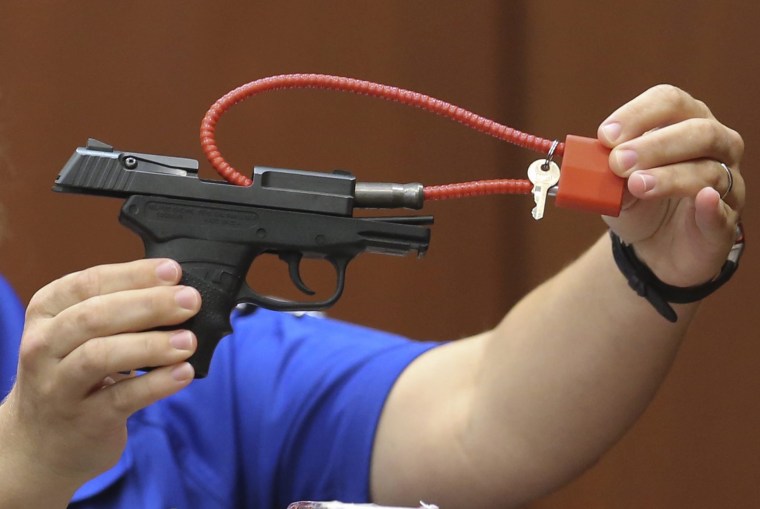 The firearm listed was a 9 mm Kel-Tec PF-9 pistol, and bidding was to start at $5,000. Zimmerman's post had described the firearm as "a piece of American History."
Zimmerman's brother, Robert, earlier confirmed to NBC News that the gun sale was "legit."
A few hours later, the same gun listing appeared on the website UnitedGunGroup.com. Todd Underwood, a spokesman for the website, told NBC News he spoke with Zimmerman personally by phone and that he contacted his website after GunBroker.com was overwhelmed with traffic and attention.
"We offer a free service to anybody that that is of legal and age and legal background to utilize," Underwood said. To his knowledge, the gun and its sale are completely legal, he said.
GunBroker.com, which housed the initial listing, said in a statement Thursday afternoon that they "reserve the right to reject listings at our sole discretion, and have done so with the Zimmerman listing."
Zimmerman created the listing and posted it on the website, but did not contact anyone at GunBroker.com before or after it was posted, the statement said, adding that no one at the website has a relationship with Zimmerman.
"We want no part in the listing on our website or in any of the publicity it is receiving," the statement added.
In the post, Zimmerman, 32, said the Justice Department had recently returned the gun to him, and he has received offers from people who want to purchase it or put it on display: "However, the offers were to use the gun in a fashion I did not feel comfortable with."
Related: Jury Finds George Zimmerman Not Guilty
A portion of the auction's proceeds are supposed to "fight BLM (Black Lives Matter) violence against Law Enforcement officers" as well as "ensure the demise of … Hillary Clinton's anti-firearm rhetoric."
Clinton, the Democratic front-runner for president, said in a speech in April to the National Action Network that Zimmerman should never have had a gun.
Zimmerman killed Martin after he saw the unarmed 17-year-old walking through his gated Sanford community on Feb. 26, 2012, and did not recognize him. He confronted the boy, leading to an altercation and the shooting. Zimmerman claimed self-defense.
The death of Martin, who was African-American, set off a wave of protests.
Zimmerman at his 2013 trial was found not guilty of second-degree murder.
Neither Zimmerman nor his defense attorney immediately responded to requests for comment about the auction.
In an interview with FOX affiliate WOFL, Zimmerman said he is "a free American. I can do what I want with my possessions."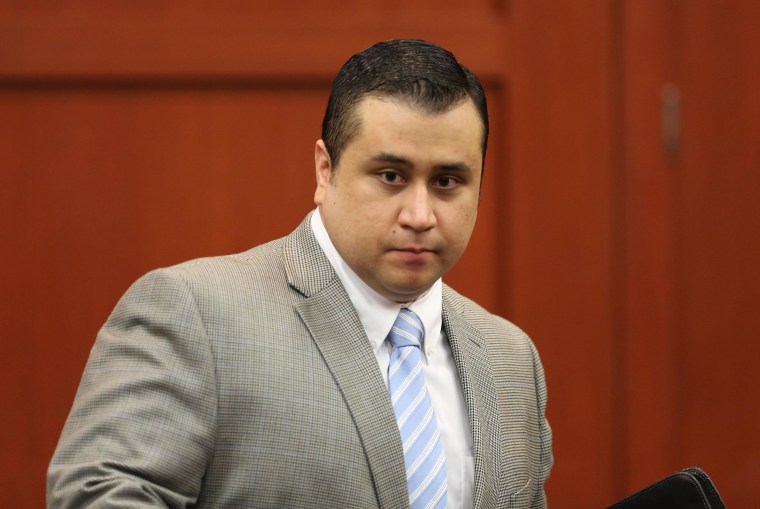 "And if I sell it and it sells, I move past it," he told the station. "Otherwise, it's going in a safe for my grandkids never to be used or seen again."
Benjamin Crump, an attorney for Martin's parents, Sybrina Fulton and Tracy Martin, told NBC News on Thursday that it was "devastating" for them to learn the gun used to kill their son was to be auctioned off.
"It's just shocking, it's shocking to me and it's shocking to everybody — and Trayvon to them is their child," Crump said. "To everybody else, it may be a cause or a hashtag, but this is their son. So somebody's actually talking about profiting from the loss of their child and it's just very hurtful to them."
He added that the family is remaining focused on the Trayvon Martin Foundation, with "its mission being to end the senseless gun violence in America."
Clinton tweeted about Martin's mother Thursday and encouraged people to donate to the family's foundation.
Zimmerman's transition out of the public eye has not been without incident, and last year he was shot at by another driver during a confrontation on a Florida road. He was also arrested on assault charges against his girlfriend, although the charges were later dropped.
Zimmerman filed a defamation lawsuit against NBC News in 2012. A judge dismissed that claim in 2014. Zimmerman appealed, but a judge ruled against him.