Sheriff's deputies are investigating an alleged assault on George Zimmerman, the Florida man acquitted of second-degree murder in the killing of Trayvon Martin, according to an investigative report obtained Thursday by NBC News.
Witnesses gave conflicting accounts about what happened late Sunday afternoon at Gators Riverside Grille in Sanford, Florida, the same town where Zimmerman fatally shot Martin, an African-American teenager, in February 2012. The killing led to a nationwide debate over race and self-defense laws.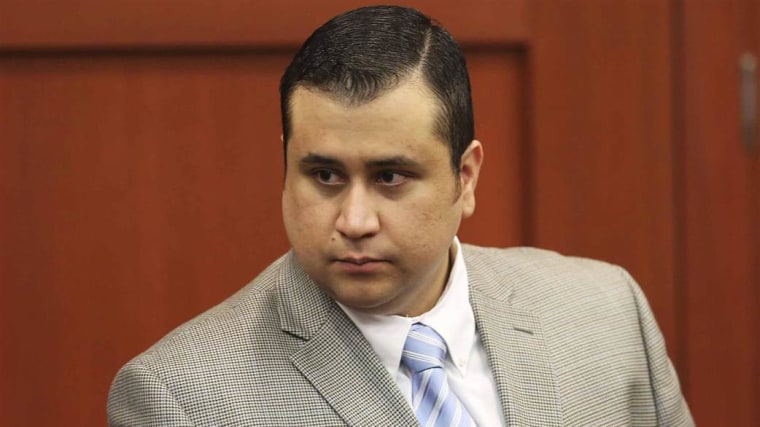 According to a Seminole County sheriff's arrest report, Zimmerman told investigators that he was in the restaurant Sunday to pick up a to-go order.
When restaurant patrons thought they recognized him and one demanded proof of his identity, Zimmerman showed his driver's license, leading one of the patrons, a man, to begin making racially offensive comments, Zimmerman said, according to the report.
Zimmerman told investigators that he was trying to explain that he shot Martin in self-defense, not because of his race, when a second man walked up and demanded that Zimmerman leave in offensive language that made it clear that he was deeply biased against black people, according to the report.
Zimmerman said he returned to his table and thought everything was OK — until the second man confronted him again, demanded that he leave in strongly racist language and punched him in the face, according to the report, which says both Zimmerman and a friend called 911.
In audio of a 911 call obtained by NBC News, a man's voice tells the dispatcher that "we were standing right here eating" when "this man just punched me in the face."
"He said he was going to kill me," the caller said. "You need to send three or four cops."
The caller refused to give his name, telling the dispatcher that he preferred to reveal it to responding officers.
The report doesn't reflect whether Zimmerman clarified why he told investigators that he was sitting at a table with friend after he previously told them that he was in the restaurant to pick up a to-go order. The friend who called 911 told investigators that they were actually eating lunch together at the table, but otherwise he corroborated Zimmerman's account.
Other witnesses disputed Zimmerman's self-portrayal as an innocent victim, telling deputies that it was Zimmerman who took the initiative by walking up to them and bragging, "My name is George Zimmerman, you know, that guy who killed Trayvon Martin."
Investigators said that based on the accounts of Zimmerman and the other witnesses, the second man, known only as "Eddie," appeared to have been the primary aggressor. He was described as a white man with a blond beard, wearing an orange shirt. Witnesses said he rode away from the restaurant on a blue Harley-Davidson motorcycle.
No arrests have been made.