Georgia's governor on Thursday sued Atlanta's mayor over that city's mask law, a day after he banned local governments from requiring the coverings that health experts say help to stop the spread of COVID-19.
"The State of Georgia continues to urge citizens to wear masks. This lawsuit is about the rule of law," Georgia Attorney General Chris Carr said in a statement.
Gov. Brian Kemp, a Republican, sued Atlanta Mayor Keisha Lance Bottoms, a Democrat, and members of Atlanta's City Council.
The lawsuit argues that Bottoms exceeded her authority in issuing coronavirus-related orders that are more restrictive than the state's orders.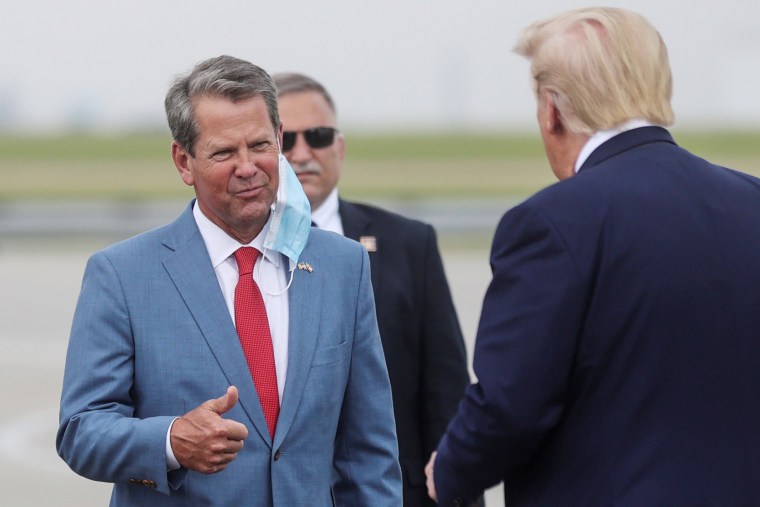 Kemp issued his executive order, which banned more than a dozen local governments from mandating that masks be worn in public, on Wednesday. A spokesman for Atlanta's mayor had said that the mayor's order remained in effect, that the city would be guided by data and science, and that "masks save lives."
Bottoms was defiant after Kemp's lawsuit Thursday, noting that 3,014 Georgians have died and that she and her family are among those who have tested positive.
"A better use of taxpayer money would be to expand testing and contact tracing," she said. "If being sued by the State is what it takes to save lives in Atlanta, then we will see them in court."
As of Thursday, 131,275 cases have been confirmed in Georgia with 3,104 deaths, according to the state health department.
In the state, 3,871 new cases were reported Wednesday — the second highest daily total since the start of the pandemic, according to NBC News' tally. More than 3,400 cases were reported Thursday, according to the state health department's website.
Carr, the attorney general, said that chief executive power in the state resides with the governor, and "The City of Atlanta cannot continue to knowingly enter orders that are unenforceable and void."
Kemp spokeswoman Candice Broce had insisted in a tweet the governor was not against wearing masks.
"Previous executive orders — and now this order — state no local action can be more or less restrictive than ours," Broce wrote. "We have explained that local mask mandates are unenforceable. The Governor continues to strongly encourage Georgians to wear masks in public."
The lawsuit also seeks a "permanent injunction to restrain Mayor Bottoms from issuing press releases, or making statements to the press, that she has the authority to impose more or less restrictive measures than are ordered by Governor Kemp related to the Public Health Emergency."
Kemp's move came as more and more Republicans who had previously been reluctant to wear masks were changing their tune and the numbers of new cases were climbing at a staggering rate, especially among children as Florida officials are now reporting.
Arkansas Gov. Asa Hutchinson, Republican, issued a statewide mask-wearing mandate on Thursday which appears to have some teeth. Repeat violators could be hit with fines ranging from $100 to $500, the Arkansas Democrat Gazette reported.
Even President Donald Trump, a Kemp ally, was seen over the weekend wearing a mask for the first time at a public event.
Most medical experts agree wearing masks, coupled with social distancing, are effective ways to stop the spread of COVID-19, a deadly virus that — as of Thursday night — has claimed 139,026 lives in the U.S., with 3,573,648 cases reported, the latest NBC News figures show.
Forty states have reported coronavirus case spikes in recent weeks.
With those staggering sums in mind, Walmart, the nation's largest retailer, Kroger, the country's biggest supermarket chain, and Target, announced Wednesday that they would will require customers to put on a mask or face covering inside stores.
In doing so, these companies joined the ranks of giant retailers like Best Buy, Costco and Apple, which had already been requiring masks.
But enforcing those rules have, at times, led to clashes – some even deadly -- with customers claiming their rights are being curtailed and others who just refuse to wear them.
In Utah, which has also seen a rapid rise in new coronavirus cases, parents objecting to a new requirement that kids wear masks packed a Utah County commission meeting Wednesday and flouted social distancing rules by pulling the tape off seats that were not supposed to be used.
Many wore "Trump 2020" hats and almost none wore a mask.
As of Thursday morning, Utah has recorded 30,891 coronavirus cases resulting in 233 deaths since the beginning of the crisis, NBC News figures show. Overnight, 413 new cases were reported.
Meanwhile in Tulsa, Oklahoma, which hosted a Trump rally last month after which some campaign staffers and notable Republican attendees like the state's governor Kevin Stitt got infected, passed a mandate requiring people to wear masks in public.
In other Covid-19 developments:
Maryland Gov. Larry Hogan, a Republican who has received bipartisan praise for his handling of the pandemic, said Trump left states to fend for themselves during the pandemic and accused the president of not listening to medical experts in a piece published by The Washington Post. "While other countries were racing ahead with well-coordinated testing regimes, the Trump administration bungled the effort," Hogan wrote. "Meanwhile, instead of listening to his own public health experts, the president was talking and tweeting like a man more concerned about boosting the stock market or his reelection plans." White House Press Secretary Kayleigh McEnany dismissed Hogan's remarks as "revisionist history."
Sen. Chuck Schumer, D-N.Y., accused the Trump Administration of trying to sweep the extent of the coronavirus crisis "under the rug" by having hospitals report COVID-19 statistics to the Department of Health and Human Services instead of the federal Centers of Disease Control and Prevention. "To have the CDC not be able to distribute publicly, the number of hospitalizations and the number of deaths is going to hurt us in our bid to end this crisis," Schumer, a Democrat, said. NBC News reported Wednesday that "gravely concerned about whether anyone outside the administration will be able to access the vital information moving forward."
New York Gov. Andrew Cuomo announced the launching of a star-studded "Mask Up America" education and awareness campaign consisting of eight TV commercials that kick of Thursday and feature Robert De Niro, Jamie Foxx, Morgan Freeman, John Leguizamo, Rosie Perez and other Hollywood actors. "New Yorkers suffered gravely when this pandemic hit our state and as we see other states battle the surge of COVID-19, we want to be sure all Americans know what we know here - that it is essential to wear a mask in order to protect one another," Cuomo said.
Nationwide, most of the victims have until recently been senior citizens. But experts are blaming young people crowding into newly-reopened bars and restaurants — and failing to social distance or wear masks — for the staggering rise in COVID-19 cases across the country.
In Florida, nearly one-third of children tested for the coronavirus have been positive, according to local media reports.
And Dr. Alina Alonso, the director of Palm Beach County's health department, warned there could be long-term health effects on children who contract the virus now.
"They are seeing there is damage to the lungs in these asymptomatic children," Alonso told county commissioners. "We don't know how that is going to manifest a year from now or two years from now. Is that child going to have chronic pulmonary problems or not?"
Alonso's warning appeared to be at odds with message that Gov. Ron DeSantis has been emphasizing while pushing to have school reopen in September. DeSantis, a father of three young children, has insisted that he would send his kids to school if they were old enough to attend.
Florida, where the Republican convention is scheduled to be held next month, passed a dismal benchmark Wednesday with more than 300,000 cases of COVID-19 reported since the start of the pandemic.
On Thursday, Florida reported 13,965 new cases of the coronavirus and 156 more deaths. So far, a total of 4,677 Florida residents have died from the coronavirus, according to the Florida Department of Health.
Also, Florida hospitals admitted a record 491 patients in a single day, meaning that nearly 20,000 residents have been hospitalized since the pandemic began.The previous largest single-day increase was on Wednesday with 453 hospitalizations.
Numerous hospitals across Florida facing a shortage of ICU beds for infected patients.
"I don't need Ron DeSantis' numbers, or anyone's numbers, to tell me that this is a bad situation," Miami Gardens Mayor Oliver Gilbert said on MSNBC.