After at least 26 people were reported killed as severe weather ravaged parts of Mississippi and Alabama on Friday night, Georgia Gov. Brian Kemp declared a state of emergency Sunday morning after "severe storms and tornadoes" also struck the state.
A severe storm system made its way into Georgia on Sunday, producing "thunderstorms, high-velocity straight-line winds, and multiple tornadoes," according to Kemp's declaration, which is set to expire Friday.
"As we continue to monitor the weather and work with local partners to address damage throughout the day, I ask all Georgians to join us in praying for those impacted," Kemp said.
Radar indicated at least one tornado Sunday morning in LaGrange, Georgia, about an hour south of Atlanta, National Weather Service Atlanta forecaster Nikole Listemaa said.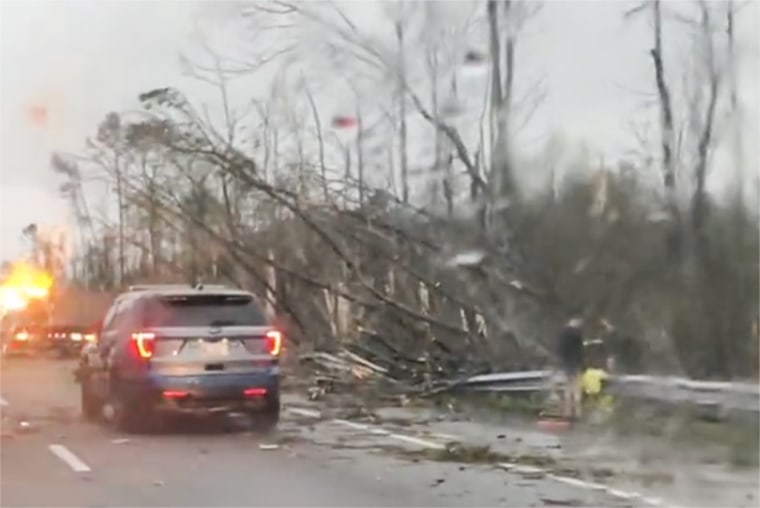 Nothing is known about the rating of the tornado, but pictures show damage and fallen trees in the area.
The National Weather Service announced Sunday morning that parts of central Georgia and southern Alabama were under tornado watches. The agency also said scattered hail the size of tennis balls and isolated gusts of wind up to 70 mph were possible in the area.
Early Sunday, President Joe Biden declared a major disaster in Mississippi and ordered federal aid to supplement recovery efforts, the White House said in a statement.
In Georgia, 23 counties were to remain under tornado watches until 1 p.m. ET Sunday, according to the National Weather Service, including cities like Macon, Sparta and Pine Mountain.
In Pine Mountain, Wild Animal Safari reported that two of its tigers had briefly escaped their enclosures following "extensive tornado damage" Sunday morning.
"Fortunately, none of our animals and employees were hurt. However, several animal enclosures were breeched, and two tigers briefly escaped. Both have now been found, tranquilized, and safely returned to a secure enclosure," Wild Animal Safari said on Facebook.
The National Weather Service declared a slight risk of excessive rainfall across parts of central Alabama and Georgia, "where the favorable conditions for heavy rainfall are most likely to contribute to the risk for scattered instances of flash flooding."
Multiple counties were under flash flood warnings in Georgia, including Pike, Hancock and Warren.
The National Weather Service field office in Atlanta warned that flash flooding would be "a growing concern as we head into the evening hours due to training of storms in the vicinity of a stationary boundary."
The agency has also declared a slight risk for severe weather in parts of central Georgia for Monday.
"Early morning severe storms are again possible, continuing through the day as the front moves south," it said Monday.
Around 4,842 utility customers did not have power in the state at 3:30 p.m. ET, according to poweroutage.us.