A former Georgia police officer was found not guilty of murder Monday in the 2015 shooting death of an unarmed Air Force veteran.
Robert Olsen, who was a seven-year veteran of the DeKalb County Police Department when he shot and killed Anthony Hill, 27, in the parking lot of his apartment complex, was cleared of two murder counts.
He was found guilty of one count of aggravated assault, one count of making false statements and two counts of violation of oath of office, according to the DeKalb County District Attorney.
Olsen had responded in March 2015 to reports of a resident at the complex knocking on doors before undressing and crawling on the ground naked.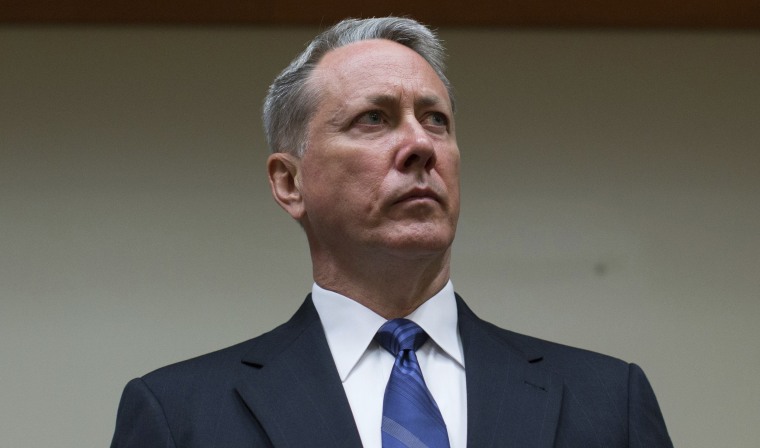 When officers arrived at the scene, Hill ran toward them and was told to stop. When he did not, Olsen shot him twice, killing him.
Olsen is white, and Hill, whose family said he suffered from bipolar disorder, was black. The shooting set off protests in DeKalb, and Olsen was charged in January 2016.
At the time, DeKalb County District Attorney Robert James said Olsen had lied, saying Hill had physically assaulted him before he fired his weapon, while in reality, Hill was shot before he had a chance to reach the officer.
The 12 DeKalb County jurors spent six days deliberating before delivering Monday's verdict, DeKalb County District Attorney director of communications Yvette Jones. Both Olsen's wife and Hill's mother cried when it was read, according to NBC affiliate WXIA.
Prosecutors said during the trial that Hill was having a mental health crisis stemming from his bipolar disorder and post-traumatic stress disorder stemming from his service in Afghanistan, and posed no threat to Olsen the day he was shot.
Olsen's defense team said the situation unfolded so quickly that the officer was justified in using deadly force.
The DeKalb County Police Department did not immediately respond to a request for comment.