Police rushed to the Georgia home of Republican Rep. Marjorie Taylor Greene on Wednesday after a false report of a shooting there, authorities said, calling it an incident of swatting.
A 911 call placed at 1:03 a.m. prompted officers in Rome, about 70 miles northwest of Atlanta, to respond to Greene's home because of "a subject being shot multiple times," police said in a statement.
"When officers responded they discovered this was the home of Marjorie Taylor Greene," the statement continued. "She assured the officers there was no issue and the call was determined to be a false call commonly known as 'swatting.'"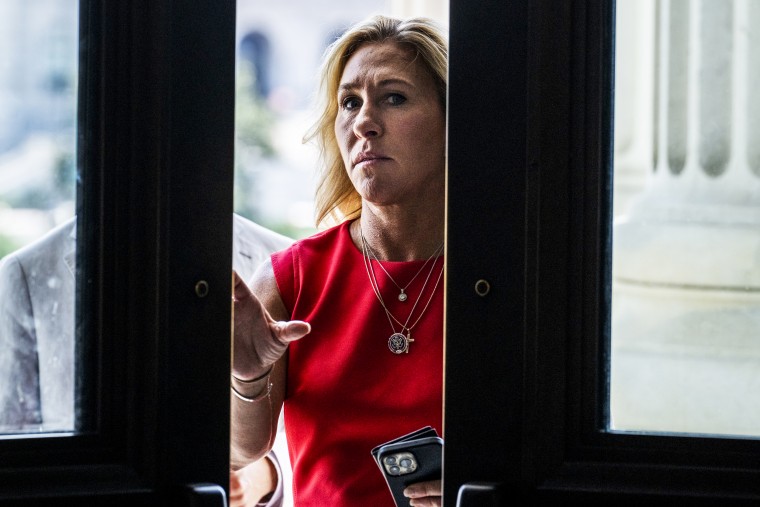 A second 911 call, alleged to be from the same person using a computer-generated voice, stated that they "were upset about Mrs. Greene's political view on transgender youth rights," police said.
Greene told followers she was appreciative of the police response.
"I can't express enough gratitude to my local law enforcement here in Rome, Floyd County," she tweeted.
Greene has a long history of antagonizing the LGBTQ community and its supporters.
Last year, she placed a sign outside her office mocking a Democratic colleague's transgender Pride flag.
She also recently backed a proposal to ban gender-affirming care for transgender minors, she has called for limits on the display of Pride flags, and she has tweeted offensively about a transgender Biden administration official.
Rome police said they are working with their U.S. Capitol counterparts in the investigation. U.S. Capitol Police declined to comment.
"For safety reasons, the USCP does not discuss potential security measures for Members or any potential investigations," the federal agency said in a statement.
Swatting is the act of calling 911 to falsely report a crime in progress to prompt a police response.
Celebrities and everyday people have been targets, with the most infamous incident happening in December 2017, when police in Wichita, Kansas, fatally shot a man whose home was falsely implicated in a shooting.
An Ohio gamer, upset about a $1.50 bet while he was playing "Call of Duty: WWII" online, was sentenced to 15 months in prison for recruiting a prankster to make the deadly, bogus emergency call.
Casey Viner pleaded guilty to felony charges of conspiracy and obstruction of justice.