An ad taken out by a Georgia sheriff reads like a spoof: "Attention drug dealers. Is your drug dealing competition costing you money? We offer a FREE service to help you eliminate your drug competition!"
But McIntosh County Sheriff Stephen Jessup says it's no joke. He actually hoping that some of the local crack, meth and pot peddlers take him up on his offer to rat out their rivals by filling out a form in the newspaper.
"They are cutthroats and they will turn on each other all the time," Jessup said Friday.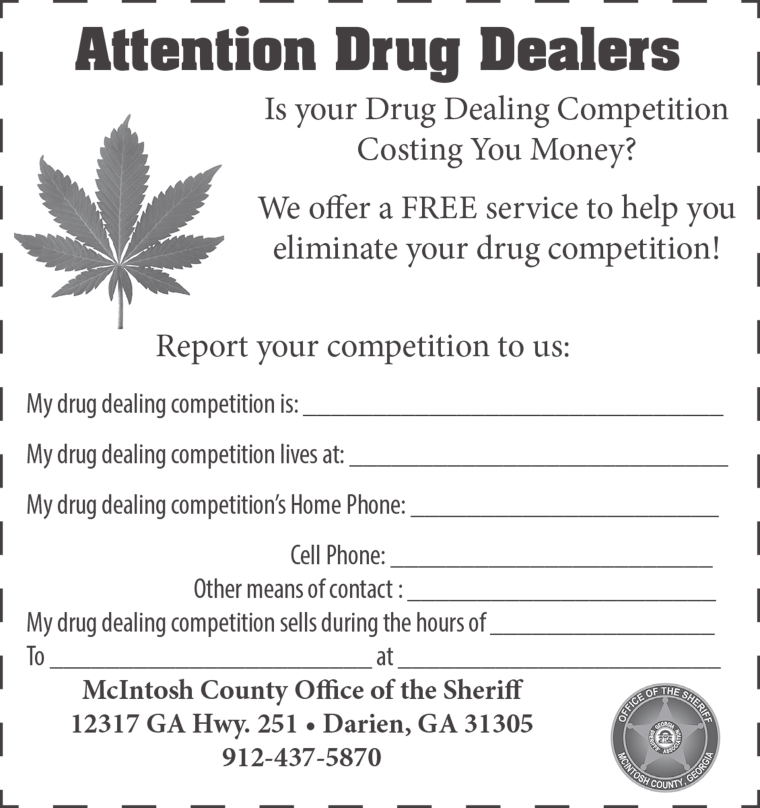 There are only 12,000 people living in the rural county halfway between Savannah, Georgia, and Jacksonville, Florida — but Jessup said his department makes about 600 drug-related arrests a year.
"I campaigned on trying to fight drugs to the best of our ability and to really make a dent in the local trade and this is a way of trying to do that," he said.
"We tend to do things a bit differently in McIntosh County."
The ad, which didn't cost anything, was placed in the Darien News — circulation 2,800 — on Wednesday. It invites dealers to give the name, address, phone and operating hours of their competitors and their customers.
Jessup said no snitches have taken the bait — yet.
"But I think we'll get some response," he said. "If not, nothing ventured, nothing gained."