Loved ones were gathering Thursday afternoon in honor of a Georgia teenager fatally shot by a police officer on the doorstep of his home — holding nothing more than a video game controller, according to family members.
Christopher Roupe's death has shocked friends and neighbors in Euharlee, a rural community an hour north of Atlanta. As they mourn the 17-year-old — remembered as a "good kid" who dreamed of joining the Marines — his family and authorities are trying to piece together what led to last Friday's tragedy.
The family's attorney claims Roupe was only holding a Wii gaming controller when he answered the door — not a gun as the Euharlee Police Department says.
"I just can't believe in my heart of hearts — and it's tragic that Chris lost his life — that this officer just blatantly shot this child unless she thought something was wrong," neighbor Ken Yates, manager of the Eagle View Mobile Home Park where the Roupe family lives, told NBC News.
"These police officers are mentors to the children here," he added.
The female police officer and a second cop were at the Roupes' home to serve father Joseph Roupe a warrant for a probation violation around 7:35 p.m. Friday, court documents show. But "before the door could be opened (the female officer) heard what she believed to be the action of a firearm."
That's when the door opened and the younger Roupe, pointing a pistol, "pulled the trigger," according to an affidavit. The officer called 911, and Roupe later died at the hospital.
The family didn't have any handguns inside the home, although the children played with BB guns as well as toy pistols, according to family attorney Cole Law.
"What if he was holding one of those? The investigators aren't telling us what this so-called weapon was and whether they have it as evidence, so we really think it was not a gun," Law told NBC affiliate WXIA.
Law said family members, who were eyewitnesses in the shooting, maintain that Roupe had the Wii controller in his hand when he was shot in the chest.
The Georgia Bureau of Investigation is now handling the case, and a spokeswoman said Thursday the district attorney's office could take it over in the next couple of weeks.
Officials have not confirmed whether an actual firearm was found inside the home.
Some neighbors dismissed the Wii-wielding theory, and confirmed to NBC News that Christopher and other teens in the community were familiar with using BB guns.
Ken Yates' wife Caron Yates said she thinks it is possible that Roupe answered the front door thinking it was one of his friends, and held a BB gun in his hand as a joke.
"I believe Christopher thought it was a friend (at) the door and they had the habit of not asking who was at the door," she said.
"No way (the officer) would have shot if she didn't feel her life was in danger," Yates added. "She has kids, too. I believe it was a misunderstanding on both sides."
Ken Yates said he was getting ready to watch a movie when he heard a single gunshot. He told his wife to call the police, but they were already there, she said.
Euharlee officers occasionally come through the mobile home community — not because of crime, Ken Yates said, but because they're friendly.
Both he and his wife said they knew the female officer, who has been placed on administrative leave with pay.
"Every one of these police officers are very personable," Ken Yates said. "They'll stop and talk to people. They'll give the kids stickers and teddy bears they have in their patrol cars."
Roupe, he added, showed respect toward adults. In his previous high school in Eatonton, he was a member of the Junior ROTC, the school confirmed.
Roupe lived at the mobile home park with his father, brother and sister, as well as a dozen dogs, the Yateses said.
Christopher Roupe's mother, Patches Heath, hadn't lived in the home for a while, they said.
Heath wasn't taking questions on the shooting, referring them to the family's attorney.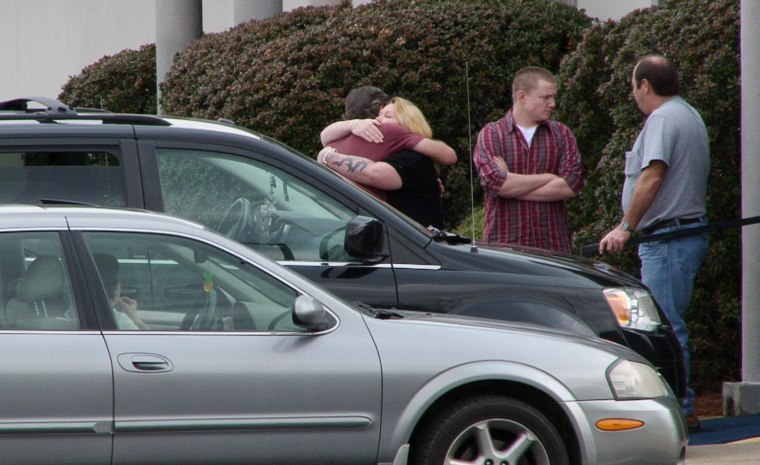 On Facebook, she invited people to attend the teen's visitation on Thursday afternoon and his funeral on Friday. An account was set up to help pay for the cost of burial.
Even at a young age, Christopher Roupe had a sense of responsibility, neighbors said.
"Christopher was an awesome, awesome kid," Caron Yates said.
NBC News' Leo Juarez, Edgar Zuniga Jr. and Polly DeFrank contributed to this report.