A 19-month-old boy remained in critical condition in an induced coma at an Atlanta hospital Friday after authorities trying to capture a suspected meth dealer threw a flash grenade into the baby's crib.
The toddler, Bounkham Phonesavanh — known as Bou — was in intensive care at Grady Memorial Hospital with severe burns after police and sheriff's deputies raided a home in Cornelia, Georgia, in Habersham County about 75 miles northeast of Atlanta, early Wednesday.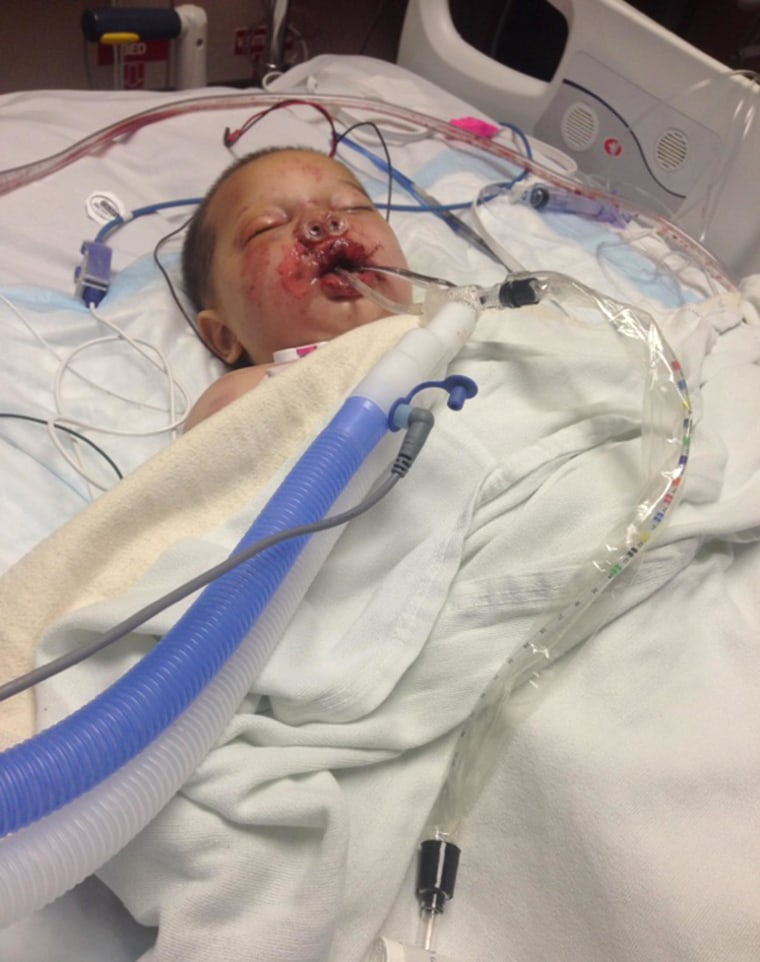 "My husband and I would both gladly give up our lives just to see him not like this, you know? He's such a happy little boy, and to see him laying there not moving, it's heartbreaking," Bou's mother, Alecia Phonesavanh, told reporters.
"We just want to hold him, and we can't," Phonesavanh said before breaking down and burying her head in her hands.
Habersham County Sheriff Joey Terrell told NBC station WXIA of Atlanta that there was no indication that a family with four children were in the home of Wanis Thonetheva, a relative with whom they were staying because their Wisconsin home had recently burned down.
Thonetheva, who is listed in public records as being 20 years old, wasn't home at the time of the raid. He was arrested later and held in the Habersham County jail on $15,000 bond on a charge of possession of methamphetamine.
The sheriff's department didn't answer a call for comment late Friday, and after the department was the focus of numerous online threats and denunciations, contact links on its website didn't work Friday night.
But in a statement to WDUN radio news of Gainesville, Terrell said that based on "information regarding assault-type weapons at the residence" and a "criminal history which reflected charges of possession of a firearm during the commission of a felony and several charges of carrying a concealed weapon," sheriff's deputies and Cornelia police officers obtained a "no-knock" warrant allowing them to enter the house without warning.
Once they got there, Terrell told WXIA in an interview, "there was an obstruction, [so] they inserted a 'flash bang.' They had to push the door open."
"Flash bangs," or stun grenades, generate intense light and a loud noise to disorient people in the vicinity.
"When they entered the door, they noticed it was a playpen, or like a pack-and-play-type device," Terrell told the station. "There was a young child in the pack-and-play."
"We just want to hold him, and we can't."
Terrell said the officers were "devastated" by the incident, but "given the same set of circumstances, with the same information dealing with a subject who has known gun charges on him, who is selling meth, they would go through the same procedures."
"The little baby was in there [and] didn't deserve this," he said. "These drug dealers don't care."
A family friend set up a fundraising campaign to pay for Bou's months of expected treatment. It had raised more than $18,500 by Friday evening.