At the lush Florida sanctuary that she now calls home, Iris is known as "a chimp's chimp" who has little enthusiasm for human caretakers but a lot of interest in one particular male primate.
"We introduced her to a male chimpanzee, 40 years old, and they immediately fell in love," said Jen Feuerstein, sanctuary director at Save the Chimps in Fort Pierce.
"She kissed him and he groomed her."
The organization took in Iris three weeks ago after People for the Ethical Treatment of Animals negotiated to have her transferred from a zoo in Georgia where they allege she was kept alone for the last three years, spending much of her time in a dingy room.
PETA filed a series of federal and state complaints on Wednesday against the Chestatee Wildlife Preserve and Zoo in Dahlonega, a registered non-profit that says it's "dedicated to the preservation of wild and exotic animals."
The operators of the zoo, C.W. Wathen and his wife Kim, acknowledged that Iris had been living without other chimps but said she was well cared for, doted on by humans and missed since she moved.
"My heart is broken because I loved her," Kim told NBC News. "She was my favorite.'
She said that after Iris' chimp companions died, she looked for another facility to take her, but could not provide details of the search. "There are not a lot of places for chimps to go," she said.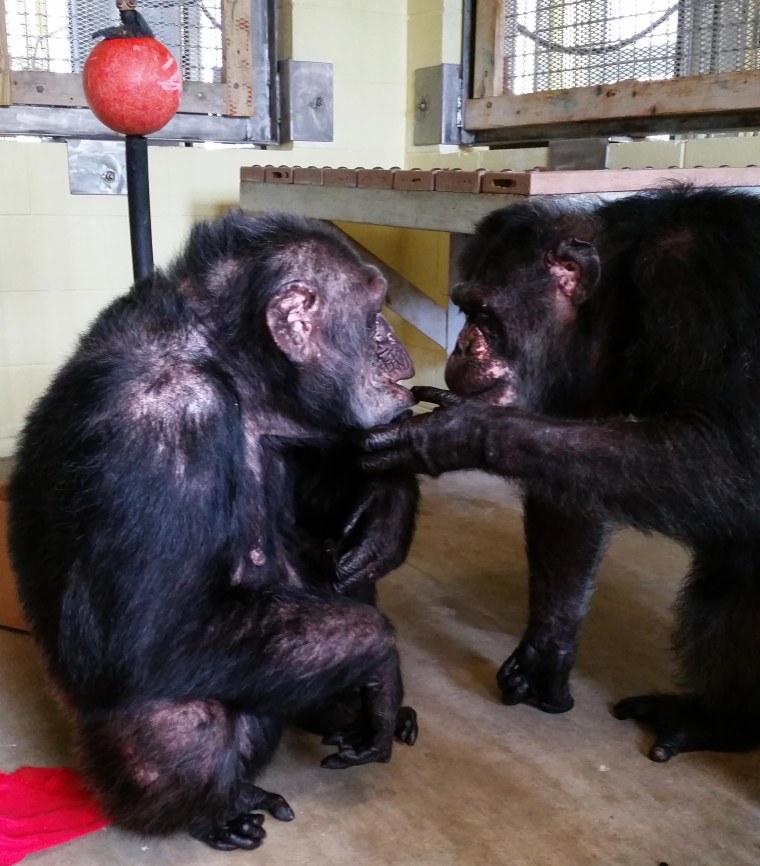 Brittany Peet, deputy director of captive animal law enforcement for the PETA Foundation, said that after the organization heard Iris was alone, it got an activist to volunteer at Chestatee in January and February and take undercover video and photos of Iris.
"Her life was boredom and monotony," Peet said, claiming that Iris acted out by smearing her waste on the walls. She called the room, which the volunteer estimated was 16 feet by 8 feet, "a small, dingy space where she ate, slept and defecated."
The Wathens deny that. They said Iris had access to a large, bright enclosure with climbing frames, a hammock and toys — but it was unheated and she preferred to stay in the smaller, dimmer den during the winter months, when the volunteer was on site.
The den "is larger than the average bedroom and I personally would go in on a daily basis to clean," she said. "She had the choice if she wanted to go in or out." PETA says the volunteer told them Iris was rarely allowed into the larger area.
Iris, who is 32 years old, was born at a Florida safari in 1983 and was sold to a private owner in St. Petersburg in the mid-90s, PETA said. She came to Chestatee in 1999 with several other chimps but the volunteer learned she had been alone since 2012.
A USDA inspection in March 2014 refers to the fact that she was housed by herself and called for the zoo to update its written plan to ensure her "psychological well-being" was addressed.
After negotiations with Chestatee — and the assistance of what PETA called a "generous member" — Iris was moved in early March to Save the Chimps. PETA said it could not discuss the terms of the transfer, and Kim Wathen also declined to provide details.
When Iris arrived at Save the Chimps — where the chimps live in "social groups" on a dozen 12-acre islands — she was placed in quarantine but quickly settled in to her new surroundings, Feuerstein said.
"She immediately climbed up some bars, and she wasn't necessarily used to climbing. She became very excited and went right up to the neighbors — two males — and she hooted at one of the males," she said.
"The staff had decorated her room with streamers and welcome signs and lot of toys and blankets and she immediately made herself a nest."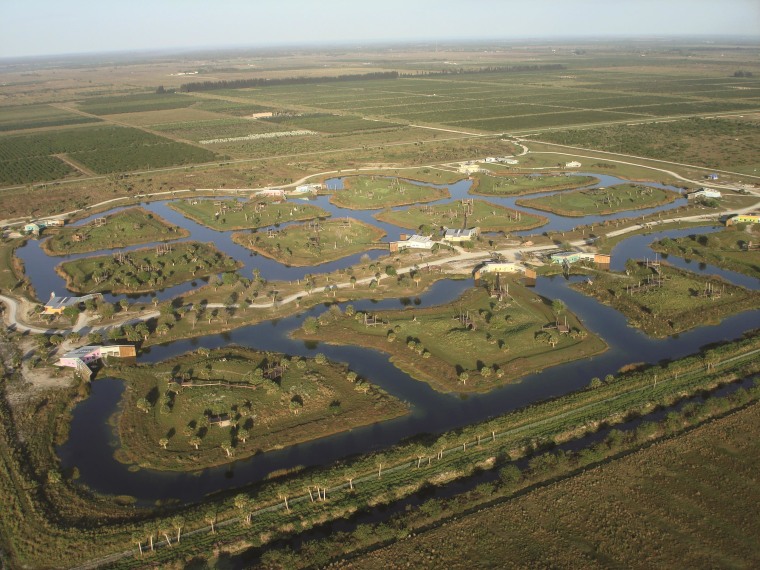 Feuerstein said Iris was slightly overweight at 160 pounds, probably from lack of activity, and pale from underexposure to light. She was unsteady while climbing at first but "doesn't have any developmental or extreme physical problems."
As soon as she was physically cleared, the staff introduced her to Abdul, the older male chimp. "She loves Abdul. She's clearly a chimp's chimp. She does not pay much attention to humans," Feuerstein said.
While many of the sanctuary's 256 chimps grew up in isolation, Iris was initially raised by her mother and often had companions before she ended up alone at Chestatee.
"Chimps are very social," Feuerstein said. "It must have been very lonely for her."
Kim Wathen said she did not understand why PETA sent an undercover activist to the zoo, but she said she was thankful for any role it played in finding Iris a new home.
"Now she's chimping with her friend Abdul," she said. "I would love to have huge, big habitats — like acres and acres for the chimps to play on, but we don't have millions of dollars."