An alleged victim of Ghislaine Maxwell delivered an emotional statement in court Tuesday, calling Jeffrey Epstein's longtime associate a "sexual predator" who has never shown remorse for devastating the lives of young girls.
Annie Farmer spoke in a steady voice via an audio feed piped into the courtroom at the U.S. District Court for the Southern District of New York in Manhattan before the judge ordered Maxwell to remain behind bars until her trial.
"I met Ghislaine Maxwell when I was 16 years old," Farmer said. "She is a sexual predator who groomed and abused me and countless other children and young women. She has never shown any remorse for her heinous crimes or the devastating, lasting effects her actions caused."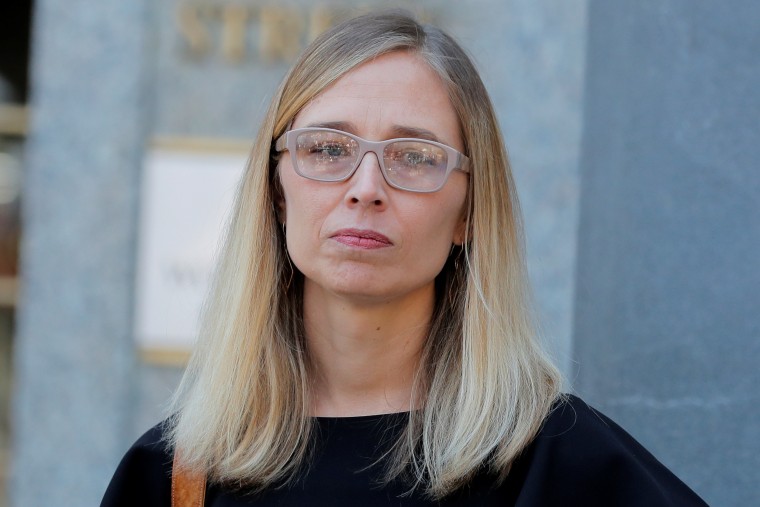 Farmer said the number of people victimized by Maxwell may never be known. "But those of us who survived implore this court to detain her until she's forced to stand trial and answer for her crimes," said Farmer, who filed a federal lawsuit in November alleging that she was sexually abused by Epstein and Maxwell at his New Mexico ranch when she was 16.
U.S. District Judge Alison Nathan denied bail for Maxwell and said she posed a flight risk.
"Crucially, the defendant not only has significant financial resources, but has demonstrated sophistication in hiding those resources and herself," Nathan said.
Nathan also cited the seriousness of the alleged crimes, the strength of the government's case and the length of the possible prison sentence — 35 years — if Maxwell were to be convicted. A trial date has been set for July 12, 2021.
Jennifer Araoz, who has said she was raped by Epstein at the age of 15, cheered the judge's decision to deny Maxwell bail.
"Knowing that she is incarcerated for the foreseeable future allows me, and my fellow survivors, to have faith that we are on the right path," Araoz said in a statement. I would like to thank both the prosecutors and the judge for taking us one step closer to seeing that justice is served."
Other Epstein accusers, including one who also has sexual misconduct claims against Maxwell, celebrated the judge's decision.
"We breathed a sigh of relief today," attorney Lisa Bloom, who represents six accusers, said in a statement Tuesday. "This is the first step toward restoring my clients' faith in the criminal justice system. They've been let down many times."
Attorney Gloria Allred, who represents more than a dozen women, said her clients were relieved.
"One of my clients who was an underaged victim of sexual abuse by Jeffrey Epstein ... stated that she cried tears of joy when she heard the court's decision," Allred said in a statement.
Maxwell appeared via videoconference from the Metropolitan Detention Center in Brooklyn due to concerns related to the coronavirus pandemic.
Before the hearing got underway, she sipped from a Styrofoam cup and rubbed her eyes. Maxwell was wearing a brown top with a dark shirt underneath, her hair pulled back behind her head.
She spoke sparingly at the start of the hearing.
"Not guilty, your honor," she said when asked how she wished to plead to the charges.
Maxwell, 58, was arrested July 2 at a remote New Hampshire mansion. She had not been seen in public since Epstein, her longtime associate, was arrested on sex trafficking charges last year.
Maxwell was charged in a six-count indictment that alleges she recruited and groomed underage girls, some as young as 14, who were sexually abused by Epstein in the mid-1990s.
Her lawyers have argued that she's the target of overzealous prosecutors and that she hasn't had any contact with Epstein for more than a decade. They asked the judge to release her on a $5 million bond to home confinement as she awaits trial.
But prosecutors have described her as an extreme flight risk, saying she has access to millions of dollars, extensive international contacts and citizenship in France, which does not have an extradition treaty with the United States.
Prosecutors have said Maxwell has proven to be skilled at living in hiding, pointing to her purchase of a $1 million New Hampshire estate through a limited liability corporation that shielded the buyer's identity. She tried to hide when the FBI came to arrest her and had in her home a cellphone wrapped in tin foil in what prosecutors described as a "misguided effort to evade detection," government court filings say.
In court Tuesday, her lawyer, Mark Cohen, pushed back against the government's claims that she poses a flight risk and argued that she should be released on bail.
He said she was hiding from the media, not the government, and moved into a different room in the house when the FBI showed up because of all the commotion.
"Our client is not Epstein, is not the monster portrayed by the media and now the government," he said.
Cohen noted that she's part of a large family and has remained in the country after charges were filed.
"They're trying to spin the facts to make my client look sinister, your honor," he said.
Prosecutor Alison Moe told the judge that Maxwell pretended she was someone else when purchasing the New Hampshire property where she was arrested.
Citing an FBI agent who interviewed the real estate broker, Moe said Maxwell posed as a woman named Jen Marshall and described herself as a journalist who was seeking privacy. She was accompanied by a man who said his name was Scott Marshal and described himself as a former British military member who was writing a book.
It was only after Maxwell's arrest that the real estate agent realized Jen Marshall was Epstein's longtime associate, Moe said.
"The defendant has used an alias to hide herself and her identity," Moe said. "That raises real concerns."
Maxwell, who for years and perhaps decades was thought to have been single, is married, according to federal prosecutors.
The marriage was disclosed in a glancing comment from Assistant U.S. Attorney Alison Moe, one of three prosecutors on the case, at Tuesday's detention hearing. Moe spoke for several minutes about the lack of transparency in Maxwell's filings as to who would co-sign her bond if she was given bail.
"In addition to failing to describe in any way the absence of proposed cosigners of a bond, the defendant also makes no mention whatsoever about the financial circumstances or assets of her spouse whose identity she declined to provide to Pretrial Services," Moe said.
She did not say who she believed Maxwell's spouse was or give any indication as to how long they had been married.
Epstein died by suicide in jail last summer while awaiting trial. Following his death, federal prosecutors vowed to continue the investigation and prosecute his enablers.