Supreme Court Justice Ruth Bader Ginsburg rarely pulls punches, but even by her own standards of fierceness, she recently took things to a new level of frankness.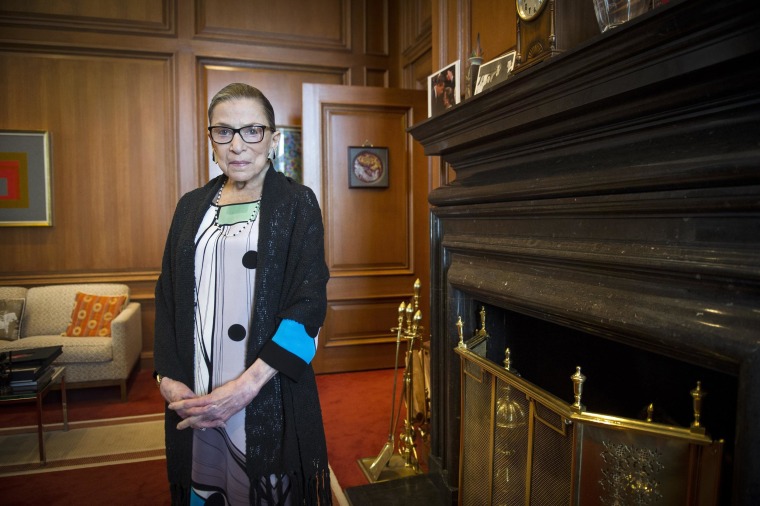 In separate interviews with the Associated Press and The New York Times, Ginsburg took the unusual step, for a justice, of weighing in on the current presidential election.
"I can't imagine what this place would be — I can't imagine what the country would be — with Donald Trump as our president," Ginsburg told the Times in an interview posted online on Sunday.
"For the country, it could be four years. For the court, it could be — I don't even want to contemplate that," she said, joking that her husband, who died in 2010, would have said, "'Now it's time for us to move to New Zealand.'"
Related: How many justices would a President Trump add to the high court?
It was an even more pointed statement than she made in an interview with the Associated Press published last week, in which she said of a potential Trump presidency, "I don't want to think about that possibility, but if it should be, then everything is up for grabs."
In both interviews, Ginsburg spoke of the fact that three of the sitting justices are advanced in age, and suggested the next president would have appointments to make in addition to the seat left empty by the death of Justice Antonin Scalia. At 83, Ginsburg is the oldest, but as she told the Times' Adam Liptak, "[Justice Anthony] Kennedy is about to turn 80. "[Justice Stephen] Breyer is going to turn 78."
Ginsburg shrugged off liberals who called for the two-time cancer survivor to retire early in the Obama administration to make way for a younger liberal. She told MSNBC last year, "Once I sense that I am slipping, I will step down." She has enjoyed a cult following in recent years (including with a pop-culture biography, Notorious RBG, penned by this reporter.)
Previously, Ginsburg has been more oblique about the impact the next president has on her thinking. In an event at the 92nd Street Y in October 2014, she told Nina Totenberg, "Well, I'm very hopeful about 2016."
Ginsburg's colleagues have largely stayed out of the fight over Scalia's seat and the Senate's refusal to hear Obama's chosen successor, D.C. Circuit judge Merrick Garland. Breyer and Justice Samuel Alito have both downplayed the risks of an eight member court.
Related: A friend's tribute to Ruth Bader Ginsburg
But Ginsburg sharply rebuked the Republican-controlled Senate in her Times interview. "That's their job," she said. "There's nothing in the Constitution that says the president stops being president in his last year." The campaign to confirm Garland has used similar language, employing the hashtag #DoYourJob to urge the Senate to hold a hearing on the nomination.
Of Kennedy, who voted with the Democratic appointees to keep Texas's affirmative action plan and strike down its restrictive abortion law, Ginsburg said, "I think he comes out as the great hero of this term." She did lament the deadlocked court that resulted in the quashing of President Obama's deferred deportation plan.
She wrote separately in the abortion case, Ginsburg explained, "to highlight the point that it was perverse to portray this as protecting women's health. Desperate women then would be driven to unsafe abortions." She told the AP her message to state legislatures in her abortion concurrence was, "Don't try this anymore."
Ginsburg reiterated that she hopes to take aim at what she has repeatedly called her least favorite recent opinion. "It would be an impossible dream," she said. "But I'd love to see Citizens United overruled."