A little girl who was struck in the head by a foul ball at a Houston Astros game nearly eight months ago likely suffered long-term damage that will put her at permanent risk of seizures, the family said.
The girl, who was then 2½, was injured on May 29 when a line shot hit by Chicago Cubs outfielder Albert Almora Jr. struck her in the back of her head while she was sitting in her grandfather's lap on the field level just beyond the third base dugout at Minute Maid Park.
Richard Mithoff, the family's attorney, told The Houston Chronicle that doctors have likened his client's injuries to the aftermath of a stroke.
"She remains subject to seizures and is on medication and will be, perhaps, for the rest of her life. That may or may not be resolved," Mithoff told the newspaper.
Mithoff could not immediately be reached for comment Wednesday. But his assistant said the comments were accurate.
"She is able to continue with much of her routine as a girl her age would do, but her parents have to [be] particularly vigilant — as they are," Mithoff told the paper.
Almora was in tears and inconsolable after seeing that the girl was hurt.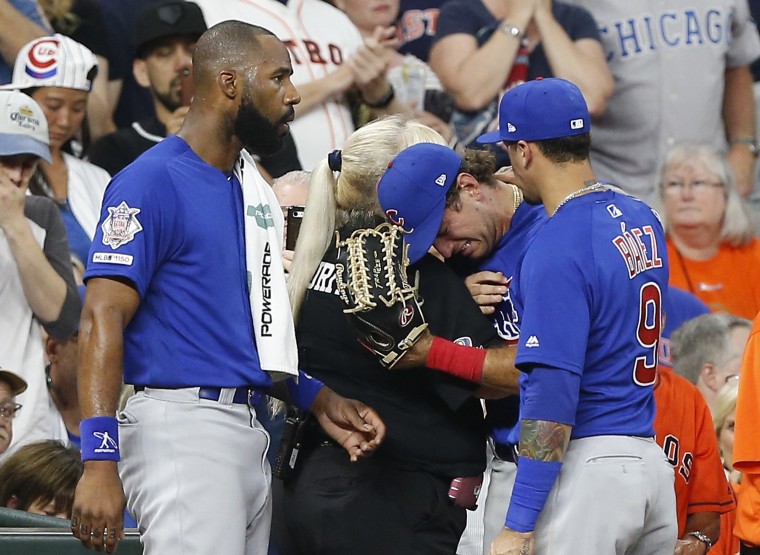 At the time of the incident, protective field-level netting at Minute Maid Park stretched from dugout to dugout. Section 111, where the girl was sitting, was the first section without nets. The team has since stretched the nets from foul pole to foul pole.
A spokeswoman for the Harris County-Houston Sports Authority, which owns Minute Maid Park, declined to comment Wednesday. A representative for the Astros could not immediately be reached for comment.
The family has not taken any civil action and has paid for all of the girl's medical bills, according to Mithoff's assistant.
Download the NBC News app for breaking news
Major League Baseball Commissioner Rob Manfred has told all major league teams to expand ballpark netting past the dugouts this off-season.
"The family is gratified by the announcement from Major League Baseball that the netting will be extended in all 30 ballparks," Mithoff said. "This is obviously a very significant step forward."
An NBC News investigation found in October that there had been at least 808 reports of injuries to fans from baseballs from 2012 to 2019.