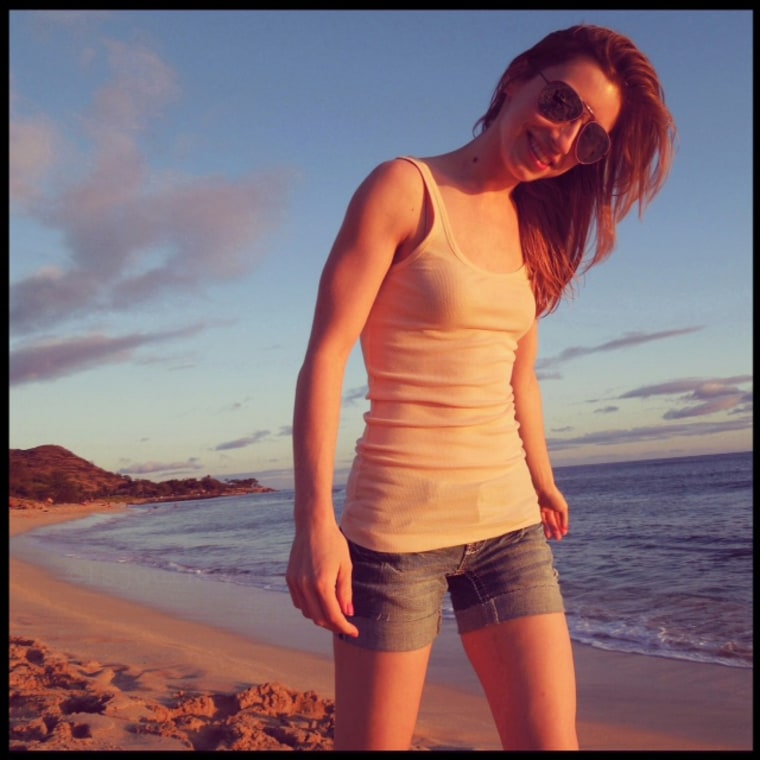 The self-professed source of the National Security Agency leaks may have caused angst in the intelligence community as top-secret surveillance programs are being revealed to all of America, but for one woman — his pole-dancing girlfriend — all he's caused is heartbreak.
Lindsay Mills, 28, dated Edward Snowden, the 29-year-old tech admin who says he is the one who divulged details about the NSA's data-collecting programs, NBC News confirmed on Tuesday.
Snowden, who was an employee of government consulting firm Booz Allen Hamilton, leaked documents to The Guardian and The Washington Post; as the manhunt for him continued on Tuesday night in Hong Kong, the last place he was seen after he fled from the U.S., information and sultry pictures of the woman he has dated for at least four years were being circulated online.
Mills had followed Snowden around the globe, documenting her adventures on her blog and calling him her "man of mystery."
Her final entry this week waxed poetic as Mills shared the heartbreak she felt at him leaving for Hong Kong — where he was last known to be hiding from authorities following the leak.
"For those of you that know me without my super hero cape, you can probably understand why I'll be refraining from blog posts for awhile. My world has opened and closed all at once. Leaving me lost at sea without a compass," read Mills' final blog post, which was posted on Monday before the site, www.lsjourney.com, was deactivated.
"Surely there will be villainous pirates, distracting mermaids, and tides of change in this new open water chapter of my journey. But at the moment all I can feel is alone. And for the first time in my life I feel strong enough to be on my own. Though I never imagined my hand would be so forced. As I type this on my tear-streaked keyboard I'm reflecting on all the faces that have graced my path."
An avid dancer, she had posted numerous photos of herself wearing little-to-no clothing — one entry showed her wearing just a hat and underwear, which she titled "Super Spy."
Others entries on the blog, which was titled "Adventures of a world-traveling, pole dancing super hero," pictured her on said pole. 
Mills and Snowden, who Mills simply called "E" on her blog, had lived together in Hawaii before he fled to Hong Kong. In a March 2, 2012, post, she wrote to her readers while still living on the mainland.
"Squared away a few things this weekend and now I can announced what I've been so vague about the past few weeks. As some of you know (because I'm terrible at keeping secrets), E got a job on the not-so-distant island of Oahu. Yes, I'm moving to Hawaii. Yes, I'm excited. Yes, I'm incredibly sad."
In another post, she expresses her frustration with the government after having to show her driver's license to buy cold medicine. 
"Really, Uncle Sam, you need to track just who is buying this medicine? I assure you I'm only going to be making the tiniest amount of illegal drugs with it and the rest will go to my flu-ridden partner (will the government bots pick up on sarcasm?) When did my every move become so interesting to Uncle Sam. Maybe it was when Mr. O announced that we call the government our federal family," she blogged on Sept. 9, 2011. 
Contacted at the family home in Laurel, Md., Jonathan Mills, Lindsay' father, couldn't confirm his daughter's whereabouts on Tuesday, but he said he had met Snowden, whom he described as "shy and reserved." He said the two had been dating about four years.
Snowden checked out of Hong Kong's Mira Hotel on Monday, and has not been heard from since. 
NBC News' Tracy Connor, Debra Pettit and Stephen Weeke contributed to this report.
Related content: