SAN FRANCISCO — With President Donald Trump mute and Congress moribund on the issue of climate change, it feels to many like official Washington is fiddling while the world burns. That sense became literal this summer, as wildfires charred broad swaths of the drought-stricken West for a second straight year.
California Gov. Jerry Brown will seize the initiative on the issue this week by hosting a global climate conference here that seeks to shift attention away from the stymied national government to regional governments, businesses and individuals worldwide that are pledging to do more to rein in global warming.
Brown on Monday signed two ambitious measures that enhance California's claim to international leadership on the issue. Many more pledges are planned for the days ahead at the Global Climate Action Summit — on everything from preserving and expanding oxygen-producing forests, to fast-tracking the use of electric vehicles, to cracking the conundrum of how to store power produced by "intermittent" fuels like wind and solar.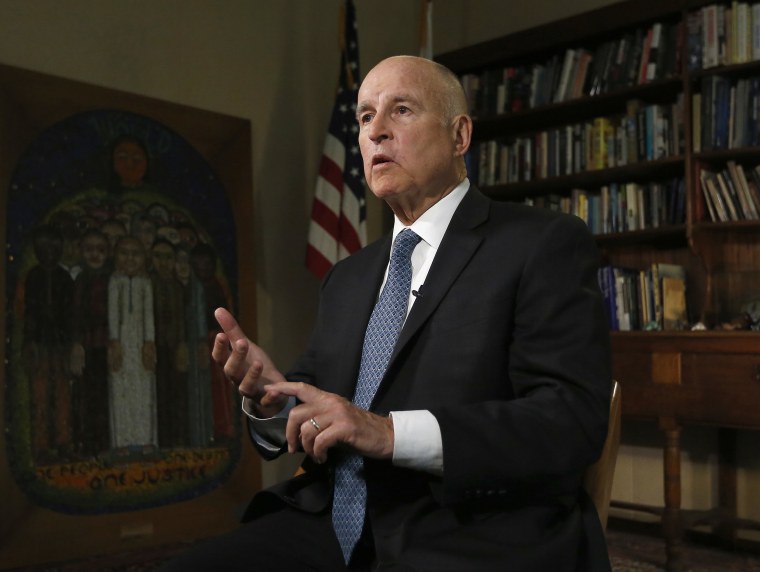 But the pledges from California and others will mean little, analysts here said, without even greater movement — and participation from all of the world's 195 national governments — away from the fossil fuels that still generate much of the world's electricity and power most of its cars and trucks.
"Both the nonstate actors and nations can be more ambitious," said Angel Hsu, who led recent research by Data-Driven Yale, which teamed with other scientists to analyze the climate plans of nearly 6,000 cities, states and regions, and more than 2,000 companies, worldwide. "We are not there yet. There needs to be more."
With myriad pledges in the air, the study suggests that much depends on promises being kept. Full implementation of the reported city, region and company commitments would get the U.S. halfway to the commitment it made under the 2015 Paris climate accord: to reduce greenhouse gas emissions 26 to 28 percent below 2005 levels by 2025, Hsu's research concluded.
Even more ambitious commitments by multi-national nonprofits and corporations could help spur the U.S. to meet or even exceed the Paris benchmark, the research found, even though President Donald Trump withdrew the U.S. government from the agreement more than a year ago. (One such global effort comes from the group RE100 — to get 100 big businesses to obtain 100 percent of their electricity from green sources.)
The plethora of pledges, even unfulfilled, amount to the good news. The bad news is that even if every nation on Earth met the benchmark pollution goal set in Paris, the result would still be a 3 degrees Celsius hike in global temperatures, compared to pre-industrial levels, according to the Yale research. Scientists agree that any increase of more than 2 degrees would plunge Earth into the danger zone.
Those findings have not been lost on Brown. "The emissions keep mounting. Global warming is not stopping," Brown said in an interview with NBC News this week. "So we have got to do a lot more. And this summit is a way to boost ambition and push the parties to do better."
Players and promises
The summit will draw an estimated 5,000 people, including former Vice President Al Gore; former Secretary of State John Kerry; China's top climate minister, Xie Zhenhua; Starbucks CEO Kevin Johnson; musician Dave Matthews; and actor Alec Baldwin.
The ultimate goal of the climate activists is for the world to reach "carbon neutrality" by midcentury. That would mean reducing greenhouse gases enough so they can be safely absorbed by forests, oceans, soil and other natural systems. When the conference wraps up Friday, participants are set to release a sharply worded "call to action" for the U.S. and other national governments to aim more intently at that goal.
While governments will be crucial to any successful bid to defeat the profusion of heat-trapping gases, Brown and the planners of the Global Climate Action summit know that they can also be fickle. Witness Canada's whipsaw from Stephen Harper's regime, packed with climate change skeptics, to Justin Trudeau's greenhouse-gas-fighting administration. America lurched in the opposite direction: replacing Barack Obama and his campaign for the Paris agreement, with Donald Trump's fossil-fuel-friendly White House.
The San Francisco gathering envisions a kind of "bottom up" climate action that will become so deeply embedded in the world's economy and culture that it can't be reversed, even by national leaders.
In just a little more than a year, the U.S. already has added enough new electrical capacity for solar, wind and other renewable sources to power more than 3 million homes a year. The country has drawn up mass transit plans that should cut a total of 36 billion miles of car and truck travel by 2025.
And progress on other fronts is well within reach, according to America's Pledge, the organization formed by Brown and former New York Mayor Michael Bloomberg to make good on America's previous international climate commitments.
America's Pledge called in a report Wednesday for bold action on 10 fronts by 2025. Among the proposed goals: shuttering plants responsible for producing 30 percent of America's coal-fired power, doubling the number of electric vehicles on the road, to 8.4 million, and fully activating carbon trading markets in at least 16 states, to goad a faster flight away from fossil fuels.
The U.S. has already cut its carbon output by about 14 percent from 2005 to 2016. And with enactment of the 10 measures outlined by America's Pledge, the U.S. could bring the load down to 21 percent below the 2005 mark — within sight of the Paris goal, according to the group's analysis.
In the days and weeks leading into Wednesday's summit kickoff, other organizations rolled out initiatives they said demonstrated the power of sub-national action:
Nine of the world's biggest nonprofits and foundations — including the Ford Foundation and the David and Lucile Packard Foundation — announced they would spend at least $459 million through 2022 to protect, restore and expand the world's forests and open spaces. Such "land-based" initiatives have the potential for absorbing carbon and delivering up to 30 percent of the carbon dioxide reductions envisioned in the Paris agreement, the coalition said.
Nineteen major cities — including New York, Los Angeles, Toronto, Tokyo, Sydney, Paris and London — committed that, by 2030, new buildings would add a net of no new greenhouse gases to the atmosphere. Heating, air-conditioning and other building systems account for more than half of carbon dioxide emissions in cities, the alliance said.
A total of 476 major companies globally — including tech giants Adobe Systems and Dell Technologies — have signed on to abide by stringent carbon limits and to have those guidelines verified by outside analysts. The Science Based Targets coalition argues that adopting new technologies and cutting pollution will boost the world's economy.
Trump's presence without attendance
Trump and his advisers appear nowhere on an agenda of more than 350 workshops, seminars and demonstrations. But they have spoken loudly in their absence.
In addition to the June 2017 withdrawal from the Paris agreement, Trump's Environmental Protection Agency has fought tenaciously to lend support to a coal industry in retreat because of competition from cheaper wind, solar and natural gas. Last month, Trump rolled back tougher mileage standards for cars and moved to take away California's power to maintain more ambitious mileage goals. And, this week, the administration revealed plans to make it easier for energy companies to release heat-trapping methane during their drilling operations.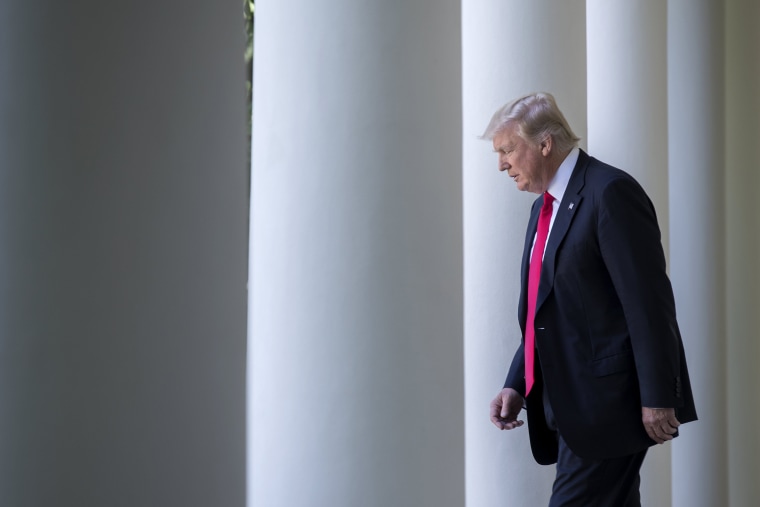 The latter action answered complaints by the oil and gas industry that existing EPA regulations on methane are impossibly complex and difficult to execute in the field. One oil industry spokesperson praised the relaxation of oversight, saying Trump had correctly favored industrialists over environmentalists.
But environmentalists, including Brown, railed against the change. "This is insane — it borders on criminality," Brown said in a tweet Tuesday evening. "It perhaps is the most obvious and dangerous and irresponsible action by Mr. Trump. And that's saying quite a lot, because he has a whole list of them."
The constant battle between the environmental movement and Trump White House has helped Brown, governor of the most populous state, expand his place on the national stage, said Raphael Sonenshein, executive director of the Pat Brown Institute for Public Affairs at California State University, Los Angeles. (It's named for Brown's father, California's governor from 1959 to 1967.)
"After the Paris talks, California emerged as a real leader. It put it on the map, with its size … and a power to make major changes," Sonenshein said. "After the election of Trump, it only amplified the role of California and Jerry Brown as leaders of the resistance."
Brown's fight on two fronts
That's not to say Brown won't face resistance of his own. The governor's team scrambled in the weeks leading up to the conference to get a leading Republican to join in, according to a top California environmental official, who spoke on the condition of anonymity to discuss private planning for the summit. The search came up empty, the official said.
Those who might have joined with Democrats this week were likely dissuaded after seeing how other Republicans were shunned for agreeing to increase regulation of oil and gas. The most likely GOP ally, former California Gov. Arnold Schwarzenegger, is in Europe, filming "Terminator 6."
Brown also can't count on unconditional support from his left. Thousands of activists, environmentalists and indigenous leaders marched in San Francisco on Saturday — with some planning to return this week to stage sit-ins and other acts of civil disobedience — to demand more from the governor and his likely successor, Lt. Gov. Gavin Newsom.
The grass-roots leaders want more done to prevent current oil and gas extraction, which California still does more of than all but a handful of states, despite a decline in recent years. They also want guarantees that low-income and minority communities — which often bear the brunt of air, soil and water pollution from drilling wells and refineries — get proper protections and opportunities when the shift to greener fuels occurs.
"These are the neighborhoods that bear the burden of polluting, greenhouse-gas emitting facilities," said Antonio Diaz, organizational director of People Organizing to Demand Environmental and Economic Rights (Poder.) "It has to change."
A 30-second ad from another progressive group, expected to be televised during the summit, will feature a 9-year-old girl calling the governor "cruel and heartless" because some kids live near pollution-spewing oil and gas wells.
But other environmental organizations say that an immediate end to all oil and gas extraction in California is not realistic, or wise. The state's 14 million cars almost all still rely on gas, until cleaner replacement fuels take over the market. The gas vehicles must keep running to prevent an economic collapse, the argument goes. And the state enforces strict environmental guidelines on those who drill for crude oil, unlike other states and nations California would have to turn to if its own wells were plugged. So drilling remains a necessary evil, some environmental groups say.
Brown, 80, and four months from leaving office, seems unperturbed by his critics. He said he has no legal power to simply shut down fossil fuel wells. The better strategy, he insists, is to push the production of electric cars, adding, "And you expand the electrical grid, and reduce the emissions of buildings, machinery, agriculture and other industries."
Even with some naysayers, Brown will finish his term in January with polls showing Californians approve of bold action. Some 65 percent of adults in the state told the Public Policy Institute of California in July that they favor their state going its own way on climate change.
As he wrapped up another in the dozens of interviews at the start of summit, the governor signaled that he is still searching for the best way to weave together the many strands of this week's gathering into a single thread. "We have to simplify this global mélange of activity and progress," he said.