Gloria Vanderbilt — the glamorous Manhattan socialite from one of the nation's wealthiest families who was as well-known for her eponymous brand of jeans as her genes — died Monday after a battle with stomach cancer, CNN reported.
She was 95.
Vanderbilt is the mother of CNN anchor Anderson Cooper.
"Earlier this month, we had to take her to the hospital," Cooper said. "That's where we learned she had very advanced cancer in her stomach and that it had spread."
The TV news anchor called his mother "the coolest and most modern" person he knew.
"Gloria Vanderbilt was an extraordinary woman who loved life and lived it on her own terms. She was a painter, a writer and designer but also a remarkable mother, wife and friend," he said.
"She was 95 years old, but ask anyone close to her and they'd tell you, she was the youngest person they knew, the coolest and most modern. She died this morning the way she wanted to — at home, surrounded by family and friends."
The socialite lived a life that raised many eyebrows in the high society circles from which she came, starting with a tabloid-made, acrimonious custody battle over her between her mother and her aunt when she was 10.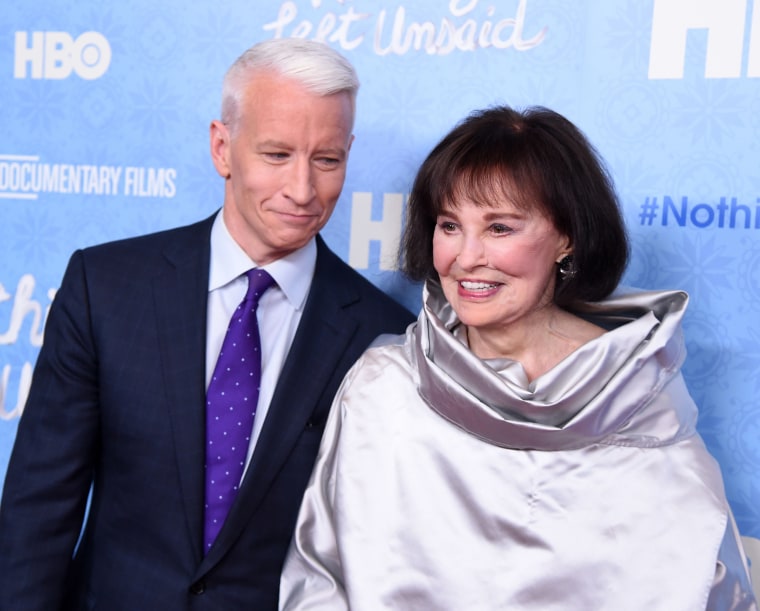 Born in New York City on Feb. 20, 1924, Gloria Laura Morgan Vanderbilt arrived to much fanfare as the daughter of railroad empire heir Reginald Claypoole Vanderbilt and his second wife, Gloria Morgan.
Gloria Vanderbilt's great-great-grandfather was rail and shipping magnate Cornelius Vanderbilt, once America's richest man. In 1873, he made a gift of $1 million (about $21 million in today's value) to educators in Tennessee to establish what is now Vanderbilt University in Nashville.
At only 18 months of age, Gloria Vanderbilt became a millionaire in her own right, courtesy of a trust fund in the wake of the death of her father from cirrhosis of the liver. Her older half-sister, Cathleen, received a trust fund of an equal amount.
But the elder Gloria didn't seem suited to adapting to a single parent lifestyle, heading off to Europe to spend her own inheritance. After a few years of living with her mother in Paris, the 8-year-old Vanderbilt was first shipped to her maternal grandmother in Rhode Island.
Two years later, the now infamous custody battle flared between Vanderbilt's mother and her paternal aunt, Gertrude Vanderbilt Whitney, a legal fight that would fill gossip headlines for two years.
The legal tumult would resonate for decades, even inspiring a popular 1982 TV miniseries, "Little Gloria... Happy at Last."
In the end, the court ruled that Morgan was an unfit mother and that Vanderbilt would live with her aunt, a sculptor and the founder of the Whitney Museum of American Art. Those formative years would nurture in Vanderbilt a passion for making art that would last a lifetime.
Despite the marvelous wealth she inherited, she said she never felt part of the Vanderbilt family, with no close ties to the elder Gloria.
"I had no relationship with her at all and I just worshiped her from afar," Vanderbilt said of her mother in a 2016 interview with Cooper. "I felt no connection at all. I felt like an impostor."
Vanderbilt's biggest passion over the coming decades, however, would be men; the stylish beauty connected with enough bold-faced names to keep the gossip columnists busy typing for decades.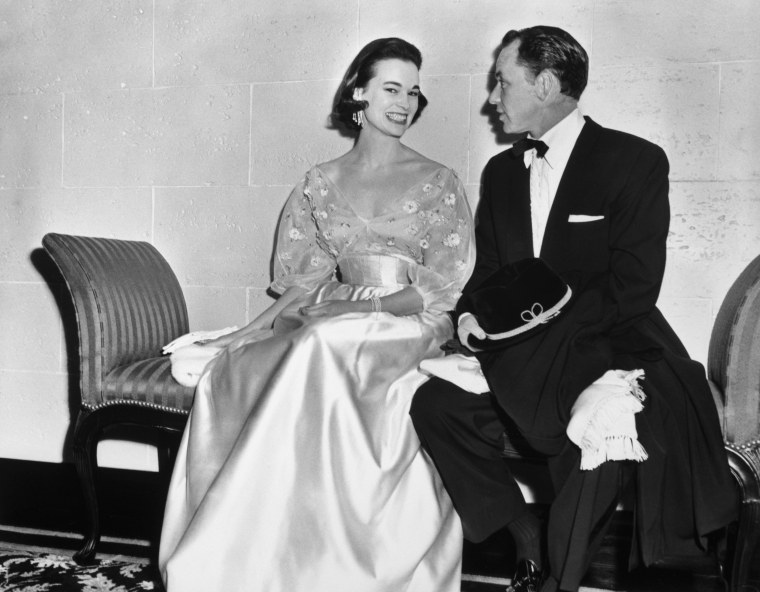 She also inspired the character of Holly Golightly in "Breakfast at Tiffany's" and made news in her own right as an actress, artist and author.
"I like the idea of showing that you can go through a lot and still be on your feet, still be working, still be positive about life," Vanderbilt told Interview Magazine in 2014. "And that you can still think the best thing is around the corner."
Vanderbilt's romances began when she visited her mother in Hollywood in the summer of 1941, a stay that launched a career as a sometimes actress and more frequent model. Her first high-profile paramour was eccentric millionaire Howard Hughes, then 36 and not yet in his paranoid reclusive phase.
Vanderbilt professed to having love for many of the men who passed through her life — with the exception of her first husband, Pat DiCicco, a Hollywood agent with alleged mob connections, whom she married when she was 17. Their tumultuous marriage ended in divorce four years later, not swiftly enough for the young wife.
"He would take my head and bang it against the wall," Vanderbilt told England's Telegraph newspaper in 2004. "I had black eyes."
Her second marriage, to the much-older music conductor Leopold Stokowski in 1945, would last longer — through 10 years and two sons — Stan, who was born in 1950, and Christopher, who arrived five years later. But ultimately the 42-year age difference proved insurmountable.
Well, that and the charms of Frank Sinatra.
Vanderbilt fell for Old Blue Eyes, leaving her husband for a fling with the crooner that lasted just a few months. She emerged from that relationship and right into the arms of director Sidney Lumet, whom she would marry in 1956, a year before the release of his breakthrough hit, "12 Angry Men." Their marriage lasted just seven years, but the two would remain lifelong friends until Lumet's death in 2011.
Vanderbilt got it right on the fourth try, marrying magazine editor Wyatt Cooper on Christmas Eve 1963 and producing two sons together, Carter and Anderson, the future TV journalism mainstay. Her devotion to the man she called the love of her life was so strong that she never remarried after Wyatt Cooper's death from a heart attack in 1978.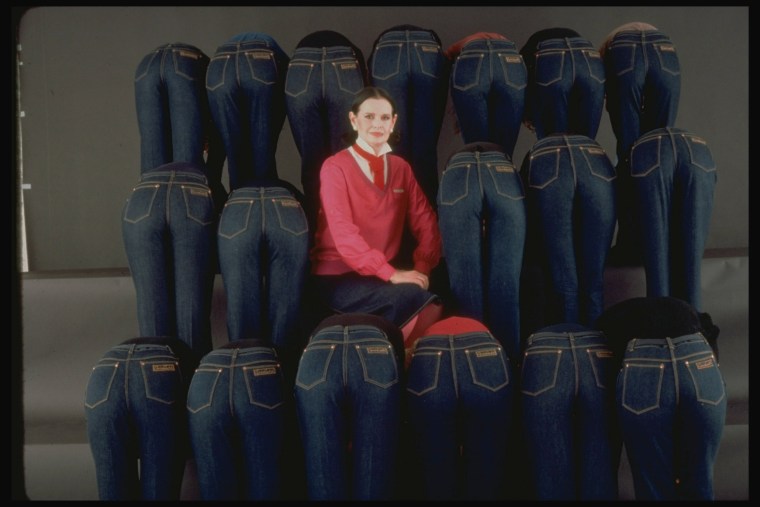 But by then, a new calling had snugly fit into Vanderbilt's life, spurred by her love of working with fabrics as an artist. An attempt at a clothing store featuring her designs folded on Manhattan's Seventh Avenue after a couple of years, but she eventually fell into the orbit of a merchandising expert named Warren Hirsh, who had an idea for bringing Vanderbilt's high-class touch to jeans.
Denim had grown in popularity during the heyday of the hippie movement in the 1960s, but at the time Vanderbilt's brand debuted in 1977, there was an appetite for something a little classier. And that's just what customers got with that ubiquitous swan logo that was stitched, along with Vanderbilt's own signature, into the back pockets of every pair.
"Gloria Vanderbilt jeans were incredibly influential on the market for status jeans — arguably, they were the first," Emma McClendon, associate curator of costume at the Fashion Institute of Technology's museum, said.
"Her Vanderbilt name lent an immediate gravitas to the jeans that positioned them as true status items — not just trendy items. Calvin Klein quickly followed with his 'designer' jeans."
Though the jeans were actually made by Hong Kong-based clothes manufacturer Murjani, the heiress was earning millions by virtue of being the face of the franchise.
"A bombardment of TV commercials emphasized her name and elite status to a national audience," McClendon said. "The ads also wedded the Vanderbilt glamour to the sexy fit of the jeans — promoting how the jeans hugged every curve including the hips and the butt.
"Although they were very sexy, they also marketed the fit of the jeans as cut for every woman — not just very thin models — and her line was the first status jean to include products across size categories including what would today be called 'juniors' and 'plus' sizes," she said.
By the late '80s, however, Vanderbilt's company was on the downswing, part of the natural order of a fickle fashion industry that constantly flitted from the previous big thing to the next big thing.
Then on July 22, 1988, Vanderbilt saw her 23-year-old son, Carter, die by suicide after plummeting off the 14th floor terrace of her Manhattan apartment. She would write a book about her anguish, "A Mother's Story," that was published eight years later.
Vanderbilt's fortunes continued to trend downward as she successfully sued her lawyer and former psychiatrist in 1993 for swindling her out of millions. But that lost money, combined with back taxes, forced her to sell her seven-bedroom mansion in Southampton and her five-story Manhattan townhouse two years later.
In her later years, Vanderbilt wrote several memoirs and novels, and was the focus of a joint documentary — "Nothing Left Unsaid" — with Cooper in 2016. Up until the end, she continued to write, produce her collage-based art, and even became an unlikely Instagram star by sharing photos and artwork and glimpses from behind the velvet curtains of her past.
"I've always thought of my mom as coming from a time and place that doesn't exist anymore," Cooper says in his documentary. "Like a vanished world."