GoFundMe has promised homeless veteran Johnny Bobbitt Jr. that he will receive the rest of the $400,000 in donations owed to him after the couple who raised the money allegedly spent the cash on luxury goods and holidays.
Bobbitt became a nationwide story after he gave his last $20 to Katelyn McClure, a woman who had run out of gas on the freeway ramp outside Philadelphia.
To pay it forward, McClure and her boyfriend, Mark D'Amico, started the online fundraiser for Bobbitt, drawing contributions from more than 14,000 people.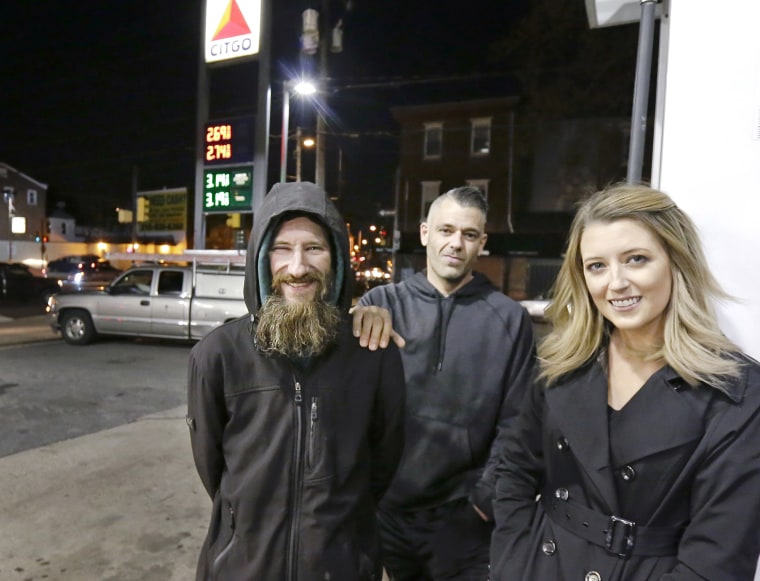 However, the feel-good tale later descended into an ugly legal battle.
Bobbitt is suing the couple, alleging he's received only $75,000 of the total and claiming the couple spent the rest on items such a BMW and luxury getaways to California, Florida, Las Vegas and the Grand Canyon. The couple denies the allegation.
On Thursday, GoFundMe said it would make sure Bobbitt received all of the money he was owed.
"Johnny will be made whole and we're committing that he'll receive the balance of the unspent funds raised on his behalf," it said in a statement. "GoFundMe's goal has always been to ensure Johnny gets support he deserves."
The website said it was assisting with the police investigation. It said its commitment to Bobbitt was based on its "GoFundMe Guarantee," which covers beneficiaries when funds have been misused.
"We're fulfilling that commitment today and we will continue to work with Johnny's team to make sure he's receiving all donated amounts," it said.
A spokesman for GoFundMe said that the company is committing to the amount that Bobbitt has not received. That appears to be in dispute. Bobbitt has said he only received $75,000, while an attorney for the couple has said in court he received $200,000.
Earlier on Thursday, police executed a search warrant on the couple's home in Florence Township, New Jersey. No charges have been filed, police said.
The day before, a judge ordered McClure, 28, and D'Amico, 39, to appear in depositions next week and explain what's happened to the funds.
Last week, they said on NBC's "Megyn Kelly Today" last week that they did not use any of the money, but believed there could be as little as $150,000 left after they claimed Bobbitt spent the funds on family, a trailer and truck, and drugs.
On Thursday, Ernest Badway, the couple's attorney, declined to comment about how much actually remains, or about the search warrant.
He previously said in court that Bobbitt received at least $200,000 of the funds, according to The Philadelphia Inquirer.