San Francisco's Golden Gate Bridge marked a milestone in 2013 as 46 people leaped to their deaths in what appears to be the deadliest year for suicides at the landmark, a watchdog group said on Tuesday.
The Bridge Rail Foundation, which tracks fatalities at the 4,200-foot-long span, said the high number of suicides demonstrates the need for a safety net to be installed to make it more difficult for would-be jumpers to take their own lives there.
"I know it won't be built soon, and that's the most frustrating thing about this," said Dayna Whitmer, board member with the organization. "We hate to see any more 17-year-olds jump or 86-year-olds jump, it's just not right."
The road surface of the suspension bridge towers more than 220 feet above the entrance to the San Francisco Bay, and the span ranks as one of the world's most frequently chosen sites for public suicides. It is also one of the most lethal, with jumps from the bridge nearly always proving fatal.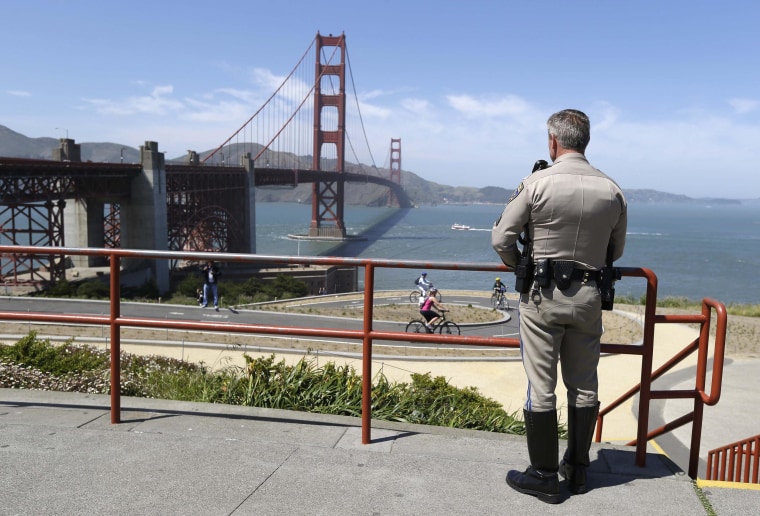 Mary Currie, a spokeswoman for the Golden Gate Bridge Highway and Transportation District, confirmed that 46 people had committed suicide at the bridge last year, the highest annual total since at least 2000, when she began keeping an unofficial count.
Currie said police officers or others had intervened to stop another 118 people from leaping off the span in 2013.
Whitmer said last year's suicide tally, up from 33 in 2012, was the "highest we can confirm" since the bridge was built in 1937, adding that the previous record was believed to be 40 or 41 in a single year. An analysis published by the San Francisco Chronicle found 40 suicides occurred at the Golden Gate in 1977.
Officials have drawn up plans to install a safety net beneath the span's sidewalks to catch people who jump but are still seeking the estimated $66 million needed to construct it. In 2011, a firm was given $5 million to design the net, Currie said.
For now, officials work to prevent suicides with law enforcement officers on bicycle patrols. At any given time, two to four officers are on the bridge's sidewalks, California Highway Patrol spokesman Andrew Barclay said.
- Reuters