One Florida man has taken it upon himself to help restore a Tampa graveyard and its veterans' headstones.
Though he has never served in the military, Andrew Lumish, 46, spends his little free time scrubbing and cleaning soldiers' gravestones — some dating back to the Civil War — in the L'Unione Italiana Cemetery.
Known as "The Good Cemeterian," Lumish found the headstones while pursuing his passion for photography. He thought they were beautiful but was bothered by the amount of dirt, mold and mildew that had overtaken them. Some of the men buried there did not have families to take care of their gravesites, so he stepped in to provide a little elbow grease and honor the fallen veterans.
"I trained myself on proper techniques that we utilize in all of our national cemeteries to begin restoring these monuments," Lumish, who has now cleaned more than 500 monuments, told NBC News.
Honored by the Department of Veteran Affairs for his efforts, Lumish coats the gravestone with the same product as those used by national cemeteries after soaking the monument with water. He then uses soft bristle brushes, a tooth brush and cotton swabs to scrub every detail of the stonework.
"The process will take one, two, three, four months total before restoration is complete," Lumish said.
Lumish has no personal connection to these men who fell in various American wars, but he has spent the last five years attempting to return some honor and dignity to their graves. Along the way he has learned a considerable amount about the lives of those in the graveyard and often shares their stories.
It's deeply personal and educational.
"I feel connected to them," Lumish said. "And it's very important for me to be able to tell their story and I love to be able to show these individuals and show their accomplishments."
Many people have taken note of Lumish's work, which earned him his nickname, but it is the family of some of these soldiers who appreciate it the most.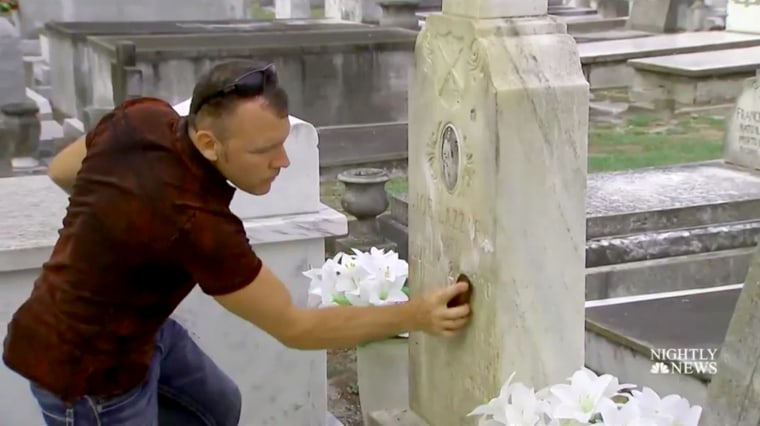 When the family of fallen World War II veteran Joe Lazzara found out that Lumish had cleaned their family member's monument, they reached out to him. Lazzara's 90-year-old brother Sam was particularly touched.
"That's my flesh and blood there. My mother, my father, my sister's buried there — baby sister. And me and [my wife] will be buried there too," Lazzara said.
Lazzara isn't able to get to the graveyard so easily anymore, which makes Lumish an unexpected blessing.
"God brought him down to us," Lazzara added.
But Lumish will continue to scrub away whenever he can, uncovering forgotten histories and gaining a new perspective.
One of the stories he has gotten to know well is of Lewis Franklin Vaughan, who died at age 18 when a German submarine sank the U.S.S. Tampa during World War I. Lumish learned that Vaughan was the only surviving child of his family, which had lost three daughters before he was killed in action, because they also were located within the graveyard.
"I'm uncovering history," Lumish said. "I'm telling a story and probably indirectly I'm saying, you know, if you think you got it bad, if you think you got it tough, there's people, lots of people ... that aren't in our history books, like Lewis Franklin Vaughan."