Two very different photos of this year's congressional intern class highlight stark differences in each party's racial makeup.
In an Instagram photo posted Saturday by House Speaker Paul Ryan, R-Wisconsin, a large gathering of congressional interns grinned for the camera. However, folks on social media soon noticed something else about the crowd.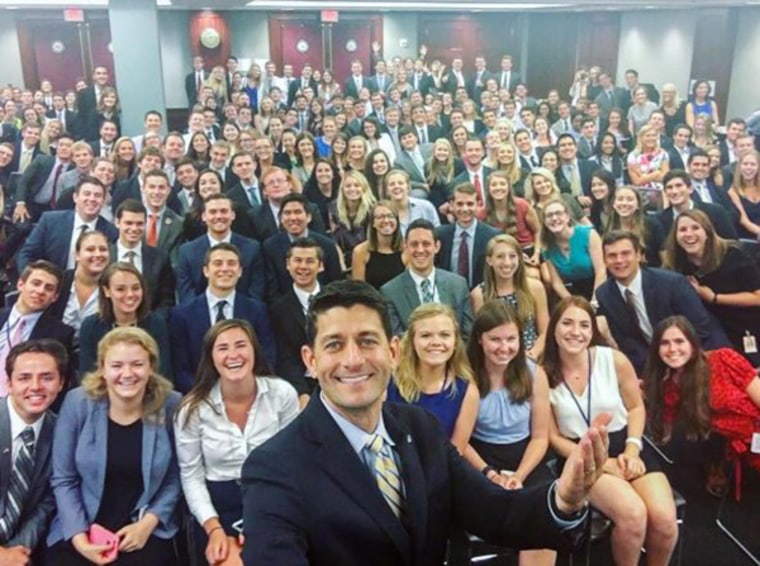 Nearly all of the interns, most of whom are Republican, appear white.
The comments section of the selfie was quickly filled with criticism over the GOP's perceived lack of diversity.
One Instagram user commented, "Shameful. I voted Republican several times but the more I hear and see from this party the more embarrassed I am that I even voted for this party. #diversity."
Another comment read, "Embarrassing the lack of awareness in this photo."
Ryan's photo went viral across other social media platforms along with the hashtag #GOPSoWhite — a play on the recent social media backlash against the lack of diversity at the Oscars.
Related: Donald Trump Gets 0% Support From Black Voters in Ohio, Pennsylvania: NBC/WSJ Polls
Twitter user JLD wrote, "This has to be the whitest selfie of all time #GOPSoWhite #RNCinCLE."
Another wrote, "#GOPSoWhite Crayola is officially changing the name of its white crayons to Ryan Selfie"
Ryan's office did not respond to a request for comment.
In response, a large group of Democratic House interns, along with interns from the Congressional Black Caucus, came together to take a photo of their own. The effort, led by Audra Jackson, an intern for Rep. Eddie Bernice Johnson, D-Texas, is a stark contrast to Ryan's photo.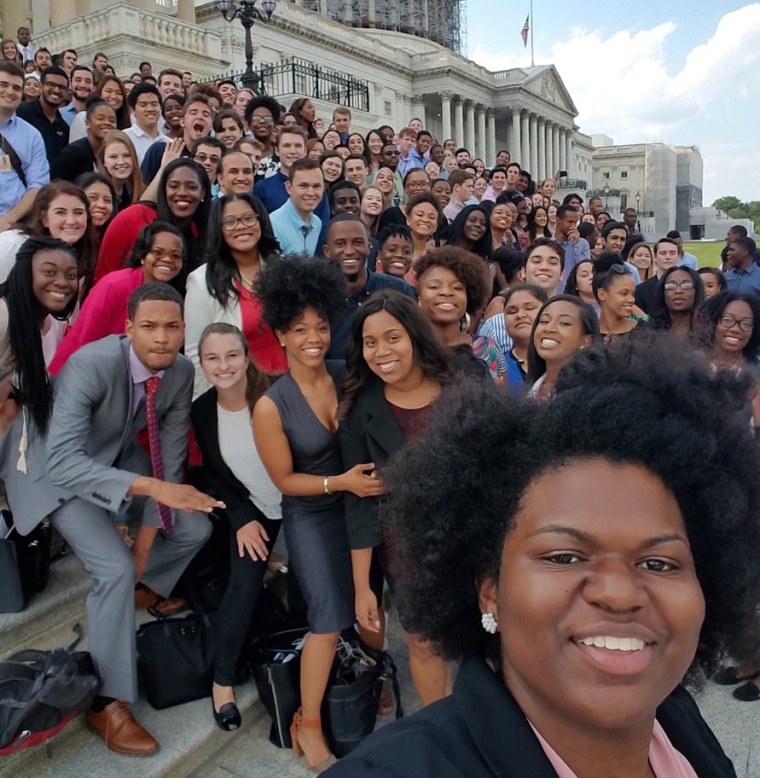 People flooded the comments section to praise the photo.
One Facebook user wrote, "You will not see this diversity in the other party! Great job."
A Democrat wrote, "Wow! What a difference between the R photos and ours! So proud of our party and country!"
However, not everyone was thrilled with Johnson's photo.
One comment read, "just because your interns are mostly black does not make you diverse."
Johnson's office stood by its response to Ryan's photo.
"I think especially given the climate we're in, in the middle of the Republican National Convention, given the climate and the diversity that's been perceived on the Republican side, that picture summed up what a lot of people feel already and why the Republican Party may be a little out of touch," Cameron Trimble, Johnson's communications director told NBC News.
Related: RNC's New Head of Latino Outreach Has Been Strongly Critical of Trump
Trimble said the effort did not focus solely on racial diversity, but also looked to highlight various socioeconomic statuses and sexual orientations.
"We just asked everyone to be in the picture, so we knew we would have the diversity no matter what," he said, referencing the overall diversity within the Democratic Party.
The brouhaha over the photos reflects deeper identity politics when it comes to party affiliation.
A Pew Research Center study from April found that minorities largely identify with the Democratic Party. Roughly 80 percent of African Americans, 65 percent of Asians and 56 percent of Hispanics identified as Democrats.
Related: Opinion: Here's Why There's Little Diversity Among Congressional Interns
Eleven percent of African Americans , 23 percent Asian Americans and 26 percent of Latinos identify as Republicans.
"The majority of Whites identity as Republicans and the majority of Blacks and Latinos and Asian-Americans are voting Democrat these days," said Andra Gillespie, associate professor of political science at Emory University.
As a result, intern classes for Republicans are more likely to skew white. While interns for Democrats are more likely to be diverse, Gillespie said.