Republican lawmakers grilled Attorney General Loretta Lynch on Tuesday about the Justice Department's decision not to bring charges against Hillary Clinton over her use of private email servers while secretary of state.
Democrats, meanwhile, skewered the GOP's inquisition as nothing more than campaign season posturing.
Lynch's appearance before the House Judiciary Committee was her first before Congress since the Justice Department's announcement last week that it was closing the Clinton email probe.
Related: FBI Recommends No Criminal Charges Against Hillary Clinton
Lynch, who had removed herself from the case and said she would go with the recommendation of her team, repeatedly deflected questions on the decision not to prosecute Clinton, the presumptive Democratic presidential nominee. Instead, she referred to FBI Director James Comey's findings.
"While I understand that this investigation has generated significant public interest, as attorney general it would be inappropriate for me to comment further on the underlying facts of the investigation or the legal basis for the team's recommendation," Lynch told the committee.
She also stressed that she was extremely "proud" of the "tremendous work" of career agents and prosecutors, including Comey.
Republicans weren't buying it.
House Judiciary Chairman Bob Goodlatte, R-Virginia, said the decision was "troubling" and argued Clinton was held to a different standard. He insisted in his opening statement that Clinton's "extreme carelessness" may have hurt the safety and security of the U.S., arguing "she cannot be trusted with the nation's most sensitive secrets" if she becomes commander-in-chief.
"You're in charge of the Department of Justice. The buck stops with you," said GOP Rep. James Sensenbrenner of Wisconsin.
Meanwhile, Democrats, including ranking member Rep. John Conyers, D-Michigan, scolded Republicans for focusing on Clinton's email probe during an election season, insisting the issue has "taken precedence over gun violence and civil rights. Let us be clear the criminal investigation is closed. There was no intentional wrongdoing."
Democratic Rep. Zoe Lofgren of California later added, "We're beating a dead horse here for political reasons."
Lynch's testimony follows Comey, who defended his decision not to recommend criminal charges against the presumed Democratic presidential candidate during a contentious, almost five-hour hearing in front of the House Oversight and Government Reform Committee last week.
Related: FBI Chief James Comey Grilled About Decision Not to Charge Hillary Clinton
Republicans also continued to pepper Lynch with questions over her recent private meeting at an airport in Phoenix, Arizona with former president Bill Clinton, arguing it raised questions about the integrity of the inquiry. While Lynch has repeatedly conceded that the ill-advised meeting "cast a shadow" over the FBI-led investigation, she has maintained that the conversation was social in nature.
Lynch stressed the same on Tuesday, insisting "nothing of any relationship to the email investigation was discussed."
Lynch also discussed last week's lethal police shootings of two black men — Philando Castile in Minnesota and Alton Sterling in Louisiana and the attack by a black sniper on five police officers in Dallas.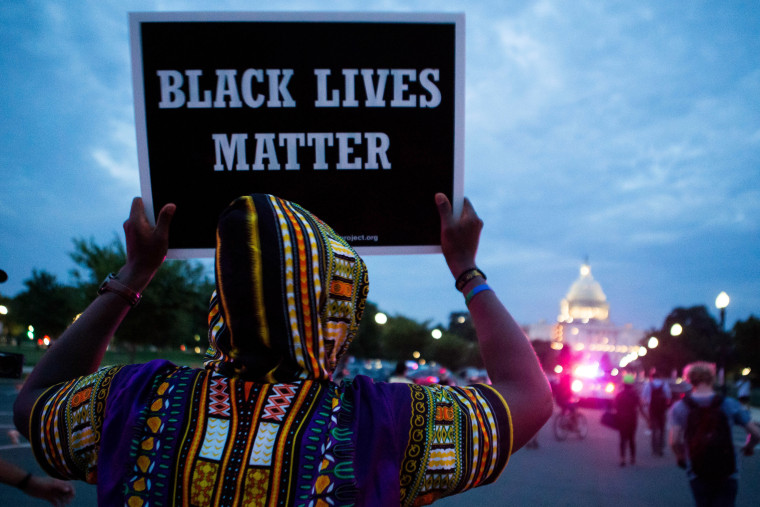 She stressed that the department would continue to provide support and resources to police and citizens "in their efforts to build strong and more united communities."
"As we grapple with the aftermath of these events, the Department of Justice will continue to do everything in our power to build bonds of trust and cooperation between law enforcement and the communities we serve," Lynch said. "That work has never been more difficult — or more important."
Lynch's tenure as attorney general began the same week Baltimore erupted in riots following the death of Freddie Gray, a black man who died from spinal injuries sustained after being transported in a police van last year. Since then, several high-profile incidents have occurred between minorities and law enforcement, including the high profile deaths of several African Americans while in police custody or during arrest — an issue Lynch has promised to tackle.