A former top aide to New York Gov. Andrew Cuomo — described in court papers as his "right-hand man" — was charged Thursday with taking hundreds of thousands of dollars in bribes from companies looking to score state-funded contracts.
Joseph Percoco served as Cuomo's deputy executive secretary, acting as his "gatekeeper," and ran his re-election campaign in 2014, according to a complaint filed in federal court. Percoco left the governor's office in January.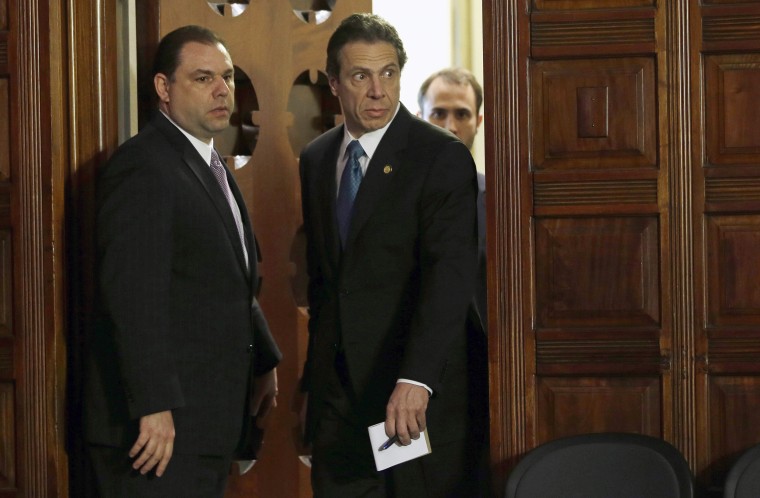 Also charged was Todd Howe, a former Cuomo aide turned lobbyist who is cooperating with the sweeping corruption probe by Manhattan U.S. Attorney Preet Bharara. He and Percoco allegedly discussed payoffs using the code-word "ziti," which they had swiped from "The Sopranos," the complaint said.
"Herb, need 7500 boxes of zitti!! (sic)" Howe wrote in a 2012 email to Percoco, using his nickname.
In another email, Howe wrote, "Ziti gets cleared on 15th when all the boxes are signed arrives in ur mailbox 2 or 3 days later."
The charges stem from state-funded projects incubated by the State University of New York Polytechnic Institute, designed to take advantage of Cuomo's $1 billion program to revitalize the economy of Buffalo, New York. Alain Kaloyeros, the president of Polytechnic, is also charged.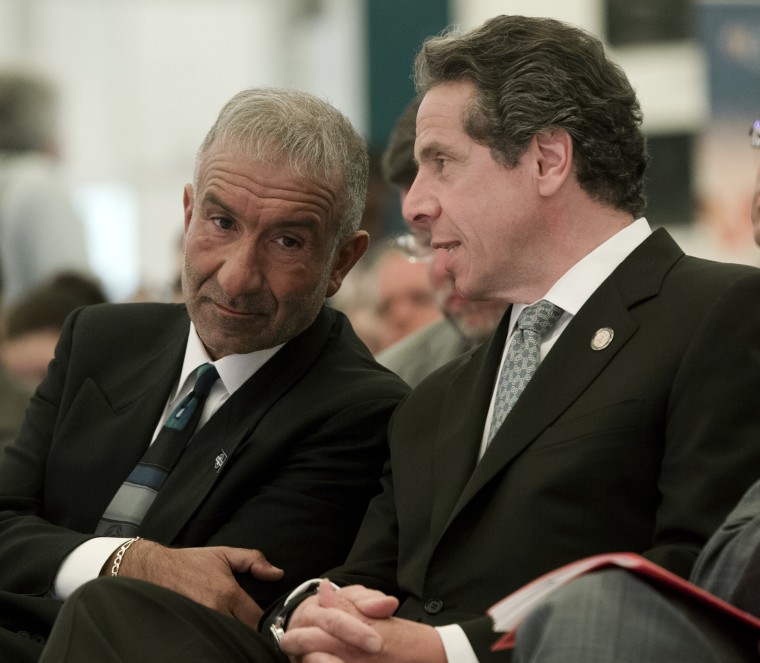 The governor is not accused of any misconduct.
"If the allegations are true, I am saddened and profoundly disappointed," he said in a statement. "I hold my administration to the highest level of integrity. I have zero tolerance for abuse of the public trust from anyone. If anything, a friend should be held to an even higher standard. Like my father before me, I believe public integrity is paramount. This sort of breach, if true, should be and will be punished."
Court papers say the charges announced Thursday come from "two overlapping criminal schemes involving bribery, corruption, and fraud in the award of hundreds of millions of dollars in State contracts and other official State benefits."
In the first, Percoco and his wife allegedly took $315,00 in bribes — some of it funneled through a shell company set up by Howe — from a real-estate developer and an energy firm looking for state money. prosecutors allege.
In the second, Kaloyeros allegedly worked with Howe to rig bids so that two real-estate developers got lucrative deals, the complaint says. The developers were asked to make large donations to Cuomo's re-election campaign, though there is no indication in the court papers that the governor was aware.
Percoco's attorney, Barry Bohrer, said in a statement that the case "is an overreach of classic proportions."
"This prosecution, based on information provided by someone of utterly unreliable credibility, seeks to criminalize conduct that the Supreme Court of the United States recently found to be not unlawful," he said in an apparent reference to the case of former Virginia Bob McDonnell.
"Mr. Percoco performed services honestly and within the bounds of the law at all times. He will enter a plea of not guilty because he is not guilty. We are confident that a jury that fairly considers the facts and correctly applies the law will find him not guilty."
In a statement, Howe's attorney, Richard Morvillo, said his client "has accepted responsibility for his actions and will testify truthfully if he is called upon."