WASHINGTON — A government watchdog will examine the taxpayer-funded travel costs when President Donald Trump travels to the Mar-a-Lago resort in Florida and the security procedures surrounding those trips, several congressional Democrats announced Tuesday.
The lawmakers requested the inquiry by the Government Accountability Office after reports that Trump, accompanied by Japanese Prime Minister Shinzo Abe, openly discussed North Korea's launch of a ballistic missile while at the resort. They also raised concerns about the cost to taxpayers.
In a March 24 letter to the lawmakers, GAO said it will examine how the president's communications and classified information are secured when he's traveling, including whether a secure space exists at Mar-a-Lago.
Related: Democrats Introduce 'MAR-A-LAGO' Act to Force Trump to Provide Visitor Logs
During the 2016 presidential campaign, Trump and other Republicans sharply criticized Democrat Hillary Clinton for compromising national security by using a private email server. Democrats have seized on Trump's Feb. 11 visit to Mar-a-Lago with Abe as an example of what they say is Trump's own carelessness with sensitive information.
In a letter sent to GAO last month seeking the review, the lawmakers said Trump reportedly communicated with staff about North Korea's launch by cellphone while sitting with Abe in the middle of a public dining room. Trump, his staff and Abe also may have reviewed potentially sensitive national material in apparent violation of protocols, according to the Democrats.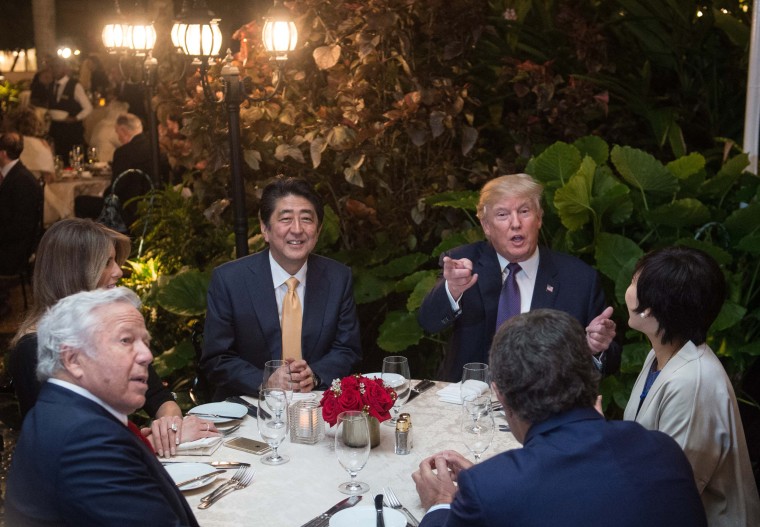 "In addition to making sensitive phone calls in the dining room, aides reportedly used the camera lights on their cellphones to help President Trump and Prime Minister Abe view the documents — all while surrounded by Mar-a-Lago club members and wait staff," the Democrats wrote in their letter to GAO.
"By conducting discussions in this manner, the president enabled private citizens without security clearances to potentially overhear sensitive or classified national security information," they said.
GAO also will examine what measures, if any, the Secret Service and Defense Department have to ensure that charges for travel-related expenses incurred with providing protecting for trips to Mar-a-Lago are fair and reasonable. The Air Force operates the presidential aircraft, commonly known as Air Force One.
The Democrats, citing press reports, said each of Trump's weekend trips to his Florida estate costs about $3 million. Noting that Trump is accompanied by members of his staff, military aides and Secret Service agents, the lawmakers said it's not clear "how many of these individuals incur travel and room expenses using taxpayer dollars and if they are being charged fair and appropriate rates."
They have also asked GAO to determine if Trump is making good on a promise to voluntarily donate to the U.S. Treasury all profits his hotels earn from payments made by foreign governments. Donating the money would avoid the appearance of self-dealing, according to the lawmakers.